Ask Stacy: What can I do if I'm not making enough?
A reader loves her job, but isn't making ends meet. Sound familiar? Read on.
This post comes from Stacy Johnson at partner site Money Talks News. 

You love what you do for a living, but you're not making an adequate living doing it. Sound familiar? Then you'll appreciate this week's reader question.

Hi! I am a 33-year-old mental health program manager for a crisis stabilization program for at-risk youth. I love what I do. However, I have major student loans and my salary does not align with my payment. Any suggestions? Desperate … Nicole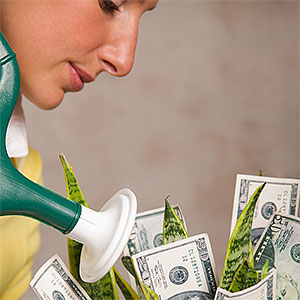 As with all people who find themselves with more month than money, Nicole has two choices: make more or spend less.
How to make more
The two obvious ways to make more money are to ask for a raise or switch to a higher-paying job. Unfortunately, both will probably prove problematic for Nicole.
Nicole says she loves her work. And nothing's more important than spending your work life doing something fulfilling. Like true love, it's rare. So when you find it, switching jobs becomes less appealing.
As for earning more at her current job, Nicole should definitely try to earn as much as possible by seeking a raise. But work in the mental health field is not typically high-paying. Jobs are often through government agencies or nonprofits, neither known for high salaries or Wall Street-sized bonuses.
What does that leave her with? A side hustle.
Earning money on the side
One of the most common questions I get is how to earn extra money. The ways to do it are limited only by your energy and imagination. From bartending to freelance writing, there's something for everyone. And that's especially true now that we have the Internet, the greatest source for extra income ever devised.
Example: A few weeks ago I came across an article that blew me away. It's called "How I Made $50,000 Selling on Amazon Last Year." As the title suggests, it's about someone who says she made 50 grand on the side simply buying things cheap from various retail sources, then selling them on Amazon. From the author's first article about how to do it:
Essentially, you buy retail items at dirt-cheap prices. Think Target clearance, Kohl's 30 percent deals, and any other deals you find on Slickdeals or FatWallet. Then you box it up and ship it off to Amazon. The strategy has earned the name "retail arbitrage."
And that's just one of countless ways to earn money on the side, thanks to the Internet. Other possibilities:
Social media manager. We pay someone who works full time elsewhere to manage our Facebook and Twitter accounts. Presumably other sites do as well.
Weekend baby or dog sitter. Check out sites like SitterCity for kids or DogVacay for dogs.
Help with chores. Sites like TaskRabbit can help you earn money by helping your neighbors.
Sell your knowledge. From gardening to dealing with troubled kids, you can sell advice on places like Google Helpouts.
I could go on, but if you're interested in more ideas, just do a search for "side hustle" or "making extra income." There are literally hundreds of ideas out there. Just avoid any that require you to pay them before they pay you.
The best side hustle of all? Do what the people behind the sites linked to above did: Use the Internet to develop a solution to a common problem. Those who have aren't having any trouble paying their bills.
How to spend less
For decades I've been approached by people complaining they can't make ends meet. The first question I always ask: "Are you tracking your expenses?"
No matter what your situation is, the best way to squeeze more money from any budget is tracking where your money is going. In pre-Internet days, this was a laborious process. Now it's not, thanks to free online services like those provided by one of our partners, PowerWallet.
Once you see where your money is going, you can start finding ways to save. Some will be obvious, others may require some thought, and still others, sacrifice. But if you've never really looked at exactly what you're spending money on, doing so will almost always reveal some ways to spend less.
Dealing with student loans
We know one place where a lot of Nicole's money is going. She says, "I have major student loans and my salary does not align with my payment."
What Nicole needs to do is get some advice on her student loans to see if she can get a lower rate, lower payment, or potentially even forgiveness of some of her loans.
If she finds the process of dealing with her student loans overly complicated and wants professional help, she should enlist the assistance of nonprofit credit counselors who will offer her inexpensive or free advice. There are many, but here's an example of a company I'm familiar with.
Before turning to any fee-based provider of student loan assistance, however, she should read "The Ultimate Guide to Dealing With Student Loans You Can't Afford." It's written by Steve Rhode, a guy I know and respect.
More on Money Talks News:

It's sad to know that there's college grads out there who can't make enough to break even paying their college loans after getting a job. That was something unheard of in my generation when college tuition was affordable. I knew a lot of kids when I was going to college who never could afford to go to college went straight into the work force. Borrowing money for college tuition was unheard of back in the 60's or 70's and most worked their way through college if their parents couldn't afford it. After a college grad pays their loan each month and in some cases can't find a good paying job is no better off than someone who just went straight into work force or delayed going into college until they could afford it. Why borrow the money if you or your parents can't afford it? There are Pell Grants for those who cannot afford college at all. I know several civil servant employees who are in high manage positions who make over $50,000-$95,000 a year who never stepped inside a college classroom. One was a friend of mine who worked for the Federal Government and worked herself up the ladder making around $95,000 and never finished college. One former boss makes close to $90,000 as a city clerk and another one in a neighboring city who makes over $65,000 and neither attended college. I know others who make over $45,000 a year and only have a high school diploma like my sister who works for AT&T. I have a two year degree which I obtained back in the early '80's and make close to $50,000 a year for the city I work for. It took years to get to those levels, but, we never owed a college loan of any kind and done very well for themselves. My daughter-in-law has a two year degree in nursing and a Pell Grant paid for her college tuition and is now an RN making good money and doesn't owe a penny. Those are the only ways to make it in this world and if you don't have the money for college then work or save for it so you can. Then again, the younger generation wants it all now instead of working towards it.


No college, no debt. Learned a trade skill. Got very good at it. Now I make 6 figures. I'll never be without a job and can move whenever I want to a lot of nice areas of the country. Everyone being told to go to college has set up a shortage of workers in the trades. Skilled workers are going to make more and more money. Everybody will need a plumber or electrician or the like but we won't all need somebody with a  liberal arts degree.

"bogytrain"  said it well.  There are a lot of "educated" idiots out there who PAID (through
a loan) for a college education and can NOT find a job. 
Hmmm -- wonder why?  They should maybe be doing a job the illegal aliens are plying.
       Solution #1 -- move back w/ Mom & Dad & have them support you.
        Solution #2 -- drop the pride and take an entry level  position & work your way up.
NO student loan should ever be forgiven (except by death or extreme medical reasons).

THEN...if you aren't making enough at two jobs...
go out and get a third!
Make sure you have a family as young as possible, so you can be sure they grow up knowing paid work is priority over family time and they NEVER get to see their parents (fathers are superfluous...and these days so are mothers) because getting the paycheck is more important than raising the kids (there are the lowest cost daycares to do that from ages 0-4 or 5, after all)...blame the teachers rather than the culturally engineered to be absent absent parents...
And there we have it!  Corporatocracy and a bunch of undereducated persons unable to make wise choices when voting...if they bother to vote at all.

Are you sure you want to delete this comment?
DATA PROVIDERS
Copyright © 2014 Microsoft. All rights reserved.
Fundamental company data and historical chart data provided by Morningstar Inc. Real-time index quotes and delayed quotes supplied by Morningstar Inc. Quotes delayed by up to 15 minutes, except where indicated otherwise. Fund summary, fund performance and dividend data provided by Morningstar Inc. Analyst recommendations provided by Zacks Investment Research. StockScouter data provided by Verus Analytics. IPO data provided by Hoover's Inc. Index membership data provided by Morningstar Inc.
MORE PERSONAL FINANCE SECTIONS & TOOLS