7 cheap ways to entertain yourself
Saving money doesn't mean missing out on fun. For sports, concerts, movies and more, if you use your imagination, you can easily find ways to have a great time at a great price.
This post comes from Linda Doell at partner site Money Talks News. 


According to the Bureau of Labor Statistics,  the  average U.S. household spends about $2,500 annually on entertainment. That may not seem like a lot, but it's still a nice chunk of change.
Of course, entertainment is the reason we work in the first place. It helps you relax and enjoy life. But you can substitute your imagination for your wallet and find plenty of cool things to do cheap or free.
Examples: 
1. Volunteer at concerts and festivals
Do you like music? Depending on where you live, there could be arts groups or cultural organizations hosting concerts, art programs, movies and other activities in your community.
One of many examples: The nonprofit ArtsQuest in Bethlehem, Pa., uses a volunteer force of 3,000 to put on hundreds of art programs, movie nights, festivals, concerts and more every year -- and working as a volunteer puts you in the venue free.
Of course, since many of their programs are free to everyone, you don't need to work for free admission. You could just show up.
But if you volunteer at the group's signature event, the multiday Musikfest, you'll have the opportunity to see world-class musicians like former Hootie & the Blowfish frontman Darius Rucker, Ke$ha, Styx and Foreigner without the $20+ cost per concert.
2. Head to the ballpark or arena
Calling all sports fans! Check with your local sports teams for volunteer opportunities. 
Many professional and semipro teams have community programs to bring sports to the underprivileged as well as other programs to introduce kids to sports.
This could be a way to save on tickets and get the kids involved at the same time.
For example, the Wilmington, Del., Blue Rocks baseball team has a kids club that gives children 14 and under a general admission ticket for every Sunday home game as a membership perk. Since membership is free, that's not a bad deal. Plus, you get to see some of tomorrow's baseball stars -- Wilmington is a farm team of the Kansas City Royals.
But the single best way to save on live sports: Watch amateur instead of pro. The admission is often zero, the parking is closer, the lines are shorter, the seats are closer, the hot dogs are cheaper and the outcome is less certain, making games more fun to watch.
Think you can't be entertained by watching amateurs? You haven't been to a T-ball game lately.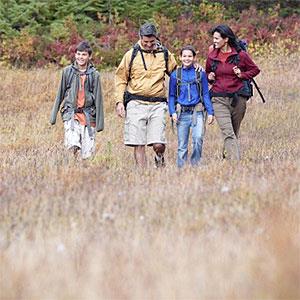 3. Take a hike
Get involved in a local group that maintains community hiking and biking trails in your area. It will give you exercise and get you out of the house.
If you're more interested in educational programs or really want to see the great outdoors, check with your state's game commission for volunteer opportunities.
These agencies often enlist the help of volunteers for a wide range of activities. For example,  in Pennsylvania, where I live, the Pennsylvania Game Commission offers activities like stocking streams with fish, counting Peregrine falcons and teaching about safe hunting.
Of course, you don't need to volunteer to get outside. Reconnect with parks and trails in your area, put your boots on and start walking!  If you're near a national park, check out the days when admission is free on this page of the Park Service website. 
4. Catch up on reading and movies
If you'd rather stay in and watch movies, TV shows or read, a service like Amazon Prime or Hulu could be for you.
For $79 a year after a 30-day free trial, Amazon offers Prime members access to instant online movies - including current titles -- and TV shows. Members also get to borrow a Kindle book free each month from the Kindle Owners Lenders Library.
Free Hulu and its membership program Hulu Plus allow instant streaming of movies and TV shows.
To save money on e-books, try Project Gutenberg and its collection of more than 42,000 free titles.
But the best, and cheapest resource, as Stacy Johnson mentioned in the video above, is your local library. Free books, e-books, movies and video games are waiting for you. Remember, your taxes already paid for these things, so why aren't you using them?
5. Go on an off day
Check out your local museums, artists' co-ops, zoos, amusement parks and other attractions to see if they offer days with free or discounted admission.
Some museums, like the Philadelphia Museum of Art, offer "pay what you wish" days.
6. Check out the amateur theater scene
Community theater productions are a great way of getting your theater fix on a budget. You'll be surprised at how much talent there is right in your home town.
7. Get together with friends
Plan potluck picnics or dinner parties with friends and family members, with each partygoer bringing something.

Potlucks are great because they spread the cost of throwing a party over the entire group. They're a great way to get together and save at the same time.
What about you? What's your favorite way to stay entertained on a budget? 

More from Money Talks News and MSN Money:
Are you sure you want to delete this comment?
DATA PROVIDERS
Copyright © 2014 Microsoft. All rights reserved.
Fundamental company data and historical chart data provided by Morningstar Inc. Real-time index quotes and delayed quotes supplied by Morningstar Inc. Quotes delayed by up to 15 minutes, except where indicated otherwise. Fund summary, fund performance and dividend data provided by Morningstar Inc. Analyst recommendations provided by Zacks Investment Research. StockScouter data provided by Verus Analytics. IPO data provided by Hoover's Inc. Index membership data provided by Morningstar Inc.
MORE PERSONAL FINANCE SECTIONS & TOOLS