25 ways to save on holiday shopping
You can save plenty without compromising on quality or creativity.
This post comes from Amanda Geronikos at partner site Money Talks News.

According to the National Retail Federation, holiday sales are expected to increase 4.1% this year to $586.1 billion -- the most optimistic forecast the market research firm has released since the recession began in 2007.
But even if shoppers are feeling more upbeat about their finances this year, no one wants to break the bank when buying gifts. According to the NRF, the average holiday shopper will spend $750 on gifts, cards, decorating and more.
But there are dozens of ways to save on holiday gifts without compromising quality:
1. Make a list, check it twice.
Make a list of all the people you plan to buy gifts for, as well as what you'd like to buy each person. Stick to your choices. You'll be less likely to splurge with a solid plan.
2. Set a budget.
Assign a dollar amount to each person on your gift list. Knowing you'll spend $50 on your mother, $25 on your aunt and so on is usually a more cost-effective plan than telling yourself, "I'm going to spend no more than $500 on gifts this year."
3. Buy for groups when it makes sense.
For example, if you're planning to attend several holiday parties, ask the liquor store clerk to recommend an affordable bottle, then get a case of it and ask for a discount for buying in bulk. Another idea: If you need to buy a gift for a couple, get them one gift to share (think gift card for dinner or a movie), rather than individual items.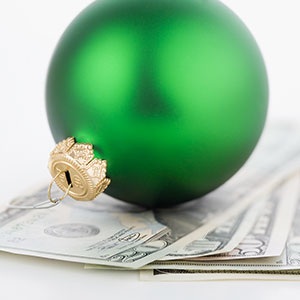 4. Start early.
You'll be more likely to land the best deals, find the most creative gift options and avoid making last-minute impulse buys. Successful holiday shopping requires organization, which means planning in advance.
5. Avoid impulse shopping, especially for yourself.
It's easy to buy for yourself when you're shopping for others. To avoid this, stick to your list. If necessary, consider carrying no more money than you intend to spend on others. If this means cash only and leaving the debit and credit cards at home, then do so.
6. Search for coupon codes.
Discount codes are easy to find, so there's no excuse not to use them to your advantage. I never make an online purchase without visiting a coupon site, or at least using a search engine to look for coupon codes.
7. Download holiday shopping apps.
These are a few of our favorites, and they're free:
RedLaser. After you identify your location, scan an item or do a search for it on the app. You'll get online prices and see which nearby store is selling it at the cheapest price.
Armadealo. This app provides a listing of malls in your area, as well as a listing of sales at stores in the malls.
Decide.com. Based on historical data, this app tells you whether you should buy an item now or wait for a price drop.
8. Comparison-shop.
Regardless of whether you plan to purchase on the Internet or in a retail store, do some research first. You won't know whether a particular store has what you're looking for and at the best price unless you've looked online first. Comparison-shopping sites like PriceGrabber.com, Pricewatch.com and Shopping.com can help you save a bundle and will tell you where you should buy.
9. Tap into social media.
Follow your favorite stores on Twitter or "like" them on Facebook. With a quick glance at Kohl's Twitter feed, I learned the store is offering more than 300 cyberspecials through Dec. 1.
10. Buy discounted gift cards.
Buy discounted gift cards ahead of time, and you'll save up to 35% on top of sales, coupons and other discounts. Decide what you plan to buy and where, and then buy the appropriate gift cards at a discount. Or you can simply give these cards as gifts to those on your list.
11. Take advantage of gift card freebies.
Some restaurants, retail stores and entertainment venues offer free promotional gift cards when you purchase a gift card during the holiday season. Whether you're interested in L.L. Bean, Olive Garden or Brunswick Bowling, you can earn extra gift cards just for making a purchase.
12. Buy last year's electronics models.
Last year's electronics often work just as well as this year's and can cost 25% less.
13. Consider outlet stores.
Outlet stores can be a great place to find steep discounts. Just be sure you know how to be a savvy shopper before venturing out. For example, many brands offer lower-quality merchandise at their outlet stores. Understand what you're buying.
14. Ask for a refund if the price falls after you make a purchase.
Within a reasonable time period, it's OK to go back to a store and ask for a partial refund if the item you bought dropped significantly in price after you purchased it. If you've bought something and see a price drop, take a screen shot, email it to customer service, and see if you can get the difference back.
15. Look for free shipping.
Many retailers offer free shipping with a minimum amount spent online. Also look into Free Shipping Day (Dec. 17 this year), when thousands of merchants offer no-cost shipping and guaranteed delivery by Christmas Eve.
16. Offer a service as a gift.
Offer to cook a meal for a friend, baby-sit for your sister or start a book club (to be hosted at your house). Are you a financial planner and have a brother-in-law who's a Spanish tutor? Consider swapping services as an alternative to buying gifts.
17. Make a gift.
Consider making a loved one a CD of his or her favorite songs, or a scrapbook using pictures that person has posted on Facebook. Knit a sweater or scarf for a family member or friend. Ornaments, wreaths and centerpieces are other inexpensive options.
18. Don't be afraid to ask for gift ideas.
Not sure what to buy family members or friends? Rather than overspending on something you're not confident they'll like, simply ask what's on their wish list. You could end up spending less money on something you know they'll love.
19. Give as a group.
If you have a great gift idea in mind that exceeds your budget, talk to friends and family about sharing the cost. If your niece wants a tablet for college or your dad could use a new leaf blower, see if others who have them on their own gift lists want to chip in.
20. Think about buying used.
Buying used doesn't always mean second-rate. You can find some great deals on antiques, collectors' items and books by shopping at a thrift store or garage sale.
21. Get rebates or rewards.
Doing all your holiday shopping with a rewards credit card is one way to get a little back. If you don't have or don't want to use a credit card, shop through referral sites like eBates for cash-back bonuses.
22. Build gift baskets
Dollar stores might sound like an odd place to shop for gifts, but they're not if you're creative. You can create themed gift baskets for different people. Example: For a movie theme, buy a popcorn bucket and pack it with packages of popcorn and discounted DVDs.
23. Make your own greeting cards.
You can add a special touch and save money by making your own greeting cards for a fraction of the cost of store-bought cards. 
24. Save on gift wrap.
Look around your house for materials that could function as gift wrap, such as newspaper, colored construction paper or fabric. Also check to see if you have any lightly used gift bags that could be used a second time around.
25. Regift.
A gift you didn't love could be something someone else will treasure. Just make sure you're thoughtful about regifting. Obviously, you won't want to give the sweater your aunt gave you last year to your sister if both were present during that gift exchange. Items like books, DVDs, lotions and perfumes are usually safe regifting options.
More on Money Talks News and MSN Money
Retailers must be blind; the large numbers of desperate shoppers on black Friday are because of the weak jobs market. Most people are just trying to salvage a small part of the holidays. No good jobs equal no money to spend on the holidays, and black Friday is the best opportunity to get a good deal and maybe at least have something under the tree. The large numbers signify the desperation of the families in this county. Next headline after Christmas, consumer sales started out strong on black Friday but ended the holiday season flat or below spending expectations.
Whether it's for guns or Garmins, the American people are scared, we can all feel something's just is not right with our America. The desperation and lines on black Friday is making America look more and more like the old scary Soviet Union during the days of rationing when 500 people would line up for 3 pairs of shoes or a few loaves of bread. Sad very sad.  
Are you sure you want to delete this comment?
DATA PROVIDERS
Copyright © 2014 Microsoft. All rights reserved.
Fundamental company data and historical chart data provided by Morningstar Inc. Real-time index quotes and delayed quotes supplied by Morningstar Inc. Quotes delayed by up to 15 minutes, except where indicated otherwise. Fund summary, fund performance and dividend data provided by Morningstar Inc. Analyst recommendations provided by Zacks Investment Research. StockScouter data provided by Verus Analytics. IPO data provided by Hoover's Inc. Index membership data provided by Morningstar Inc.
MORE PERSONAL FINANCE SECTIONS & TOOLS