10 things you should know about the debt deal
All the ramifications of the compromise, signed into law hours before a potential default, won't be known for years. Here's what to look for now, and what to keep in mind later.
By Knight A. Kiplinger, Kiplinger's Personal Finance magazine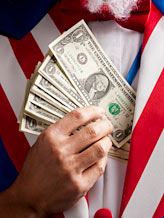 Now that President Barack Obama and Congress have defused the debt limit time bomb, it's tempting to forget the enormity of the federal government's fiscal problems. But although these challenges are addressed in the deal, they are far from solved.
At best, only half of the needed deficit-cutting will take place, and there is good reason to doubt that later this year, as planned, Congress will carry through with even that much. It's half a deal, too, in ignoring tax revenues.
 
As the plan plays out, here are 10 key judgments to keep in mind:
 
Debt remains a threat. The deal pays lip service to the goal of lowering annual deficits to 3% of gross domestic product from the current level of 10%, which would indeed stabilize the federal debt. But the 11th-hour agreement calling for $2.4 trillion in deficit reduction falls far short of the mark. Roughly $4 trillion in cuts over 10 years is needed to get debt under control. Federal debt was 40% of GDP in 2008 and 69% this year. With no changes in policy, it would probably reach 80% in 2014. Under the deal, it will hit that mark in 2015 or 2016. So the agreement struck postpones, but does not diminish the chances of, a debt-induced financial crisis. Article continues after video.
One way or another, taxes are going up. It's true that taxes were left out of this deal, but the pressure for higher revenues is irresistible. Since the agreement did not adequately deal with the deficit and debt problem, Congress will have to return to it within a few years and consider ways to increase tax revenues along with additional spending cuts. We see no way Washington can get out of the debt mess without higher revenues. More funds will pour into the coffers when the economy picks up, as individuals and businesses earn more and pay more to Uncle Sam. But that won't be enough by a long shot. Washington will have to coax out more revenues, either by narrowing or eliminating some tax breaks or by raising some rates. Getting there won't be easy and isn't likely before next year's elections. Moreover, as long as Republicans control at least one chamber of Congress, they will insist that any tax changes include lower rates.
Nothing in Washington is permanent. Almost every action designed to play out over 10 years doesn't pan out, and odds are strong that this measure will meet a similar fate. The simple fact is that future Congresses aren't bound by this legislation, and who knows where the political power will reside in the coming years. Between now and 2021, voters will have their say in five congressional elections and three presidential races -- opportunities for revisiting and tinkering.
 
The U.S. Treasury may still lose its AAA credit rating. The rating agencies say the deal falls short of what's needed, and their credibility is on the line. Standard & Poor's, Moody's and Fitch will likely wait to see whether the special committee charged with crafting the second tranche of spending cuts meets its Thanksgiving deadline. If it fails and Congress ducks the automatic cuts then required, get ready for higher interest rates. After a downgrade, interest costs would rise by perhaps $250 a year or more on a $100,000 mortgage or business loan.
 
The deal could hurt the economy. As written, most spending cuts are back-end loaded, becoming much more severe in future years, when the economy will presumably be stronger. But tea party forces and other lawmakers intent on showing they are serious could insist on shifting that emphasis in the next tranche of cuts, front-loading them, with the unintended result of turning a weak recovery into a recession.
 
An eventual financial crisis is now probably more likely than it was a few weeks ago. The size of this deal was never as important as demonstrating that political leaders could make tough decisions. They didn't, and the special committee isn't likely to either. That will undermine the confidence of investors who, perhaps naively, assumed that the leaders would make painful compromises, as European leaders did recently to stabilize Greece. There is no specific amount of indebtedness -- no bright line -- that would trigger a dollar crash and interest rate spike. But ensuring that investors believe the U.S. government can contain such a crisis certainly makes it easier to avoid ending up on the wrong side.
 
Sequesters and triggers don't work. Historically, they have a lousy record. Under the 1985 Gramm-Rudman-Holling​s law, for example, many programs -- defense, Social Security, Medicare, Medicaid and a few others -- were originally exempted, and Congress eventually found ways around the rules to avoid across-the-board spending cuts. In this deal, across-the-board cuts would take effect if the bipartisan, bicameral commission deadlocked or if Congress failed to act. But, as in the past, some programs, such as veterans' benefits and food stamps, are exempt. Medicare is not exempt, but any cuts in benefits or increases in costs won't apply to seniors already in the program.
 
Congress flinched on entitlement reform. If the ticking bomb of potential default didn't provide enough cover for lawmakers to take on Social Security, Medicare and Medicaid, then the prospects for such political valor in peacetime are not good. Still, the programs are slowly going broke, and Washington can't duck the problem forever.
 
Obama has some serious fence-mending to do with liberal Democrats, especially in the House. In the short term -- the time frame that matters in the House because every member who wants to return must face the voters next year -- Democrats came away with nothing to crow about to their constituents, except to say that they acted for the good of the country. But while the liberal wing of the party stews, Obama comes out of the negotiations looking more moderate, boosting his effort to reach independents in his reelection run.
 
The Tea Party will be more emboldened by its success in the debt debate. But its staying power will be tested -- severely -- in next year's House elections and again when increased tax revenues become part of the picture. The agreement will also bring renewed calls for shrinking the size of government. The Education and Commerce departments are favorite targets of conservatives, but these efforts will come up short, as they have in the past. One reason: Eliminating a department doesn't mean doing away with all federal spending on schools and other programs, so such moves wouldn't save enough money to justify the amount of political capital needed to succeed.
More on Kiplinger and MSN Money:
DATA PROVIDERS
Copyright © 2014 Microsoft. All rights reserved.
Fundamental company data and historical chart data provided by Morningstar Inc. Real-time index quotes and delayed quotes supplied by Morningstar Inc. Quotes delayed by up to 15 minutes, except where indicated otherwise. Fund summary, fund performance and dividend data provided by Morningstar Inc. Analyst recommendations provided by Zacks Investment Research. StockScouter data provided by Verus Analytics. IPO data provided by Hoover's Inc. Index membership data provided by Morningstar Inc.
MORE PERSONAL FINANCE SECTIONS & TOOLS