Burger King slims down for success
The company's new interest in selling franchises broils short-term profits, but could protect it from the fickle fast-food market.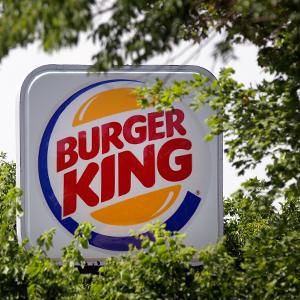 Only in Burger King's (BKW) kingdom are falling profits a sign of success.
If investors could order up Burger King's third-quarter earning reports like a sandwich at the drive-thru, they'd be well served to hold the 83% drop in profits and 26% dip in revenue and sink their teeth into the 1.4% bump in same-store sales and 6% boost in adjusted per-share earnings. With Burger King lightening its restaurant load and broadening its approach to hungry consumers since returning to the market in June, those are the numbers that matter.
Burger King has no desire to own any of its stores anymore, and converted 221 of its restaurants into privately owned franchises last quarter. The chain handed over 182 in North America alone and grew franchise-owned restaurants from 89% of all Burger King outlets in June 2011 to 95% last quarter. Burger King eventually wants its stores 100% franchise-owned, but in the meantime wants to increase franchise contributions from 30% of sales in 2011 to 90% in 2015.
The company believes the strategy will not only help its cash flow by shielding it from foot-traffic fluctuations and commodities costs, but will goose new owners into dropping the average $300,000 it takes fix up dated restaurants. Restaurants that have tweaked their image have boosted sales 10% to 15%, Burger King claimed during its earnings call.
The No. 2 fast-food chain is also a little tired of wooing the 18- to 35-year-old male demographic with giant burgers, NFL commercials and its creepily costumed King mascot. It expanded menus last quarter to lure back women, children and seniors with low-priced smoothies, cinnamon rolls and sweet potato fries and premium sandwiches packed with pulled pork and chicken.
It's the exact opposite approach used by Burger King's fast-food competitors. For example, Burger King has 43% of its restaurants overseas, just handed 38 of its company-owned restaurants in Singapore to franchise owners and wants franchisees to help it expand into Russia and China. Yum Brands (YUM), meanwhile, reported a 19% jump in profits this month thanks largely to the 83% of its nearly 4,500 restaurants in China that are company-owned.
McDonald's (MCD), meanwhile, is shying away from premium products and refocusing on its dollar menu after reporting a 3.5% drop in revenue last quarter. Nearly three-quarters of its sales come from company-owned stores.
So is it working? Somewhat. Organic revenue, not counting sold-off restaurants, climbed 0.2%, but the profit margin that franchise sales are supposed to shore up fell from 12.4% to 11.6%.

Burger King plans to carry on with its new approach, despite flame-broiled profits and margins in the short term. If it can somehow get the ingredients of its plan cast off by competitors to mix, Burger King may once again have its way with the fast-food market.
More from Top Stocks

DATA PROVIDERS
Copyright © 2014 Microsoft. All rights reserved.
Fundamental company data and historical chart data provided by Morningstar Inc. Real-time index quotes and delayed quotes supplied by Morningstar Inc. Quotes delayed by up to 15 minutes, except where indicated otherwise. Fund summary, fund performance and dividend data provided by Morningstar Inc. Analyst recommendations provided by Zacks Investment Research. StockScouter data provided by Verus Analytics. IPO data provided by Hoover's Inc. Index membership data provided by Morningstar Inc.
MARKET UPDATE
NAME
LAST
CHANGE
% CHANGE
There's a problem getting this information right now. Please try again later.
NAME
LAST
CHANGE
% CHANGE
There's a problem getting this information right now. Please try again later.
Market index data delayed by 15 minutes
[BRIEFING.COM] The stock market finished an upbeat week on a mixed note. The S&P 500 added just over a point, holding its weekly gain at 1.0% while the Nasdaq lost 0.4%.

The major averages began the day on an upbeat note, but relinquished their opening gains during the first 90 minutes of action. The early sentiment was boosted by a better-than-expected nonfarm payrolls report for February (175K versus Briefing.com consensus 163K), but a closer look into the report suggested that ... More
More Market News
Currencies
NAME
LAST
CHANGE
% CHANGE
There's a problem getting this information right now. Please try again later.