Even after good news, J.C. Penney tanks
Wall Street took a closer look at the quarterly numbers and found them lacking, sending the stock down more than 12%.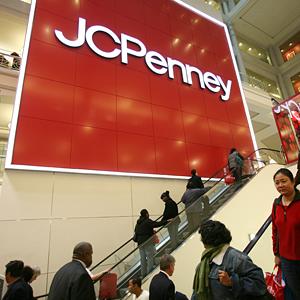 By Jim Jelter, MarketWatch

Can this company get anything right? Briefly Tuesday, the answer seemed to be a resounding "yes."
Hard on the heels of its bizarre #TweetingWithMittens​ Super Bowl experiment, J.C. Penney (JCP) tossed investors something they might actually applaud: its first positive quarterly sales since 2011.
The retailer issued a preliminary report before the opening bell Tuesday stating its fiscal fourth-quarter comparable-store sales rose 3.1 percent during the all-important nine-week holiday shopping season. For its fiscal fourth quarter, the company said same-stores sales (sales at stores open at least a year) rose 2 percent.
"While 2013 brought a lot of change and challenges to J.C. Penney, the steady improvements in our business show that the company's turnaround is on track," Penney's CEO Mike Ullman said in a statement.
The report ended a company blackout on its holiday sales, which up until now had been seen as a sign that things probably weren't going well.
There are a couple of things that would make Tuesday's report noteworthy. One is that J.C. Penney, slogging through years of losses, layoffs, store closings and two CEO shifts in as many years, is luring customers back to its foundering brand.
The other is that it did it during a holiday season best remembered for cautious consumers, economic uncertainty and nasty winter weather.
So it was pure relief that sent J.C. Penney shares up 3 percent at the open.
But the rally didn't last. Wall Street took a closer look at the numbers and found them lacking. Less than an hour into the session, the 3 percent relief rally had turned into a 3 percent decline, extending Penney's losses to 39 percent since the start of 2014.
Under the headline "SSS in 4Q Just Not Good Enough," retail industry analysts at Sterne Agee wrote: "While posting a +2 percent comp in 4Q is a step in the right direction, the slope of the improvement continues to disappoint. Equally concerning our math suggests comps were negative (say 1 percent) during the December period which frankly is just unacceptable given the compare."
They continue: "J.C. Penney needs the improvement to be much better than currently tracking and it is becoming increasingly critical that the company starts to see meaningful improvement if it is to survive as currently constituted."
So apparently J.C. Penney has yet to make the case on Wall Street that Ullman's turnaround has taken hold.
More from MarketWatch
DATA PROVIDERS
Copyright © 2014 Microsoft. All rights reserved.
Fundamental company data and historical chart data provided by Morningstar Inc. Real-time index quotes and delayed quotes supplied by Morningstar Inc. Quotes delayed by up to 15 minutes, except where indicated otherwise. Fund summary, fund performance and dividend data provided by Morningstar Inc. Analyst recommendations provided by Zacks Investment Research. StockScouter data provided by Verus Analytics. IPO data provided by Hoover's Inc. Index membership data provided by Morningstar Inc.
POLL
Apple has a new entry in the cell phone wars. But how often do you buy a new phone?
Thanks for being one of the first people to vote. Results will be available soon. Check for results
As soon as one comes out. I'm an early adopter.

346 votes

Every year. I need to keep up.

275 votes

Every two to three years, when my contract allows.

5,072 votes

If it's not broken, who needs a new phone?

4,043 votes
Total Responses: 9,736
Not scientifically valid. Results are updated every minute.