3 stocks for the 3-D printing revolution
3D Systems, Stratasys and ExOne are the best plays in this growing industry.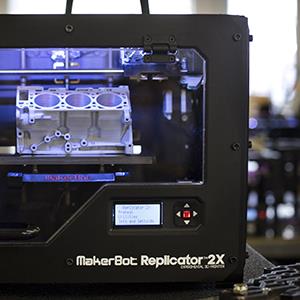 By Dan Burrows, InvestorPlace
3-D printing stocks look like the kind of long-haul buys that could generate big returns.

After all, 3-D printing represents an exciting new technology with a wide swath of applications in any number of industries. Heck, companies are even experimenting with "printing" human organs -- so you can see why the market is so excited. (The idea of guns made with 3-D printers has also sparked concern; see video below.)
But as with every hot new technology, it could be a while before the real winners and losers emerge. That's why you need to proceed with caution when it comes to stocks in the 3-D printing space. These are high-risk plays, so your best tactic might actually be to bet on a number of companies instead of just one.
Size matters, too. 3-D printing stocks with larger market capitalizations like 3D Systems (DDD), Stratasys (SSYS) and ExOne (DDD) all trade on a major exchange, with all the regulatory scrutiny that requires. They're also firmly established and have trading liquidity, which means you'll be able to buy and sell these stocks when you want, and at close to the prices you want.
With that in mind, here's a look at the largest 3D printing stocks by market cap:
3D Systems (DDD)
Market Cap: $7.9 billion
YTD Performance: +114%
3D Systems, the largest 3-D printing stock by far, has put up some of the best year-to-date returns in the space, more than doubling in 2013.
In case the DDD stock ticker didn't clue you in, 3D Systems is one of the core 3-D printing stocks. It manufactures a wide portfolio of printers, as well as scanners and software.
3D Systems' biggest recent splash was inking a deal with Google's (GOOG) Motorola division to manufacture parts for a modular smartphone. That makes 3D Systems a key player in what could be a game-changer for the mobile device market.
For the most recent quarter, 3D Systems turned a profit of $17.7 million on revenue of $135.7 million. Wall Street expects DDD to grow earnings at an average annual rate of 24% a year for the next five years or so. Torrid growth is a feature of 3-D printing stocks, and 3D Systems is definitely a leader in that arena.
Stratasys (SSYS)
Market Cap: $5.8 billion
YTD Performance: +51%
Stratasys is another 3-D printing stock with a more-than-respectabl​e market value -- at nearly $6 billion -- and its return has nearly doubled the broader market year-to-date.
Like 3D Systems, Stratasys is a core company among 3-D printing stocks, specializing in 3-D printers and materials. Stratasys allows designers to build concept models and functional prototypes for everything from consumer products to aerospace parts.
Probably the most interesting recent development at Stratasys is the introduction of its Mini Metal Maker 3D printer. Sort of a little brother to MakerBot -- already a hit for Stratasys -- the Mini Metal Maker could score big with custom jewelry manufacturers and anyone else working in metal ... and could send Stratasys stock even higher.
For the most recent quarter, Stratasys had a net loss of $6.6 million on revenue of $125.6 million. Stratasys only has a long-term earnings growth forecast of 10% a year, though, which is a bit low compared to its competitors.
ExOne (XONE)
Market Cap: $800 million
YTD Performance: 109%
ExOne is the smallest of this trio. With a market value of $800 million, it's indisputably a small-cap stock, and not far removed from microcap status. But after doubling so far in 2013, ExOne is gunning for midcap status.
ExOne specializes in 3-D printers that allow designers and engineers to produce both prototypes and production parts, and has found a place in everything from the automotive to energy industries.
In a blow to the sector, ExOne recently sold off after reporting a tough third quarter. ExOne posted a surprise loss of 2 cents a share when Wall Street was looking for a profit of a penny per share. Additionally, revenue of $11.6 million missed analysts' average forecast by $600,000.
On a more positive note, ExOne did report its first operating profit. And although revenue missed projections, it still grew nearly 37% year-over year.
Analysts haven't put a long-term growth forecast on ExOne, but its business prospects still look promising. ExOne easily is worth consideration alongside 3D Systems and Stratasys.
As of this writing, Dan Burrows did not hold a position in any of the aforementioned securities.
More from InvestorPlace:
·         The top 6 stock charts to watch in December
DATA PROVIDERS
Copyright © 2014 Microsoft. All rights reserved.
Fundamental company data and historical chart data provided by Morningstar Inc. Real-time index quotes and delayed quotes supplied by Morningstar Inc. Quotes delayed by up to 15 minutes, except where indicated otherwise. Fund summary, fund performance and dividend data provided by Morningstar Inc. Analyst recommendations provided by Zacks Investment Research. StockScouter data provided by Verus Analytics. IPO data provided by Hoover's Inc. Index membership data provided by Morningstar Inc.
POLL
Apple has a new entry in the cell phone wars. But how often do you buy a new phone?
Thanks for being one of the first people to vote. Results will be available soon. Check for results
As soon as one comes out. I'm an early adopter.

324 votes

Every year. I need to keep up.

252 votes

Every two to three years, when my contract allows.

4,653 votes

If it's not broken, who needs a new phone?

3,318 votes
Total Responses: 8,547
Not scientifically valid. Results are updated every minute.