Is Under Armour crimping Olympic athletes?
Some US speed skaters are asking to ditch the company's newer suits, saying its older ones performed better.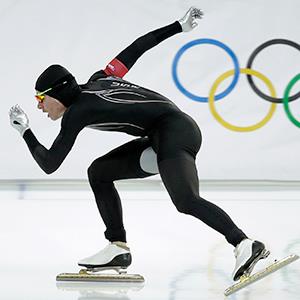 By Joshua Robinson and Sara Germano,
The Wall Street Journal

U.S. Speedskating asked Olympic and skating officials late Friday night for the option to switch out of the new Under Armour (UA) suits that some skaters think are causing the team's long-track athletes to underperform at these Games, the organization's executive director Ted Morris said.
The request doesn't guarantee that American skaters will be wearing different suits when competition resumes on Saturday afternoon, should the International Skating Union and the International Olympic Committee sign off.
The team is currently split into two groups: those who want to stick with the current model and those who would revert to a suit they used while racking up victories throughout the fall. The alternate suit is also made by Under Armour.
Morris expects a ruling within hours.
"The general feeling from the athletes, it's pretty darn close to 50-50," Morris said. He wouldn't give any details of the top skaters' positions.
After six long-track events, no U.S. skater has finished better than seventh. That includes gold-medal favorites such as Shani Davis and Heather Richardson, who have dominated the World Cup circuit this season only to falter here.
Under Armour didn't immediately respond to a request for comment.
More from The Wall Street Journal
Are you sure you want to delete this comment?
DATA PROVIDERS
Copyright © 2014 Microsoft. All rights reserved.
Fundamental company data and historical chart data provided by Morningstar Inc. Real-time index quotes and delayed quotes supplied by Morningstar Inc. Quotes delayed by up to 15 minutes, except where indicated otherwise. Fund summary, fund performance and dividend data provided by Morningstar Inc. Analyst recommendations provided by Zacks Investment Research. StockScouter data provided by Verus Analytics. IPO data provided by Hoover's Inc. Index membership data provided by Morningstar Inc.
POLL
Warren Buffett is known for buying stocks cheap and holding them for years. How does your strategy compare?
Thanks for being one of the first people to vote. Results will be available soon. Check for results
I buy great stocks I plan to own forever.

483 votes

I hold stocks at least 5 years unless they get into trouble.

381 votes

I review what I'm holding and trade about once a year.

372 votes

I'm an active trader. Buy and hold is dead.

305 votes
Total Responses: 1,541
Not scientifically valid. Results are updated every minute.