Guns in the home: How insurance works
Your insurer may not ask if you have firearms in your house, but it's a good idea to bring it up yourself.
This post comes from Mark Chalon Smith at partner site Insurance.com.

While gun control legislation may remain a divisive issue with uncertain outcomes, there are guidelines pertaining to firearms when it comes to homeowners insurance.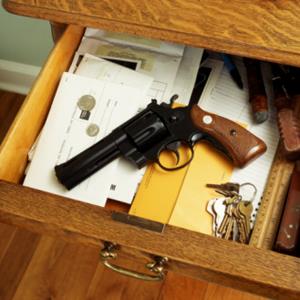 Most standard homeowners policies cover rifles and pistols if they're stolen or damaged in a fire, but usually up to a maximum of $2,500, according to Pete Moraga, a spokesman for the Insurance Information Network of California. If you have a large collection of guns or ones that are particularly valuable -- perhaps a group of antique side arms -- then you may have to buy a policy rider to ensure they'll be replaced or that you'll be reimbursed, he says.
It's much the same process as with other big-money items, such as jewelry and fine art, where you discuss the pieces with an agent and come to a reasonable coverage figure.
Safety always an issue for gun insurance
To keep premiums for the standard policy from soaring, the owner may have to show that the rifles and pistols are properly secured in locked gun cases, have trigger locks, and, of course, are out of the reach of children, says Michael Barry, a spokesman for the Insurance Information Institute.
"It's all about proving to an insurer just how responsible you are when it comes to firearms. It's clear that insurers are more likely to look favorably on the gun owner if they take special precautions to store the weapon and have a gun lock on the gun," Moraga says.
Moraga adds that insurers usually don't bring up firearms when writing a policy. But it's a good idea to tell them upfront if you have any.
"Although insurers may not specifically ask about weapons on their policy questionnaire, because of the higher liability risk of a gun, homeowners should make sure to let their agent or insurance company know," he says. "If an insurer does not know that a homeowner owns a gun and the homeowner files a later claim, the claim may be denied."
What happens if you accidentally shoot someone or yourself while in the home? The Insurance Information Institute says your standard policy will cover some or all of the damages, including medical bills, property damage and liability claims, depending on the amount of coverage you have.
But the American Institute of Certified Public Accountants says on its 360 Degrees of Financial Literacy website that you may need to buy additional coverage -- such as "sporting firearm insurance," "collector's firearm insurance" or "gun club liability insurance" -- to guarantee you're fully protected.
More on Insurance.com and MSN Money:
DATA PROVIDERS
Copyright © 2014 Microsoft. All rights reserved.
Fundamental company data and historical chart data provided by Morningstar Inc. Real-time index quotes and delayed quotes supplied by Morningstar Inc. Quotes delayed by up to 15 minutes, except where indicated otherwise. Fund summary, fund performance and dividend data provided by Morningstar Inc. Analyst recommendations provided by Zacks Investment Research. StockScouter data provided by Verus Analytics. IPO data provided by Hoover's Inc. Index membership data provided by Morningstar Inc.