Are you insured against a landslide?
The news out of Whidbey Island, Wash., might have you wondering if your policy would help if something freakish happened to your home.
This post comes from Marilyn Lewis at MSN Money.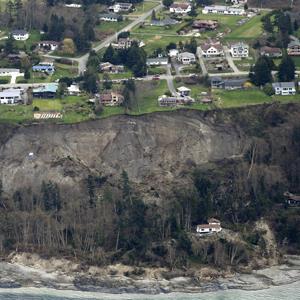 The freak landslide that ruined more than 30 homes last week on Whidbey Island, Wash., makes you wonder: Will your home insurance cover you if a landslide shoves your house over a cliff?
The answer is: Probably not. You're covered only if with the right type of insurance. Do you have it?
Here's how to find out: Pull out your homeowners' policy and read the "exclusions," or circumstances that are not covered. If landslides are among the hazards mentioned, your home could be made worthless if it's damaged or destroyed in a landslide.
The most common type of home insurance, according to Insure.com, is an "HO-3 policy" or a "special form." It covers everything but exceptions listed in the policy. Among typical exceptions: water damage, nuclear war and earth movement.
If you live in a vulnerable area, you might want to look into getting additional coverage. The Washington State Insurance Commissioner's Office explains that several "riders" (special policies) offer coverage.
Special coverage needed
Oddly enough, policies for landslides cover only a home's contents, not the structure. Other policies -- earthquake or flood insurance -- may cover a landslide, but the coverage depends on the cause of the slide.
Adds the commissioner:
For the structure, you may be able to buy separate earth-movement coverage from what's known as the "surplus lines" market, meaning insurers who specialize in risks that the traditional insurance industry doesn't cover. But if your home is on a hillside, it may be difficult to get this kind of coverage.
Special coverage is a good idea if your home is on or under a steep slope, the experts say. The additional insurance to cover a $300,000 home against a landslide would run about $1,000 annually, depending on the slope of the land or proximity to a cliff, says the Northwest Insurance Council  in a special bulletin issued recently.
Weeks before the Whidbey Island incident, Tim Walsh, the chief hazard geologist for the Washington Department of Natural Resources, told The New York Times:
"For most people, it's (landslide) not covered by insurance, and so when you get hit by one of these it's a 100% loss," Mr. Walsh said. "They're potentially covered by flood insurance, but most people don't have flood insurance."
So, great. If you need this insurance, you may have trouble buying it. And yet, except for earthquakes in California, landslides "probably are the largest or maybe second-largest cause of natural disaster economic losses," Walsh says.
Whidbey Island's troubles began at around 4 a.m. on March 27 when, The Times writes, a slide sent "the equivalent of 40,000 dump-truck loads of earth heaving toward Puget Sound. Here are stunning before and after photos.
"Like an earthquake"
The noise was "like an earthquake, it rattled the whole house," Bret Holmes told The Seattle Times.
He took a flashlight to the backyard facing the water. Gone, he said, were the 20 or so trees, some 200 feet tall, that had been on the sloping hillside.
The flashlight battery died, and Holmes went to get a new flashlight.
When he returned, he said, "where I had been standing was no longer there."
Holmes was staying in a house owned by his late parents. His brother called Allstate Insurance and was told the property wasn't covered for such damage.
Slides like this one happen when heavy rain or an earthquake causes a section of earth to move down a slope. When you discuss coverage with an insurance agent, make sure you talk about both possibilities.
Some slides carry whole hillsides or entire neighborhoods, says Earth Magazine.
As yet, there's no telling what caused this landslide. The Los Angeles Times reports:
"The west side of the island is prone to slides because of soil conditions and water movement in the ground," Whidbey Fire and Rescue Chief Ed Hartin told reporters. "We have no specific cause as to 'why here, why now, why this big.'"
Landslides kill an average of 25 to 50 people a year in the United States and around 600 a year worldwide. The cost to homes in the U.S. alone is an estimated $1.2 billion, the U.S. Geological Survey says.
The world's largest recorded slide was triggered by the 1980 eruption of Mount St. Helen's in southwest Washington state, according to the USGS.
That slide "traveled about 22 (kilometers) westward, destroying nine highway bridges, many kilometers of highways, roads, and railroads, and numerous private and public buildings" and dammed rivers, creating new lakes.
More from MSN Money:
Are you sure you want to delete this comment?
DATA PROVIDERS
Copyright © 2014 Microsoft. All rights reserved.
Fundamental company data and historical chart data provided by Morningstar Inc. Real-time index quotes and delayed quotes supplied by Morningstar Inc. Quotes delayed by up to 15 minutes, except where indicated otherwise. Fund summary, fund performance and dividend data provided by Morningstar Inc. Analyst recommendations provided by Zacks Investment Research. StockScouter data provided by Verus Analytics. IPO data provided by Hoover's Inc. Index membership data provided by Morningstar Inc.