Should we rebuild in flood zones?
Some are saying that people who decide to rebuild in flood zones shoulder the extra risk without help from taxpayers.
This post comes from Marilyn Lewis of MSN Money.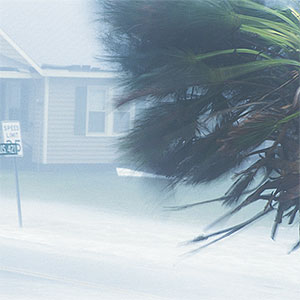 "No retreat, baby, no surrender," belts out Jersey boy Bruce Springsteen. But when it comes to communities like the tough but vulnerable towns dotting New Jersey's shore, some experts are singing a new tune.
They say the U.S. should rethink its approach to disaster reconstruction. Scientists, lawmakers and others increasingly are arguing that, in the face of climate change and rising seas, we should stop building towns and homes where the sea will swallow them. Some want these communities to relocate to drier land.
For a graphic glimpse at what rising seas could do, see Geology.com's flood maps showing the anticipated effect on Florida, New York, New Orleans, San Francisco, Washington, D.C., the Nile Delta, the Netherlands and Venice, Italy (use the drop-down at left to set the sea level, from +1 meter to +60 meters).
At the least, critics say, the federal government should stop subsidizing reconstruction in the same places time and time again. They want federal incentives reworked so that towns, homeowners and businesspeople are not rewarded for building in flood-prone areas.
$60,000 per resident
The New York Times looks, for example, at Dauphin Island, Ala., a vacation community whose pastel beach cottages are "a monument to the generosity of the federal government":
"Since 1979, nearly a dozen hurricanes and large storms have rolled in and knocked down houses, chewed up sewers and water pipes and hurled sand onto the roads.

 

". . . At least $80 million, adjusted for inflation, has gone into patching up this one island since 1979 -- more than $60,000 for every permanent resident. That does not include payments of $72 million to homeowners from the highly subsidized federal flood insurance program."
Tens of billions in taxpayer subsidies are spent on reconstruction after coastal storms, "usually with little consideration of whether it actually makes sense to keep rebuilding in disaster-prone areas," the Times says.
SmarterSafer.org, a coalition of environmentalists, libertarians and budget watchdogs, opposes the current federal subsidies as "a destructive, unaffordable entitlement." The group links liberals and conservatives in supporting "environmentally responsible, fiscally sound approaches to natural catastrophe policy that promote public safety."
SmarterSafer supports:
A hurricane mitigation tax credit.
A new program of low-interest loans to encourage homeowners to do risk mitigation.
Reforming the National Flood Insurance Program.
American disaster planners are looking abroad at flood protection efforts in other countries, especially the Netherlands. 
Just two kinds of levees
National Public Radio recently has been looking at federal policy on homes, farms, businesses and communities protected by fragile levees. "There really are only two kinds of levees" -- "those that have failed, and those that will fail," said geologist Jeffrey Mount of the University of California, Davis.
Most levees don't meet even minimal U.S. Army Corps of Engineers standards, yet "people blithely build communities that are critically dependent on levees" and "when the eventual failure comes, the damages are very, very, very high," says NPR.
NPR also examines the Corps of Engineers' oversight of some 14,000 miles of levees in the country. The Federal Emergency Management Agency estimates there are an additional 30,000 to 34,000 miles of levees -- or more.
Let nature reclaim it
NPR quotes Steven Sweeney, president of the New Jersey state Senate, on a simpler, cheaper solution:
"'Get appraisals for their homes, write them a check, knock the homes down, and just let it go back to its natural state,' says Sweeney. 'I think that's something we really need to take a look at. Because governments have allowed people to build right onto the water, and water has a tendency to move.'"
Samantha Medlock, of the Association of State Floodplain Managers, tells NPR, "No levee provides permanent or complete protection. Buying out and relocating to higher, safer ground is permanent protection."
The NPR audience is debating what's practical, necessary and fair. Reader "Willy Roentgen" writes:
"If you build a folly of a house or business in an area threatened by nature's forces and you don't build it with that in mind and don't maintain insurance to cover it, why should you expect other people to rebuild or pay for your folly? If you like the water view, take the risk for the consequences."
"E Brittingham" takes issue:
"Federal disaster relief generally covers public infrastructure, extremely poor families with nothing left after the event, as well as providing temporary shelter for those whose homes were destroyed and have nowhere else to go. This idea that the federal government is habitually paying for the replacement of huge beachfront mansions is simply not accurate."
More on MSN Money:

I think in areas that have an extremely high risk of flooding, once a major flood has occured causing major damage to the majority of the homes in the area, the government should not allow permits to rebuild the destroyed homes in areas determined to be unsuitable for residental use and should use eminent domain to buy them at a fair price from the homeowners so they can rebuild in a safer area. Owners of the remaining homes with minor damage could be offered the choice of selling at a fair price or continuing to own the homes, but their cost of insurance should increase.
The reclaimed land could then be used for nature preservation or recreational use, beaches, parks, golf courses, sports fields, etc.
Rebuilding once after a disaster that's unlikely to occur is reasonable.  Rebuilding multiple times in an area that is likely to continue to sustain damage is a huge waste of resources.

Absolutely NOT, flood zones are exactly that, areas that are prone to flooding! Sounds like a no brainer. Everyone's insurance premiums rise due to the payouts after floods, our taxes are used in disaster relief when the disaster could have been prevented with some common sense. I lived in a flood zone for four years, I paid federal flood insurance and never used it. Got lucky. Then I see others who have canceled their flood insurance and decided not to buy it, getting disaster relief from the govt. Excuse me, but why did I pay for insurance if the govt. was ready to assist me in my lack of foresight or preparedness? 
When you live in a flood zone, it will probably flood at some point in time. Duh?
I live on on the North Jersey shore, in fact Monmouth County. I was born and raised here but went to  college out of state and live in other parts of the country before moving back 3 years ago. I'm really appaled by the number of high cost high rise buildings, and condo complexes which havwe been built in places which get often get flooded. Sandy realy impacted a number of these structures. What really irks me is that while the population has increased in the areas which often get floods nothing has been done to update the infrastructure. So in my opinion some of these areas should not be used for residential at all.

If it is an area that gets flooded once every 50 years then yes, let them rebuild.  If it is an area that gets flooded every time it rains then no. Also Fed gov't should not be subsidizing flood insurance for there areas either. If you cant afford the insurance then you shouldn't live there.
Are you sure you want to delete this comment?
DATA PROVIDERS
Copyright © 2014 Microsoft. All rights reserved.
Fundamental company data and historical chart data provided by Morningstar Inc. Real-time index quotes and delayed quotes supplied by Morningstar Inc. Quotes delayed by up to 15 minutes, except where indicated otherwise. Fund summary, fund performance and dividend data provided by Morningstar Inc. Analyst recommendations provided by Zacks Investment Research. StockScouter data provided by Verus Analytics. IPO data provided by Hoover's Inc. Index membership data provided by Morningstar Inc.