Can insurance stop gun violence?
A proposal has surfaced in a number of states to require gun owners to buy liability insurance.
This post comes from Jay MacDonald at partner site Bankrate.com.

As long as we're engaged in a heated national debate on ways to curb gun violence, let's ask the obvious question: What role might insurance play in making our neighborhoods safer?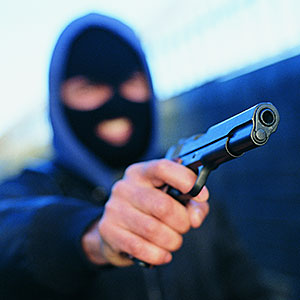 Legislators in Massachusetts invited insurance into the discussion last month when they proposed a state law that would require gun owners to purchase liability insurance in the event one of their firearms should cause injury or death.
The proposal, which has surfaced in several other states, comes in the wake of the December slayings of 26 children and adults at Sandy Hook Elementary School in Newtown, Conn. Such mandatory insurance coverage could include incentive discounts for gun owners who take firearms safety courses and store their weapons properly.
In addition, the bill would enable insurance companies to do what law enforcement agents cannot under current Massachusetts law: enter a person's home to verify that guns are secured. That's a step that could be taken before a liability policy is issued.
The proposed gun insurance law does not address how much liability insurance would be required or whether coverage under a homeowners insurance policy would be sufficient. But it does state that those found to be in possession of an uninsured gun would face a fine of between $500 and $5,000 or up to a year in jail.
State Rep. David Linsky, the bill's sponsor, says there are ample precedents that insurance used for the public good can save lives. "Insurance companies were able to discourage smoking through the marketplace and make cars safer through the marketplace," he observed.
Gun rights activists have been quick to denounce the bill as what they call another misguided attempt to saddle law-abiding gun owners with unnecessary regulation. They maintain that such a law would penalize those who buy and own guns legally while having little impact on those who acquire weapons illegally.
"Now we're going to have insurance companies telling us how we are supposed to be trained and where we are going to store our guns?" asked Jim Wallace, executive director of the Gun Owners Action League in Massachusetts.
But in the wake of the Sandy Hook slayings, the idea of inviting insurance into the discussion was welcomed by Boston Mayor Thomas Menino, who co-chairs Mayors Against Illegal Guns, and U.S. Sen. Elizabeth Warren, D-Mass.
"It's time that we think about alternative ways that we can effectively deal with gun violence," Warren said. "We need better research. We need better understanding. We need to try different approaches to protect our children."
What are your thoughts? Would a gun liability insurance law stem gun violence in America?
More on Bankrate.com and MSN Money:
DATA PROVIDERS
Copyright © 2014 Microsoft. All rights reserved.
Fundamental company data and historical chart data provided by Morningstar Inc. Real-time index quotes and delayed quotes supplied by Morningstar Inc. Quotes delayed by up to 15 minutes, except where indicated otherwise. Fund summary, fund performance and dividend data provided by Morningstar Inc. Analyst recommendations provided by Zacks Investment Research. StockScouter data provided by Verus Analytics. IPO data provided by Hoover's Inc. Index membership data provided by Morningstar Inc.