Monster winter storms: Are you covered?
Homeowners insurance will pay for damage to your roof or the wreckage caused by frozen pipes -- if you use due diligence.
This post comes from Terry Sheridan at partner site Bankrate.com.

Children eager for get-out-of-school snow days may become giddy over blizzards. But homeowners face the more sobering reality that the storms can cause expensive damage and disruptions.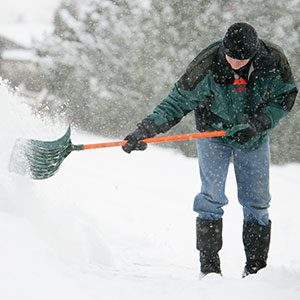 In 2011, the $2 billion in insured losses from winter storms outranked every natural disaster in the U.S. except for severe thunderstorms (a category that includes tornadoes) and hurricanes, according to Munich Re, a German firm that insures insurance companies.
Your homeowners insurance generally will cover the punishment that severe storms and blizzards can inflict on a home, including roof collapses, wind damage and water leaks resulting from burst pipes or gutters that become clogged with ice, says the trade group Insurance Information Institute.
But roof damage and burst pipes raise specific issues you need to know about, factors that could jeopardize a home insurance claim.
A blizzard can ravage your roof
Your roof damage or collapse may result in a much different insurance payout than your neighbor's -- even if you have the same insurer.
"Each roof-damage case comes with its own set of unique factual circumstances to consider," says Loretta Worters, a vice president with the Insurance Information Institute.
Those include:
Evidence that the roof was indeed harmed by an insured peril. If wind gusts during the blizzard pushed a tree onto your roof, take photos, Worters advises. "Insurers are concerned that people will say they had storm damage when they really didn't," she says.
Age and condition of the roof. Your claim may be denied or you may get very little back if you didn't maintain your roof or replace it when it was old, Worters says.
The type of roofing material.
Available maintenance records.
Be aware that insurers are on the lookout for fraudulent claims stemming from roofing contractors who go through neighborhoods after a blizzard and tell homeowners they need a new roof, Worters warns.
Those contractors sometimes intentionally damage the roof, or there may be no damage at all, she says.
"It's just a way to get the insurer to pay for a new roof," Worters says. "This has been a huge problem in Texas and North Carolina."
Check with your state insurance department or the Better Business Bureau for complaints against a particular contractor. If you suspect you're being duped, Worters recommends contacting the National Insurance Crime Bureau.
Your pipes need protecting
Frozen pipes that burst and leak water are one of the most common problems of blizzards and winter storms, says Bob Blume, a State Farm claims team manager in Colorado.
The root cause is a lack of heat. That can be from cold air gaining entry into your house through openings from the outside, or it can happen when a furnace malfunctions or stops working during a power outage, he says.
State Farm's policies require homeowners to take reasonable steps to try to prevent pipe freeze-ups if they will be away from home.
Why do insurers care so much about your pipes? Because water can cause even more extensive damage than fire, says Blume.
State Farm tells its home insurance policyholders to maintain heat in the house or shut off the water supply if they go away during winter storm season. If you do shut off the water, be sure to drain the lines because the remaining water still can freeze, Blume says.
"If they don't take reasonable steps (and damage occurs), it becomes an exclusion," he says. Meaning, your insurance won't cover the damage.
"If you left and intentionally turned off the furnace but didn't turn off the water, that (resulting damage) would probably not be covered," Blume says.
If you're going away for a while, keep the heat on, but turn it down. Blume says a chilly 50 to 55 degrees in the house is warm enough to keep pipes from freezing.
Leave doors open on kitchen and bathroom cabinets where the plumbing enters through the wall. That allows heat to circulate, he advises.
Have someone keep an eye on the place
For good measure, have a neighbor or relative check your house when you're gone, particularly during blizzards, advises emergency management expert John Lindsay, a member of the American Red Cross Scientific Advisory Council. Lindsay says he has someone visit his home every two days when he's away.
State Farm also recommends that you have someone check on your home, but it doesn't require that for homeowners insurance, Blume says.
More from Bankrate.com and MSN Money:
Are you sure you want to delete this comment?
DATA PROVIDERS
Copyright © 2014 Microsoft. All rights reserved.
Fundamental company data and historical chart data provided by Morningstar Inc. Real-time index quotes and delayed quotes supplied by Morningstar Inc. Quotes delayed by up to 15 minutes, except where indicated otherwise. Fund summary, fund performance and dividend data provided by Morningstar Inc. Analyst recommendations provided by Zacks Investment Research. StockScouter data provided by Verus Analytics. IPO data provided by Hoover's Inc. Index membership data provided by Morningstar Inc.