Superstorm victims still waiting
A new survey shows nearly half of victims of Sandy with big insurance claims have yet to be paid.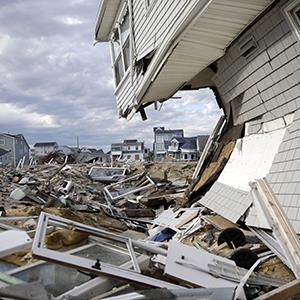 Six months after Superstorm Sandy unleashed its fury on the East Coast, nearly half of homeowners' insurance claims of $40,000 or more are still pending, according to a just-released survey by Consumer Reports.
The magazine's survey includes input from 8,389 readers from New York, New Jersey and Connecticut who detailed the extensive damage and disruption. The magazine collected that information and suggested steps consumers can take to better cope in such extreme situations. Among the suggestions is the use of generators, along with an explanation about which type to use and why.
More than half of those surveyed said their properties were damaged in the storm, and almost 30% of those who had flood damage did not have flood insurance. Lack of a flood insurance is a common problem that usually can't be remedied once a storm is on the way.

Perhaps the most stark finding in the survey was that among the homeowners who had major property damage, 20% said that, as of March, they were still uninhabitable.

Here are some other highlights from the survey:
Three out of four said they lost power for at least a day -- with the median losing power for a week.
The satisfaction with how insurance claims were handed as "relatively low." 
Nearly one in five lost running water.
Forty-five percent suffered minor damage, such as broken fences.
The most commonly cited problems were flooding and damage to roofs, windows and doors.
Noting that the Atlantic hurricane season starts June 1, Consumer Reports recommends homeowners consider a generator if they have experienced frequent outages. A stationary generator is more effective than a portable one, the magazine said. One stationary generator that was rated a "Best Buy" costs about $1,800.

The nonprofit consumer advocacy magazine also recommends that a corded phone be in the home for landline service, homeowners should also have cellular service, and should "strongly consider" flood insurance.

Another problem area: hiring home repair contractors post-storm. Consumer Reports said more than 20% of those who did use a contractor felt they were taken advantage of.

The magazine offered the some suggestions for what to watch out for when you're seeking someone to make repairs at your home, including:
Beware of contractors who stop by or call without being solicited, and particularly those who say they are already in the neighborhood and can offer a deep discount because they have extra materials.
Watch out for any contractor who doesn't have a verifiable address, uses only an answering service, doesn't provide a license or insurance information that can be checked out, and can't or won't provide local references.
Avoid a contractor who tries to get you to sign a contract on the spot by using such tactics as threatening to withdraw a "special price" if you don't immediately agree to hire him.
In addition to other advice for anyone who might have to face power outages or deal with major storms and the problems they can bring, Consumer Reports also offered advice for how to handle food when electricity is disrupted:


Put appliance thermometers in the refrigerator and the freezer. That way you'll know the temperature if the power goes out.
Keep the freezer set at 0° F or below and the refrigerator is set 37° to 40° F.

Group food together in the freezer to help it stay cold longer.

Use any extra space to freeze containers of water for ice to help keep food cold in the freezer, refrigerator, or coolers.

Freeze gel packs ahead of time for use in coolers.

Freeze refrigerated items such as leftovers, milk, and fresh meat and poultry that you may not need immediately—this helps keep them at a safe temperature longer.

Find out ahead of time where dry ice and block ice can be purchased.

Have coolers on hand to keep refrigerated food cold if the power will be out for more than 4 hours.

Store food on shelves that will be safely out of the way of contaminated water in case of flooding.
More from MSN Money:

Not sure what this article was about. The title leads the reader to believe that this is an article about the slowness of insurance companies. But the the text contains nothing about that. Then you're told that many people had flood damage, but not flood insurance, so I don't know what they are "still waiting" for. Another wake-up call? Then it turns into an article about emergency preparedness; moves off to discuss how to spot a scamming contractor, and ends with some tips on food storage.
Mr. Lipka should have picked one topic and stuck with it. Is MSN now as lacking in editors as Yahoo is?
Are you sure you want to delete this comment?
DATA PROVIDERS
Copyright © 2014 Microsoft. All rights reserved.
Fundamental company data and historical chart data provided by Morningstar Inc. Real-time index quotes and delayed quotes supplied by Morningstar Inc. Quotes delayed by up to 15 minutes, except where indicated otherwise. Fund summary, fund performance and dividend data provided by Morningstar Inc. Analyst recommendations provided by Zacks Investment Research. StockScouter data provided by Verus Analytics. IPO data provided by Hoover's Inc. Index membership data provided by Morningstar Inc.