Will Obamacare be good for stocks?
The Supreme Court has given the thumbs up to the Affordable Care Act. Now investors wonder what's next.

The deed's been done. The highest court in the land has given its approval to President Barack Obama's health care reform legislation and its controversial insurance mandate. The justices held the mandate constitutional as a tax but not as a penalty. Same difference. If you don't play, you'll pay.
Stocks have sold off in response to the decision, which is seen as an expansion of the government's power, a precedent for increased regulation, and other broad-stroke negatives that are scaring away investors. But for health care stocks, according to Barclays Capital, the decision could actually be a boon to their bottom line.
The risk for insurance providers was that the Supreme Court would cut down the individual mandate but leave the other provisions of the law intact -- provisions that require them to accept people with preexisting conditions. The fact that it didn't, according Barclays' U.S. Managed Care analyst Joshua Raskin, should be worth a high-single-digit percentage move in names like Amerigroup (AGP), Molina (MOH) and Centene (CNC).
Why? It ensures a steady stream of new customers. These names are moving because of the court's favorable decision that the federal government can't cut a state's existing Medicaid funding if there is noncompliance with expansion provisions in the Affordable Care Act. Raskin notes that expansion in Medicare set for 2014 will bring 16 million to 20 million new patients into the system.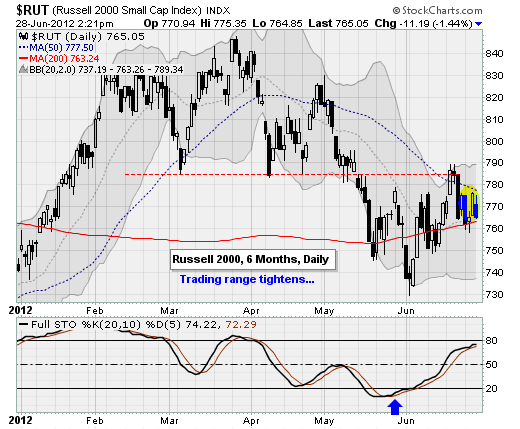 As for the rest of the market, we're mired in an ever-tightening trading range, as shown in the chart above. All eyes remain on the eurozone summit.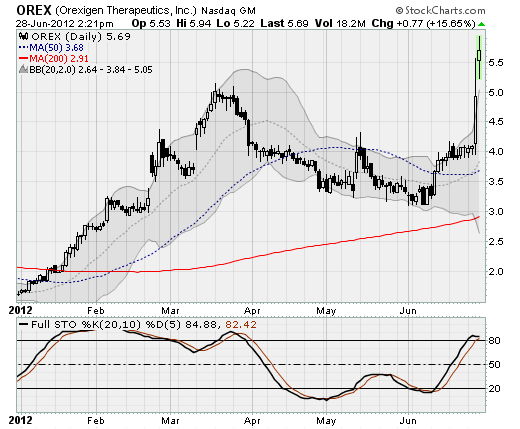 While the overall market is a bit of a snoozer, there is plenty of excitement just beneath the surface. Just look at action in weight-loss-drug maker Orexigen Therapeutics (OREX). Shares have surged in response to the Food and Drug Administration's first approval of a weight-control medication in more than a decade. Orexigen is working on a medication called Contrave, with a targeted 2014 release.
I recommended OREX to my subscribers on June 13. The position is now up more than 50%.

Check out Anthony's investment advisory service The Edge. A two-week free trial has been extended to MSN Money readers. Click here to sign up. Contact Anthony at anthony@edgeletter.c​​om and follow him on Twitter at @EdgeLetter. You can view his current stock picks here. Feel free to comment below.
MARKET UPDATE
NAME
LAST
CHANGE
% CHANGE
There's a problem getting this information right now. Please try again later.
NAME
LAST
CHANGE
% CHANGE
There's a problem getting this information right now. Please try again later.
[BRIEFING.COM] The S&P 500 settled lower by 0.8% after early strength turned into afternoon weakness.

Today's headline event came in the form of Ben Bernanke's testimony before the Joint Economic Committee. During his remarks, Chairman Bernanke said premature tightening of monetary policy could stall the pace of recovery. This followed weeks of conflicting remarks from FOMC members, which sparked speculation regarding possible changes to the Fed's policy course.

However, ... More
More Market News
Currencies
NAME
LAST
CHANGE
% CHANGE
There's a problem getting this information right now. Please try again later.