Wal-Mart tops the Fortune 500
The retailer once again claims the crown as the largest company in America, ranked by revenue.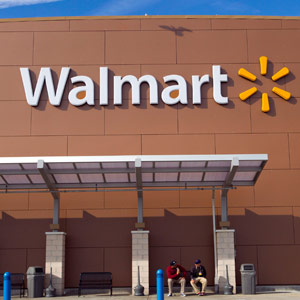 Wal-Mart Stores 
(
WMT
) is once again the largest company in the country, as ranked by revenue.
The retailer tops the new Fortune 500 list, which was released Monday and can be
found here
. That Wal-Mart made it to the top is hardly surprising. The list has been dominated since 1955 by just three companies: Wal-Mart,
General Motors
(
GM
) and
Exxon Mobil
(
XOM
).
Wal-Mart has been at the top seven times in the past decade, and nine times overall, but lost the title last year to Exxon Mobil. GM has dropped down on the list -- coming in at No. 7 this year -- but Exxon Mobil holds on to second place.
Fortune says the theme for this year is that "the animal spirits are back," referring to a renewed sense of aggressive behavior with more corporate spinoffs and mergers.
The companies on this year's list aren't quite as profitable as they were in 2011, a record-breaking year. But profits came in just $4 billion short from 2011 to a combined $820 billion. Total revenue rose to $12.06 trillion from $11.75 trillion last year.
Here's the full top 10 list for the Fortune 500:
1. Wal-Mart
2. Exxon Mobil
3.
Chevron
(
CVX
)
4.
Phillips 66
(
PSX
)
5.
Berkshire Hathaway
(
BRK.A
)
6.
Apple
(
AAPL
)
7. General Motors
8.
General Electric
(
GE
)
9.
Valero Energy
(
VLO
)
10.
Ford Motor
(
F
)

The generation 6 (2004-2007) Maxima is prone to a multitude of serious quality issues.  (1.) The cam chain tensioner failure is a very common problem (inevitable),  and will cost $1500 to repair.  (2.) The transmission is another very common failure caused by a valve body control module failure and will also cost $1500 to repair, if your not misled into thinking the entire transmission has to be replaced which is upwards of $3500.  (3.) There are common electrical problems- corrosion at the battery terminal that causes battery failure, and also frequent headlights burn outs.  (4.) Motor mounts are also frequently breaking, (5.) the Bose 6 CD changer losing a channel, skips, or stops playing, (6.) the AC low pressure hose also fails frequently, disabling the A/C and costing a few hundred dollars to repair.  I have seen also these failures first hand on my 2004 and  a friends 2006; the latter has had the bulk of the problems due to higher mileage (100,000 miles). Nissan has not warranted any of these quality problems and in addition to losing previously loyal customers,   there is currently a class action law suit against them over issues (1.) & (2.). 
Are you sure you want to delete this comment?
DATA PROVIDERS
Copyright © 2014 Microsoft. All rights reserved.
Fundamental company data and historical chart data provided by Morningstar Inc. Real-time index quotes and delayed quotes supplied by Morningstar Inc. Quotes delayed by up to 15 minutes, except where indicated otherwise. Fund summary, fund performance and dividend data provided by Morningstar Inc. Analyst recommendations provided by Zacks Investment Research. StockScouter data provided by Verus Analytics. IPO data provided by Hoover's Inc. Index membership data provided by Morningstar Inc.
MARKET UPDATE
NAME
LAST
CHANGE
% CHANGE
There's a problem getting this information right now. Please try again later.
NAME
LAST
CHANGE
% CHANGE
There's a problem getting this information right now. Please try again later.
Market index data delayed by 15 minutes
[BRIEFING.COM] The stock market ended the Thursday session on a modestly lower note, but a late-morning rebound lifted the indices off their lows. The S&P 500 shed 0.2% with seven sectors ending in the red.

This morning, European equities and U.S. futures slumped around 6:00 ET after Ukraine's President Petro Poroshenko was quoted as saying Russian forces have invaded an area southeast of Donetsk. The news pressured the markets, but a brief uptick took place after a correction to ... More
More Market News
Currencies
NAME
LAST
CHANGE
% CHANGE
There's a problem getting this information right now. Please try again later.