$600 seats? Rolling Stones fans say get off your cloud
Their LA concert has so many unsold seats, the promoter is lowering prices after $85 tickets were the only ones to sell out.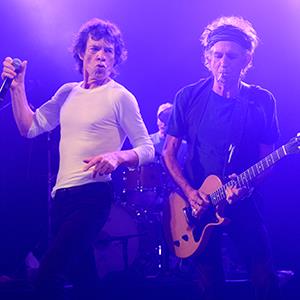 Congratulations to The Rolling Stones. Not only have they managed to sustain a career in rock for half a century, but they may have finally found a price their cash-flush baby boomer fans are unwilling to pay to see them.
Apparently, $600 is the line between acceptably worshiping rock gods and overpaying to see gyrating 70-year-olds sing about their exploits with honky tonk women. That, according to Bloomberg, is the price of the tickets fans in Los Angeles are turning away from in droves at the Stones prepare to kick off their "50 and Counting" tour at the city's Staples Center this weekend.
The arena's owner and promoter, Anschutz Entertainment Group, has already started lowering prices for a show where a large portion of tickets cost between $450 and $600. With $85 tickets the only ones selling out, AEG has released more tickets at that price to help pack the place.
The Stones, meanwhile, are in no mood for charity. The Guardian notes they've sold out two shows in London's Hyde Park, with tickets starting at $145 and steadily climbing to $585. Their last tour, the "A Bigger Bang Tour" that started in 2005 and extended all the way into 2007 after Keith Richards injured himself falling out of a tree in Fiji, brought in nearly $545 million.
As guitarist Ronnie Wood told The Telegraph, don't hassle the Stones just because they have bills to pay:
"We've already spent a million on rehearsing in Paris. And the stage is going to be another few million. And the lights. We feel no bad thing about ticket prices. We've got to make something."
Very relatable. Thanks, Ronnie.
As much as all of this seems to point to America's economic downturn, its unemployment rate and overall sentiment -- and don't get us wrong, it does -- there might be just a little part of it that's pushback from a concert-going demographic tired of being bled.
When a blog called The Richest has to point out that Barry Manilow fetches an average of $429.25 a ticket these days -- which is still modest compared to the $457.63 raked in by Elton John, $784 fetched by Rod Stewart and the whopping $1,074 Sting charged per ticket for his 60th birthday show -- something's a bit out of balance.
ABC's 20/20 notes that ticket prices have risen by a third since media conglomerate and perennial music punching bag Clear Channel started buying up U.S. radio stations, concert venues and promotional outlets. Clear Channel points its finger back at the artists, saying their greed is behind the price hikes.
Fans, to no avail, have pointed their fingers back at ticket seller and concert promoter Live Nation (LYV). However, as 20/20 found out, some within the music industry blame the fans themselves for spurring the downloads and file-sharing that throttled music industry sales and choked off a lucrative revenue stream.
And they may have had a point a few years back. However, the Nielsen (NLSN) Soundscan numbers for 2012 indicate that overall music sales in the U.S. have actually increased 3.1% over the last year. Granted, vinyl record sales surged last year by 17.7%, but nobody's buying CDs or cassettes, which led to a 12.8% nosedive in physical album sales last year. However, digital album sales were up 14.1%, while sales of digital tracks rose 5.1%.
As they did with albums and singles, American music fans are simply setting the market for concert tickets by foregoing $600 Stones tickets for cheaper seats. This Los Angeles concert may be an anomaly, but if fans suddenly realize they can do to ticket prices what they did to $20 CDs by simply refusing to pay for them, maybe the days of through-the-nose nostalgia tours are nearly over.
Then again, with Gen X already paying $300 a seat to see Prince and Madonna, promoters may just have to wait for their increasingly frugal forbears for burn out and fade away.
DATA PROVIDERS
Copyright © 2014 Microsoft. All rights reserved.
Fundamental company data and historical chart data provided by Morningstar Inc. Real-time index quotes and delayed quotes supplied by Morningstar Inc. Quotes delayed by up to 15 minutes, except where indicated otherwise. Fund summary, fund performance and dividend data provided by Morningstar Inc. Analyst recommendations provided by Zacks Investment Research. StockScouter data provided by Verus Analytics. IPO data provided by Hoover's Inc. Index membership data provided by Morningstar Inc.
MARKET UPDATE
NAME
LAST
CHANGE
% CHANGE
There's a problem getting this information right now. Please try again later.
NAME
LAST
CHANGE
% CHANGE
There's a problem getting this information right now. Please try again later.
Market index data delayed by 15 minutes
[BRIEFING.COM] Precious metals are trading lower this morning. Dec gold brushed a session low of $1212.50 in recent action and is now down 0.2% at $1214.60. Dec silver traded as low as $12.57 but has been inching higher in recent trade. It is currently at $17.71, or 0.8% lower.

Nov crude oil pulled back from its session high of $91.82 set at pit trade open and is slipping deeper into negative territory. It touched a LoD of $90.77 and is currently down 0.9% at $90.86.

Oct natural ... More
More Market News
Currencies
NAME
LAST
CHANGE
% CHANGE
There's a problem getting this information right now. Please try again later.