Deal between American and US Airways gets closer
Sources say the carriers may be nearing a merger, but many obstacles remain.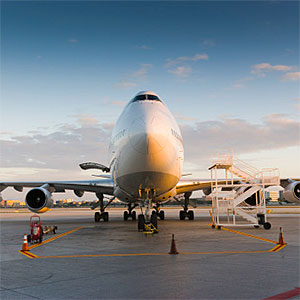 A merger between
US Airways
(
LCC
) and
American Airlines
is either a step closer to reality or about to dissolve, depending on which portion of ongoing negotiations you're listening to.
According to Reuters, U.S. Airways and American Airlines parent company AMR Corp. are ironing out the final price of the deal and the combined company's management structure. The two airlines and the folks holding American's purse strings could reach a deal in the next two weeks, according to "four people familiar with the matter."
Or they might just scrap the whole thing. This has been the state of these merger talks almost since American filed for bankruptcy in November 2011 and it hasn't grown any more stable after both sides sat down to negotiate. There are still a number of obstacles in the way, and any of them could scuttle the plan.
Before fliers get too nervous about which airline will be taking them to their turkey or tofurkey this Thanksgiving, here are just a few things to realize about this maybe merger:
AMR Corp still thinks it's flying the plane. American Airlines' owners don't see a merger with US Airways as the airline's last, best hope. They still think a restructuring plan can get the airline off the ground again and eliminate all its problems. This is an airline whose on-time arrival rate fell as low as 59% last year and only recovered to about 75% during the peak holiday season in December, according to FlightStats.com. American blamed service and labor issues for its lateness, but the latter problem is a whole other headache.
American's pilots are rooting for U.S. Airways. According to Forbes blogger Ted Reed, pilots at American Airlines would get $522 million more from a merger with U.S. Airways than they would if the merger was called off. That's $87 million in pay and retirement increases annually for the next six years, far better than the bankruptcy contract those pilots agreed to in December. Similarly disgruntled U.S. Airways pilots have been promised a similar deal if the merger goes though. If American thinks it has labor issues now, just wait until it yanks away that $522 million carrot.
The competition is getting too big. After United (UAL) merged with Continental, the combined company generated $37.15 billion in revenue last year. American Airlines and U.S. Airways combined just beat that mark with $38.69 billion in 2012. Alone, each airline pales in comparison to its oversized competitor. Together, they at least have a fighting chance.
Beggars are being choosers. U.S. Airways made AMR an offer in November that put U.S. Airways chief executive Doug Parker at the head of the new company, but would give AMR creditors 70% of its equity. AMR management not only seemed shaky about handing the controls to Parker, but wanted a bigger cut than the 70% on the table. We'd ask them to remind us which one was in bankruptcy, but we're pretty sure we'd get the following answer in reply...
American has the hubs, so it makes the rules. U.S. Airways' key markets in Philadelphia, Pittsburgh, its home city of Phoenix and Charlotte, N.C., are cute and all, but American brings New York, Chicago, Los Angeles and Dallas/Fort Worth to the party. It also has a joint venture with British Airways that would allow a combined company to counter Delta, which just bought a 49% stake in Virgin Atlantic to strengthen its London operations. That not only explains why American has been so strident in its dealings with U.S. Airways, but why American chairman Tom Horton outright insulted U.S. Airways earlier last year by calling out their previous merger failures to the Dallas Morning News and stating publicly, "I'm not sure what's in the water out there in Phoenix. Maybe it's the cactus."
More on moneyNOW

American Airlines is living in the past. There is NO WAY they could ever emerge from chapter 11 and remain competative in this new enviroment.. US Air may not be sexy to the fellas running American but they are the ONLY ones left willing to do a deal. Bob Crandell would already have it done; must be a few overpaid guys waiting for a golden parachute; I say push them out the back of a MD88 without a chute.

Both sides of the Table have bribed the Pilots once again over to the greedy dark side. Wolf tried this before during his Merger mania with United that created the Parity Plus 1% fiasco. No one ever saw  that big pay day BTW! If there is another kind of World disturbance like before there is no way this newly combined airline can afford over 10,000 Vice Presidents sitting in the Cockpit, 100's of New Aircraft Purchases and Pricey Jet Fuel. Beware what you wish for people. There is always a catch! That said I believe Doug Parker is the man to pull it off in the event of a stable Middle East. He has taken two shaky Airlines and made money despite USAPA Pilots wining about seniority that has cost them dearly over the last 7 years. Now all that's left is deciding who the Starting QB is going to be. Perhaps the equity holders should go through an interview process and make the choice?

If the merger pulls USAIR out of the star Alliance that blows!  Being in PHL One World partners blow keep Star and let the merger fly!  Also rid AA of all MD80's as they are relics.  On an AA flight the co pilot opened his window and maintenance couldn't shut it so flight cancelled.  Next day they couldn't start the MD80 on the Tarmac!
Are you sure you want to delete this comment?
DATA PROVIDERS
Copyright © 2014 Microsoft. All rights reserved.
Fundamental company data and historical chart data provided by Morningstar Inc. Real-time index quotes and delayed quotes supplied by Morningstar Inc. Quotes delayed by up to 15 minutes, except where indicated otherwise. Fund summary, fund performance and dividend data provided by Morningstar Inc. Analyst recommendations provided by Zacks Investment Research. StockScouter data provided by Verus Analytics. IPO data provided by Hoover's Inc. Index membership data provided by Morningstar Inc.
MARKET UPDATE
NAME
LAST
CHANGE
% CHANGE
There's a problem getting this information right now. Please try again later.
NAME
LAST
CHANGE
% CHANGE
There's a problem getting this information right now. Please try again later.
Market index data delayed by 15 minutes
[BRIEFING.COM] The major averages ended the midweek session with slim gains after showing some intraday volatility in reaction to the release of the latest policy directive from the Federal Open Market Committee. The S&P 500 added 0.1%, while the relative strength among small caps sent the Russell 2000 higher by 0.3%.

Equities spent the first half of the session near their flat lines as participants stuck to the sidelines ahead of the FOMC statement, which conveyed no changes to the ... More
More Market News
Currencies
NAME
LAST
CHANGE
% CHANGE
There's a problem getting this information right now. Please try again later.