Why Costco's generic drugs are so cheap
While chains like CVS and Rite-Aid depend on pharmacy profits, the warehouse retailer uses prescriptions to draw traffic.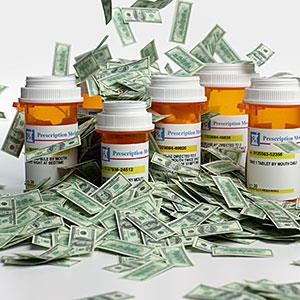 There aren't coupons for prescription drugs, but Costco (COST) is probably wishing it could print up some "$749 off" inserts right about now.
Consumer Reports went shopping at 200 pharmacies across the country for a month's supply of five prescription drugs that just went generic: Actos for diabetes, Lexapro for depression, Singulair for asthma, Plavix for blood thinning, and Lipitor for high cholesterol.
What they found was a $749 difference -- that's 447% -- between the $916 price tag at CVS (CVS) and the $167 that Costco charged for the same five drugs. For generic Lipitor alone CVS charged $150 to Costco's $17. The generic Lexapro found at CVS for $126 could be had at Costco for $7.
Why such a big difference? Because CVS, Rite Aid (RAD) and Walgreen (WAG) draw most of their profits from the pharmacy, while Costco, Sam's Club and other discount stores consider their pharmacies throw-ins that help bulk up foot traffic.
CVS, in particular, also factors in the cost of drive-through windows, automated prescription refill systems, prescription consultation and 24-hour pharmacies that Costco's Monday-Saturday service lacks.
Americans spent an average of $758 per person out of pocket for medication in 2012, according to a recent Consumer Reports poll. Of the 1,130 people surveyed who regularly took prescription drugs -- both insured and uninsured -- 12% spent more than $1,200 last year.
With CVS' direct competitors pressed to offer the same costly amenities, Rite Aid's price for that five generic drug cocktail is a whopping $820. Even with its pharmacies as a second-fiddle throw-in, Target's (TGT) tally came out to a steep $796 -- a full $360 more than Walgreen's $436.
On the whole, Walgreen fared better than not only its biggest health-and-beauty competitors, but even grocery stores like SuperValu (SVU), Safeway (SWY) and Kroger (KR), which charged $658 for all five drugs. In fact, most prescriptions at Walgreen were only $7 more than those offered at Wal-Mart (WMT) ($426). Only Lexapro cost more at Walgreen ($105) than at the big-box retailer ($84).
DATA PROVIDERS
Copyright © 2013 Microsoft. All rights reserved.
Fundamental company data and historical chart data provided by Morningstar Inc. Real-time index quotes and delayed quotes supplied by Morningstar Inc. Quotes delayed by up to 15 minutes, except where indicated otherwise. Fund summary, fund performance and dividend data provided by Morningstar Inc. Analyst recommendations provided by Zacks Investment Research. StockScouter data provided by Verus Analytics. IPO data provided by Hoover's Inc. Index membership data provided by Morningstar Inc.
MARKET UPDATE
NAME
LAST
CHANGE
% CHANGE
There's a problem getting this information right now. Please try again later.
NAME
LAST
CHANGE
% CHANGE
There's a problem getting this information right now. Please try again later.
Market index data delayed by 15 minutes
[BRIEFING.COM] S&P futures vs fair value: +17.00. Nasdaq futures vs fair value: +29.80. Markets across Asia saw a mixed session as a cautious trade persisted ahead of today's U.S. nonfarm payroll report. Japan's Nikkei (+0.8%) led the region higher as a weaker yen provided support. Chinese markets were mixed as Hong Kong's Hang Seng (+0.1%) eked out a small gain and the Shanghai Composite (-0.4%) posted a modest loss. After markets close Japanese Prime Minister Shinzo Abe called for a ... More
More Market News
Currencies
NAME
LAST
CHANGE
% CHANGE
There's a problem getting this information right now. Please try again later.