Billionaire Saudi cries foul over Forbes' rich list
Prince Alwaleed claims the magazine's annual ranking of billionaires is biased against Middle Easterners. Forbes says he's in an 'alternate reality.'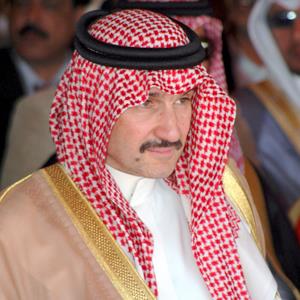 Forbes' annual rankings of billionaires is sparking a brawl, with accusations of bias and financial shenanigans flying between the magazine publisher and Saudi Prince Alwaleed Bin Talal. 

It's an unusual place to find Forbes' billionaire list, which typically offers the more sedate amusements of providing the have-nots with a glimpse of the huge fortunes behind the likes of Microsoft's (MSFT) Bill Gates and Berkshire Hathaway's (BRK.B) Warren Buffett. (Microsoft owns and publishes moneyNOW, an MSN Money site.)
But this year's annual billionaires list has turned into something of a slugfest. That's because Prince Alwaleed on Monday said he had "severed ties" with the Forbes list, accusing it of using a "flawed' valuation method that's biased against Middle Eastern investors.
Forbes, owned by wealthy businessman Steve Forbes, shot back on Tuesday with a scathing article that claims the value Prince Alwaleed places on his holdings seems like "an alternate reality."
In the middle of the dust-up might be the actual winner: the Bloomberg Billionaires index, created last year to compete with Forbes' list. That's partly because Alwaleed is throwing his support to the rival rich list, helping it gain attention and perhaps move out from the shadow of Forbes' better-known billionaires ranking.
But a bigger issue might be how the fight exposes the posturing that has apparently fueled the Forbes list in past years. As the magazine itself notes, Alwaleed first came to its attention in 1988, a year after it first published the rich list. The prince engaged in "lobbying, cajoling and threatening" to ensure his status on the list, with the writer even noting that Alwaleed called "in tears" after the 2006 list placed his wealth at $7 billion below what the prince said it was.
Bloomberg's rich list is backed by another billionaire: Michael Bloomberg, who founded financial data and news service Bloomberg LP and whose fortune Forbes pegs at $27 billion.
The Bloomberg list allows users to sort the wealthy by citizenship, gender, age and sources of wealth, and it uses the company's data systems to rejigger the billionaire standings each day. By Bloomberg's measure, Prince Alwaleed was the world's 16th-richest person on Tuesday, with $28 billion of net worth. 
Forbes, however, ranks the prince at a lowly No. 26, pegging his wealth at $20 billion. 
Alwaleed declined to talk with Forbes for its article, which offers a dim view of his personality and investing prowess. "Alwaleed has not proven to be a consistent investor. Over the past 20 years he has backed some serious dogs, such as Eastman Kodak and TWA," the piece notes. 
It also claims the prince is using his Kingdom Holding shares, which are traded on the Saudi Stock Exchange, to push up his net worth. Prior to the annual release of the Forbes rich list, shares in Kingdom jumped sharply, the story says.
Several "former executives close to Alwaleed began telling Forbes a consistent story: The prince was using his public vehicle to inflate his net worth," the piece says.
Alwaleed said in his press release that "Forbes has no intention of improving the accuracy of their valuation of our holdings and we have made the decision to move on."
DATA PROVIDERS
Copyright © 2014 Microsoft. All rights reserved.
Fundamental company data and historical chart data provided by Morningstar Inc. Real-time index quotes and delayed quotes supplied by Morningstar Inc. Quotes delayed by up to 15 minutes, except where indicated otherwise. Fund summary, fund performance and dividend data provided by Morningstar Inc. Analyst recommendations provided by Zacks Investment Research. StockScouter data provided by Verus Analytics. IPO data provided by Hoover's Inc. Index membership data provided by Morningstar Inc.
MARKET UPDATE
NAME
LAST
CHANGE
% CHANGE
There's a problem getting this information right now. Please try again later.
NAME
LAST
CHANGE
% CHANGE
There's a problem getting this information right now. Please try again later.
Market index data delayed by 15 minutes
[BRIEFING.COM] The stock market finished the Tuesday session on the defensive after spending the entire day in a steady retreat. The S&P 500 (-0.6%) posted its third consecutive decline, while the small-cap Russell 2000 (-0.9%) slipped behind the broader market during afternoon action.

Equity indices were pressured from the start following some overnight developments that weighed on sentiment. The market tried to overcome the early weakness, but could not stage a sustained rebound, ... More
More Market News
Currencies
NAME
LAST
CHANGE
% CHANGE
There's a problem getting this information right now. Please try again later.