Should overweight fliers have to pay more?
A Norwegian professor proposes 3 pay-as-you-weigh approaches to airfare, but carriers aren't biting -- yet.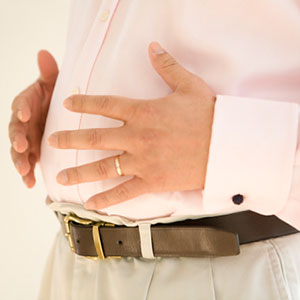 In Italy, pizza isn't sold by the slice, but by weight. The thinking is that heavier slices eat up more of the pizza maker's ingredients and, therefore, the price should cover more of the cost.
That sounds just fine, until economists consider applying the same standard to overweight airline passengers.
Bharat Bhatta, an associate professor at Norway's Sogn og Fjordane University College, wrote last week in the Journal of Revenue Pricing and Management that airlines should consider charging by space and weight. According to Reuters, Bhatta suggests that such a move would not only help airlines recoup some of the fuel costs associated with carrying additional weight, but it would also offer passengers motivation to drop a few pounds and get a discount.
Bhatta has devised three pay-as-you-weigh pricing plans that may be coming soon to the airline of your choice. The first would charge passengers according to how much they and their baggage weighed so that someone weighing 130 pounds pay would half the price of someone weighing 260.

The second would use a fixed base rate that rises for every passenger above a specified weight threshold. It's by far the most unwieldy option because every passenger would pay a different fare. The third option, Bhatta's favorite, would set three fares: One for passengers of average weight, one for overweight passengers and one for those below average.


Carriers like Air France and Southwest Airlines (LUV) already require heavier passengers to pay for extra seats if they're too large to fit in one, but they offer refunds once the flight is over. In Southwest's case, a very public run-in with "Clerks" and "Chasing Amy" director Kevin Smith that resulted in him being taken off a flight because of his weight in 2010 has put that airline's  policy in the spotlight. United Air Lines (UAL) also requires customers too large to fit in one seat to buy another.
With airline fees already stacking up, the flying public may not be so receptive to a new one that requires them to hit the scales. While no airline has admitted considering such a policy, don't be surprised to see major carriers funneling frequent-flier miles toward gym memberships.
DATA PROVIDERS
Copyright © 2014 Microsoft. All rights reserved.
Fundamental company data and historical chart data provided by Morningstar Inc. Real-time index quotes and delayed quotes supplied by Morningstar Inc. Quotes delayed by up to 15 minutes, except where indicated otherwise. Fund summary, fund performance and dividend data provided by Morningstar Inc. Analyst recommendations provided by Zacks Investment Research. StockScouter data provided by Verus Analytics. IPO data provided by Hoover's Inc. Index membership data provided by Morningstar Inc.
MARKET UPDATE
NAME
LAST
CHANGE
% CHANGE
There's a problem getting this information right now. Please try again later.
NAME
LAST
CHANGE
% CHANGE
There's a problem getting this information right now. Please try again later.
Market index data delayed by 15 minutes
[BRIEFING.COM] The stock market finished the Tuesday session on the defensive after spending the entire day in a steady retreat. The S&P 500 (-0.6%) posted its third consecutive decline, while the small-cap Russell 2000 (-0.9%) slipped behind the broader market during afternoon action.

Equity indices were pressured from the start following some overnight developments that weighed on sentiment. The market tried to overcome the early weakness, but could not stage a sustained rebound, ... More
More Market News
Currencies
NAME
LAST
CHANGE
% CHANGE
There's a problem getting this information right now. Please try again later.