Underestimate Grover Norquist at your own peril
The anti-tax crusader has already survived serious financial challenges and decades of Washington chicanery. He's not going anywhere.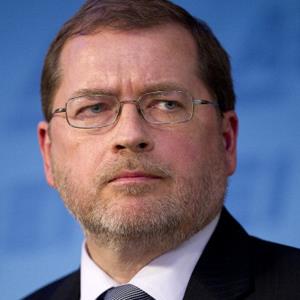 Grover Norquist's non-profit group will survive just fine even as Republicans increasingly turn their back on his Taxpayer Protection Pledge to "oppose any and all efforts" to increase taxes.
For one thing, many Republican stalwarts such as CNBC pundit Larry Kudlow and the Wall Street Journal's editorial page want Norquist to stick to his guns. Another, less well-known reason is that his group, Americans for Tax Reform, has survived plenty of challenges already, especially financial ones.
Norquist, who founded Americans for Tax Reform in 1985, has agreed in recent years to defer part of his pay "for the benefit of the organization," according to the non-profit's latest
form 900
filed with the IRS. It wasn't clear how long this practice occurred, though ATR did note in 2010 that his compensation "did not include payment of any deferred pay." The same declaration was made on the 2009. In 2008, Norquist received $50,000 in deferred pay. Such an arrangement is legal and often occurs when non-profits are struggling, according to Daniel Borochoff, the president of CharityWatch, a watchdog organization.
"You have got to pay your bills some way," sald Borochoff, in an interview. "It may simply be the case that they had a cash flow crunch."  
Norquist, 56, earned a salary of about $225,000 in 2010. He also commands speaking fees of between $5,000 and $10,000, according
to All American Speakers.
The average pay for non-profit CEOs is $132,739, according to a recently released study by
Charity Navigator
, another watchdog group. A spokesman for ATR didn't immediately return an email requesting comment.
Though ATR is not in dire financial straights, it doesn't appear to be flush either. ATR has a related organization called the Americans for Tax Reform Foundation, which has many of the same members on its board. Despite receiving a loan from ATR of more than $7.4 million in 2010, the foundation finished that year in the red. That year, ATR reported total revenue of $12.4 million. Expenses topped $11 million. 
Even if its popularity is on the wane, there are no shortage of conservative billionaires who will be willing to fund Norquist's operation, such as casino magnate Sheldon Adelson and the Koch Brothers. The anti-tax crusader has survived in the treacherous political swamps of Washington since the Reagan era. Liberals who think his day is done underestimate him at their own peril.
--Follow Jonathan Berr on Twitter@jdberr.
More from Money Now
DATA PROVIDERS
Copyright © 2014 Microsoft. All rights reserved.
Fundamental company data and historical chart data provided by Morningstar Inc. Real-time index quotes and delayed quotes supplied by Morningstar Inc. Quotes delayed by up to 15 minutes, except where indicated otherwise. Fund summary, fund performance and dividend data provided by Morningstar Inc. Analyst recommendations provided by Zacks Investment Research. StockScouter data provided by Verus Analytics. IPO data provided by Hoover's Inc. Index membership data provided by Morningstar Inc.
MARKET UPDATE
NAME
LAST
CHANGE
% CHANGE
There's a problem getting this information right now. Please try again later.
NAME
LAST
CHANGE
% CHANGE
There's a problem getting this information right now. Please try again later.
Market index data delayed by 15 minutes
[BRIEFING.COM] The stock market began the new trading week on the defensive note with small-cap stocks pacing the retreat. The Russell 2000 (-1.4%) and Nasdaq Composite (-1.1%) displayed relative weakness, while the S&P 500 lost 0.8% with all ten sectors ending in the red.

Global equities began showing some cracks overnight after China's Finance Minister Lou Jiwei poured cold water on hopes for new stimulus measures. Specifically, Mr. Lou said the government has no plans to change ... More
More Market News
Currencies
NAME
LAST
CHANGE
% CHANGE
There's a problem getting this information right now. Please try again later.