The pain of $4-a-gallon gas is spreading
This tipping point is already hitting the country's most populated areas. As gas prices surge, some consumers may cut spending in other areas.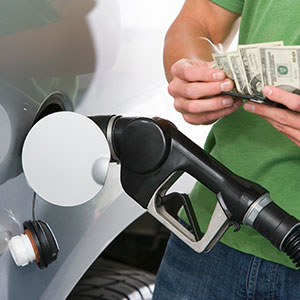 A tipping point has hit some of the country's most populated areas: the $4 gallon of gas, which is digging into the pocketbooks of consumers in New York, California and Washington, D.C., according to the Automobile Association of America.
While painful for consumers, high gas prices may also spell trouble for the still-recovering economy. At $4 per gallon and higher, almost one-third of consumers say they're forced to make "significant cutbacks" in spending, according to a 2012 Gallup poll.
February's price jump has been unusual, given that drivers typically take to the roads less in winter, leading to lower demand for gas. But refinery shutdowns have resulted in tighter supply, which is driving up prices. 
Unfortunately for consumers, it's likely that more parts of the country will soon feel the $4 pain, despite a break in the rising streak.
That's because fuel prices typically rise in March and April, as weather improves and drivers take to the road again. Peak prices this spring might approach the highs seen in 2011 and 2012, AAA noted in a Feb. 19 blog post. 
The worst-hit cities are in California, with Santa Barbara residents paying the highest prices in the country: $4.36 for a gallon, according to GasBuddy.com. Other hard-hit towns include Honolulu, where a gallon costs $4.27, and New York City, where drivers pay $4.06. 
The higher costs are taking their toll on consumers, according to the National Association of Convenience Stores (NACS), which represents the convenience and fuel retailing industry. 
Almost one-quarter of consumers who buy gas are "very pessimistic" about the economy, up from 18% in January, when fuel prices started climbing, according to the NACS Consumer Fuels Survey. 
"[C]onsumers are feeling the pain from higher gas prices and this is affecting their feelings about the economy in general," said John Eichberger, NACS vice president of government relations, in a statement. "Worse, consumers see no end in sight, with 62% saying that they expect prices to be even higher in the coming weeks."
DATA PROVIDERS
Copyright © 2014 Microsoft. All rights reserved.
Fundamental company data and historical chart data provided by Morningstar Inc. Real-time index quotes and delayed quotes supplied by Morningstar Inc. Quotes delayed by up to 15 minutes, except where indicated otherwise. Fund summary, fund performance and dividend data provided by Morningstar Inc. Analyst recommendations provided by Zacks Investment Research. StockScouter data provided by Verus Analytics. IPO data provided by Hoover's Inc. Index membership data provided by Morningstar Inc.
MARKET UPDATE
NAME
LAST
CHANGE
% CHANGE
There's a problem getting this information right now. Please try again later.
NAME
LAST
CHANGE
% CHANGE
There's a problem getting this information right now. Please try again later.
Market index data delayed by 15 minutes
[BRIEFING.COM] The headlines generally favored Tuesday being another good day for the stock market. Instead, it was just a mixed day with modest point changes on either side of the unchanged mark for the major indices.

For the most part, the stock market was a sideshow. The main trading events were seen in the commodity and Treasury markets, both of which saw some decent-sized losses within their respective complex.

Dollar strength was at the heart of the weakness in ... More
More Market News
Currencies
NAME
LAST
CHANGE
% CHANGE
There's a problem getting this information right now. Please try again later.