California's San Onofre nuke plant won't be revived
With Edison International permanently closing the facility, the issue of aging reactors in the US is becoming inescapable.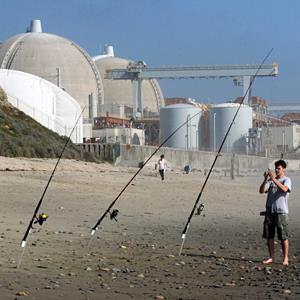 One of California's largest power facilities is closing for good -- and that closure raises new questions about America's aging nuclear power industry.

Last Friday, Southern California Edision (SCEDN), an Edison International (EIX) company, announced it was permanently retiring its San Onofre Nuclear Generating Station.
The Los Angeles Times reports the decision came 17 months after the plant was shut due to problems with it steam generating system. Until that closure, San Onofre powered about 1.4 million households in Southern California. SCE spent $500 million on replacement power after the outage.
"We have concluded that the continuing uncertainty about when or if (the plant) might return to service was not good for our customers, our investors, or the need to plan for our region's long-term electricity needs," Ted Craver, Edison International's chairman and CEO told the newspaper.
Opponents of nuclear power praised the news, and Sen. Barbara Boxer, D-Calif., chairman of the Senate Environment and Public Works Committee, said she was "relieved."
"This nuclear plant had a defective redesign and could no longer operate as intended," Boxer said in a statement. "Modifications to the San Onofre nuclear plant were unsafe and posed a danger to the 8 million people living within 50 miles of the plant."

San Onofre supplied about 4% of California's power. It was one of two nuclear plants in the state, with the other one being Pacific Gas and Electric's (PCG) Diablo Canyon facility.
The U.S. currently has 104 nuclear reactors in 31 U.S. states operated by 32 companies, according to the Nuclear Energy Institute, an industry representative. Those reactors also generate 19% of America's electricity. But the World Nuclear Association noted that nearly all the electricity nuclear power generates in the U.S. comes from reactors built between the late 1960s and 1990. And that, until this year, "there had been no new construction starts (on nuclear reactors) since 1977."
The San Onofre plant is just the latest nuclear reactor to close. The Financial Times reports Duke Energy (DUK) says it will retire its Crystal River plant in Florida, which has also been shut down for repairs, while Dominion Resources (D) intends to turn off its Kewaunee plant in Wisconsin.

Analysts say the nuclear industry is having to contend with officials looking at alternatives to traditional power sources, as well as lower natural gas prices brought on by America's shale boom.

"Regulators are becoming more confident that investing in gas plants has lower costs and presents lower risks to customers," Travis Miller, Morningstar utilities analyst, told the FT, "than spending hundreds of millions of dollars and taking on the uncertainty that goes with repairing a nuclear plant."
DATA PROVIDERS
Copyright © 2014 Microsoft. All rights reserved.
Fundamental company data and historical chart data provided by Morningstar Inc. Real-time index quotes and delayed quotes supplied by Morningstar Inc. Quotes delayed by up to 15 minutes, except where indicated otherwise. Fund summary, fund performance and dividend data provided by Morningstar Inc. Analyst recommendations provided by Zacks Investment Research. StockScouter data provided by Verus Analytics. IPO data provided by Hoover's Inc. Index membership data provided by Morningstar Inc.
MARKET UPDATE
NAME
LAST
CHANGE
% CHANGE
There's a problem getting this information right now. Please try again later.
NAME
LAST
CHANGE
% CHANGE
There's a problem getting this information right now. Please try again later.
Market index data delayed by 15 minutes
[BRIEFING.COM] The S&P 500 trades lower by 0.4%, while the Russell 2000 (-0.9%) underperforms.

Just reported, existing home sales hit an annualized rate of 5.05 million units in August, while the Briefing.com consensus expected a reading of 5.20 million. The pace for August was up from the prior month's revised rate of 5.14 million units (from 5.15 million). Nasdaq -26.88 at 4552.91... NYSE Adv/Dec 559/2272... Nasdaq Adv/Dec 561/1935.
More Market News
Currencies
NAME
LAST
CHANGE
% CHANGE
There's a problem getting this information right now. Please try again later.