Amtrak could be turning a corner
Ridership is at an all-time high along its short-haul corridors. But the story is quite different on the longer routes.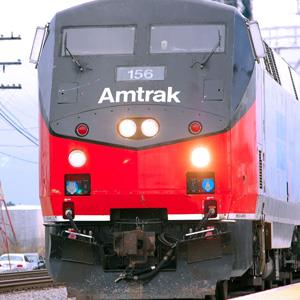 Remember Amtrak, America's poor excuse for a national rail line? In the decades following its establishment in 1971, Amtrak came under constant criticism for its uncomfortable and undependable service -- as well as for what the Brookings Institution remembers as a "big, bloated bureaucracy, incapable of change and dependent on federal subsidies."
Well, apparently no longer. On Friday, Brookings released a new study that describes Amtrak as "in the midst of a renaissance" fueled by consumer frustrations with the rising costs and hassles of both car and plane travel as well as a renewed interest in passenger train travel.
The study notes Amtrak ridership is up 55% since 1997, with the rail service now carrying an all-time high of over 31 million passengers annually. That makes it the fastest-growing mode of transportation in the U.S. The nation's largest 100 cities, especially those in the Northeast and Far West, generate nearly 90% of Amtrak's customers.
Ten U.S. metro areas account for nearly two-thirds of overall Amtrak ridership. With the exception of Chicago, they're either on the East Coast -- from Washington, D.C., to Boston -- or the California cities of Los Angeles, San Francisco, Sacramento and San Diego.
What seems to be working best for Amtrak are the short-haul services between big cities, which carry about 83% of all passengers.
Conversely, Amtrak's 18 long-distance routes, those that run 400 miles or more, are all bleeding money and operating on negative balances. Three of the "shorter" long-distance routes, the Vermonter, the Pennsylvanian and the Carolinian, which travel between 400 to 750 miles, reportedly combined to lose a relatively modest $10.4 million in 2011.
But Amtrak's Chicago-to-San Francisco California Zephyr and the Los Angeles-to-Chicago Southwest Chief, two of the service's longest routes, each lost over $60 million in 2011.
As Brad Plumer in the Washington Post's Wonkblog reports, Amtrak still needed $1.4 billion in federal subsidies last year. And he notes that the Brookings study suggests Congress should take a hard look at Amtrak's long-distance, money-losing routes and work out a deal with the states involved.
"If a route is losing money," Plumer says, "then the states along its path should negotiate how best to provide financial support and fill the hole. (Under the Brookings plan, they'd be allowed to use federal transportation funds.) If the states can't or won't chip in, then the routes get pared back."
And one of the big differences between now and the bad old days of Amtrak, according to the Brookings study, is a growing involvement by state governments with the passenger rail service.
"States now have formalized relationships with Amtrak to upgrade tracks, operate routes, and redevelop stations," the study notes. "The result is a new federalist partnership where Amtrak, the federal government, and states share responsibility for the network's successes and failures."
DATA PROVIDERS
Copyright © 2014 Microsoft. All rights reserved.
Fundamental company data and historical chart data provided by Morningstar Inc. Real-time index quotes and delayed quotes supplied by Morningstar Inc. Quotes delayed by up to 15 minutes, except where indicated otherwise. Fund summary, fund performance and dividend data provided by Morningstar Inc. Analyst recommendations provided by Zacks Investment Research. StockScouter data provided by Verus Analytics. IPO data provided by Hoover's Inc. Index membership data provided by Morningstar Inc.
MARKET UPDATE
NAME
LAST
CHANGE
% CHANGE
There's a problem getting this information right now. Please try again later.
NAME
LAST
CHANGE
% CHANGE
There's a problem getting this information right now. Please try again later.
Market index data delayed by 15 minutes
[BRIEFING.COM] The stock market finished the Tuesday session on the defensive after spending the entire day in a steady retreat. The S&P 500 (-0.6%) posted its third consecutive decline, while the small-cap Russell 2000 (-0.9%) slipped behind the broader market during afternoon action.

Equity indices were pressured from the start following some overnight developments that weighed on sentiment. The market tried to overcome the early weakness, but could not stage a sustained rebound, ... More
More Market News
Currencies
NAME
LAST
CHANGE
% CHANGE
There's a problem getting this information right now. Please try again later.