Zombie Lehman Bros. sucks cash from nonprofits
Post-bankruptcy, the collapsed bank wants bigger exit payments from them as it tries to maximize returns to creditors.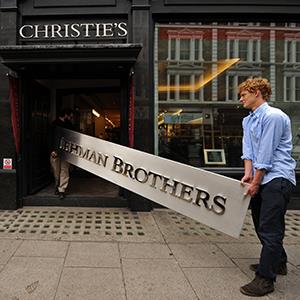 What's a little more lifeless but just as dangerous as the failed bank
Lehman Bros.
? Zombie Lehman Bros.
The dessicated corpse of the bank that went bust in September 2008 and helped plunge the U.S. into a recession and the world into a financial crisis is still out there stumbling around and striking terror into every nonprofit organization in its shambling path. Bloomberg has discovered that managers of the bank's estate feel it was shortchanged by nonprofits that were forced to make exit payments on derivatives that went south after the company filed for Chapter 11 protection.
"Instead of looking for brains, it's looking for cash," bankruptcy lawyer Chip Bowles told Bloomberg. "Lehman doesn't care. They have a duty to maximize their return to their bankruptcy creditors. If you're Mother Teresa, they'll go after you."
The Buck Institute for Research on Aging in Novato, Calif., for example, gave Lehman $2 million in October 2008 to cancel a contract it used to calm fluctuating interest rates. Lehman says it wants $12.1 million more and has assessed at least an additional $4.7 million in interest, the research center said in its most recent financial statement. The amount Lehman is seeking is more than half of what Buck spent last year researching Alzheimer's, Parkinson's and other diseases.
The targets don't matter much either. Colorado's Housing and Finance Authority settled a dispute over swaps with Lehman as of March 2012 for an undisclosed sum, according to the authority's most recent financial report.
Simmons College in Boston, a 5,000-student liberal arts institution, paid Lehman $5.5 million to exit three swaps in January 2009. It held back $800,000 for out-of-pocket expenses, the college reported in its June 30, 2012, financial statement. Lehman disapproved of the amount, and more than three years later it notified the college that it wanted to negotiate a settlement through mediation.
Havenwood-Heritage Heights, which runs a nursing, retirement and assisted-living community in Concord, N.H., paid a termination fee of about $420,000 in 2009. The nonprofit disclosed that Lehman wanted an additional $1.9 million as of Dec. 31 -- an amount equal to what the retirement community spent on food and utilities that year, according to its financial statement.
Is it craven and somewhat heartless? Yes, but zombie fiction tells us zombie hearts don't really function. Since exiting bankruptcy in March 2012, Lehman has liquidated about $47.2 billion and wants $65 billion more to disburse to creditors by about 2016. Creditors will get an average of 18 cents on the dollar.
Though many of these disputes come down to differences of opinion, that hasn't stopped the remains of Lehman from suing to get what it wants. On April 17, one of its units sued the Federal Home Loan Bank of Cincinnati, demanding that it pay an additional $63.9 million related to 87 interest-rate swaps.

Though Lehman may not win all these cases, its former business partners are now all too aware that the failed bank won't stop trying to suck up money from the grave.
DATA PROVIDERS
Copyright © 2014 Microsoft. All rights reserved.
Fundamental company data and historical chart data provided by Morningstar Inc. Real-time index quotes and delayed quotes supplied by Morningstar Inc. Quotes delayed by up to 15 minutes, except where indicated otherwise. Fund summary, fund performance and dividend data provided by Morningstar Inc. Analyst recommendations provided by Zacks Investment Research. StockScouter data provided by Verus Analytics. IPO data provided by Hoover's Inc. Index membership data provided by Morningstar Inc.
MARKET UPDATE
NAME
LAST
CHANGE
% CHANGE
There's a problem getting this information right now. Please try again later.
NAME
LAST
CHANGE
% CHANGE
There's a problem getting this information right now. Please try again later.
Market index data delayed by 15 minutes
[BRIEFING.COM] The stock market finished an upbeat week on a mixed note. The S&P 500 shed less than a point, ending the week higher by 1.3%, while the Dow Jones Industrial Average (+0.1%) cemented a 1.7% advance for the week. High-beta names underperformed, which weighed on the Nasdaq Composite (-0.3%) and the Russell 2000 (-1.3%).

Equity indices displayed strength in the early going with the S&P 500 tagging the 2,019 level during the opening 30 minutes of the action. However, ... More
More Market News
Currencies
NAME
LAST
CHANGE
% CHANGE
There's a problem getting this information right now. Please try again later.