US tech talent shortage? That's hooey
While companies insist America's education failures make more H-1B visas for foreign workers a must, the numbers say otherwise.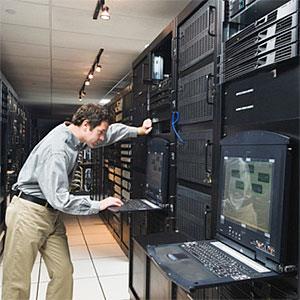 The U.S. has become an educational wasteland that has led to a dearth of science, math and technology talent for its growing tech sector.
Believe that, and we'll show you the ocean cliff from which you can summon the Kraken and order it to smite your enemies.
The Senate's current immigration bill only furthers the narrative that the American workforce is too stone-dumb to be of any help to the tech sector. The only solution, it asserts, is to increase the annual limit on H-1B visas, which allow corporations to bring employees with a bachelor's degree to the U.S. from overseas for up to six years. As Quartz points out, however, the H-1B provision is based on a myth.
While Facebook (FB) chief executive Mark Zuckerberg readies a political action committee to ram the provision through to President Barack Obama's desk, the Economic Policy Institute issued a report that flatly dispels the claim that more visas are the answer.
U.S. colleges are churning out more programmers and engineers than the job market is absorbing. Roughly twice as many American undergraduates earn degrees in science, technology, engineering and math disciplines than go on to work in those fields. In 2009 alone, less than two-thirds of employed computer science grads were working in the info-tech sector a year after graduation.
While shortages may exist in niche industries like cloud software development or Android programming, Quartz says there isn't a broad dearth of talent. What there is, however, is a bottom line that needs to be maintained through young, cheap labor.
University of California at Davis computer science professor Norman Matloff scoffs at H-1B visas, calling them a means of procuring cheap, "indentured" labor. While companies are supposed to hire H-1B immigrants only if no Americans are available to do the job -- and then are required to pay them on the same scale as U.S.-born professionals -- legal loopholes leave the process vulnerable to exploitation.
Companies save money by hiring a younger H-1B visa holder with less experience. Those same visa holders also have a tough time negotiating for promotions, raises or even a chance to open their own businesses because most of those moves would cost them their visas. Companies are well aware of this and hire H-1B workers from outsourcing firms by the thousands as a result.

As The Boston Globe discovered, just four companies -- New Jersey-based Cognizant Technology Solutions (CTSH) along with India's Tata Consultancy Services, Wipro (WIT) and Infosys (INFY) -- claimed 20% of the 134,780 H-1B visas approved in 2012.
DATA PROVIDERS
Copyright © 2014 Microsoft. All rights reserved.
Fundamental company data and historical chart data provided by Morningstar Inc. Real-time index quotes and delayed quotes supplied by Morningstar Inc. Quotes delayed by up to 15 minutes, except where indicated otherwise. Fund summary, fund performance and dividend data provided by Morningstar Inc. Analyst recommendations provided by Zacks Investment Research. StockScouter data provided by Verus Analytics. IPO data provided by Hoover's Inc. Index membership data provided by Morningstar Inc.
MARKET UPDATE
NAME
LAST
CHANGE
% CHANGE
There's a problem getting this information right now. Please try again later.
NAME
LAST
CHANGE
% CHANGE
There's a problem getting this information right now. Please try again later.
Market index data delayed by 15 minutes
[BRIEFING.COM] S&P futures vs fair value: -5.50. Nasdaq futures vs fair value: -13.00. Nasdaq at... NYSE Adv/Dec 0/0... Nasdaq Adv/Dec 0/0.
More Market News
Currencies
NAME
LAST
CHANGE
% CHANGE
There's a problem getting this information right now. Please try again later.