Twinkies get rescued
A joint bid by Pabst owner Metropolous & Co. and Apollo Management Group gets OK'd, and the snacks could be selling by summer.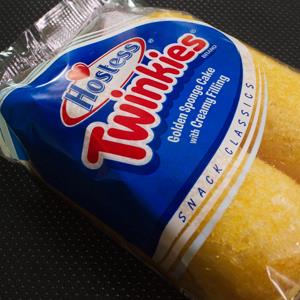 Dry your tears, Twinkies fans. Your long,
preservative-deprive​d
nightmare is ending.
Thanks to the same benevolent folks who gave America back its Pabst Blue Ribbon beer and their private equity friends, the filling-stuffed snack cakes could be back on shelves by summer. According to CNNMoney, a bankruptcy court accepted the $410 million bid from Pabst owners Metropolous & Co. and private equity firm Apollo Global Management (APO) on Monday.
It helps just a little that the joint bid was the only one in the running for the iconic cake treat and its Hostess stablemates. As of Thursday, the court was ready to set up an auction among qualified bidders to determine who would get these goodies. But Hostess came back to the court on Monday and told it that no other bid came close, giving Metropolous and Apollo a win by default.
In return, they're getting a prize that Americans have shown a surprising amount of affection for since Hostess' bankruptcy and subsequent scuttling last year. The winning bid covers other Hostess brands such as Ho Hos, Zingers and Suzy Q, as well as five bakeries.
While Americans' appetite for those treats has died down a bit in recent years, Twinkies alone brought in $76.2 million in revenue in 2012. While it's the big name in the deal, the beloved Twinkie is far from the most lucrative Hostess product. That honor goes to CupCakes and their looping icing, which brought in a whopping $384.6 million last year.
But will all this Twinkie nostalgia die down once the snack cake and its convenience-store cohorts are saved? Metropolous and Apollo don't think so, and they should know. Both businesses stake large portions of their revenue on consumer nostalgia. While Metropolous' Pabst is a prime example, it has also pulled Chef Boyardee canned pasta dishes and Pam cooking spray out of consumer culture's reject pile.
Apollo keeps a bit more current by investing in AMC theaters, Caesars casinos, Realogy (which owns the Coldwell Banker and Century 21 real estate firms), Carl's Jr. and Hardee's parent company CKE and Norwegian Cruise Lines. If you're an avid Elvis Presley or Muhammad Ali fan and occasionally buy related memorabilia, Apollo gets a cut of that, too.
Even with Twinkies finding a home, the Hostess bankruptcy saga is far from over. Little Debbie snack cake maker McKee Foods submitted a $27.5 million bid for Hostess' Drake's brand snack cakes back in January. That lineup has a large following in the Northeast and includes Devil Dogs, Funny Bones and Yodels. McKee's move opened the bidding process for Drake's that won't be closed until May 30, when a bankruptcy court will hold an auction, if necessary.
And Tastykake-maker Flowers Foods (FLO) is the lead bidder for six Hostess' bread brands, including Wonder Bread and Home Pride, after it put $390 million on the table. U.S. Bakery agreed to pay nearly $29 million for Hostess' remaining bread brands. Will Wonder Bread or Drake's Coffee Cakes get as much online love as the Twinkie? With Hostess' marquee product rescued, consumers' remaining Hostess-related outrage may have a much shorter shelf life.
DATA PROVIDERS
Copyright © 2014 Microsoft. All rights reserved.
Fundamental company data and historical chart data provided by Morningstar Inc. Real-time index quotes and delayed quotes supplied by Morningstar Inc. Quotes delayed by up to 15 minutes, except where indicated otherwise. Fund summary, fund performance and dividend data provided by Morningstar Inc. Analyst recommendations provided by Zacks Investment Research. StockScouter data provided by Verus Analytics. IPO data provided by Hoover's Inc. Index membership data provided by Morningstar Inc.
MARKET UPDATE
NAME
LAST
CHANGE
% CHANGE
There's a problem getting this information right now. Please try again later.
NAME
LAST
CHANGE
% CHANGE
There's a problem getting this information right now. Please try again later.
Market index data delayed by 15 minutes
[BRIEFING.COM] The stock market began the new trading week on the defensive note with small-cap stocks pacing the retreat. The Russell 2000 (-1.4%) and Nasdaq Composite (-1.1%) displayed relative weakness, while the S&P 500 lost 0.8% with all ten sectors ending in the red.

Global equities began showing some cracks overnight after China's Finance Minister Lou Jiwei poured cold water on hopes for new stimulus measures. Specifically, Mr. Lou said the government has no plans to change ... More
More Market News
Currencies
NAME
LAST
CHANGE
% CHANGE
There's a problem getting this information right now. Please try again later.