Obamacare could bring more Band-Aid coverage
In a move to minimize costs, many employers will offer plans that cover just the basics -- not X-rays or surgeries.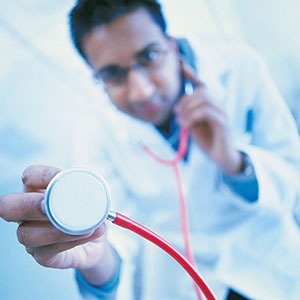 Get ready for the latest twist in the Obamacare overhaul: the spread of bare-bones health insurance plans. 

When the Affordable Care Act goes into effect in 2014, employers with more than 50 full-time workers will be required to provide health insurance plans. Some companies are crying foul, pointing to the $15,75 annual premium for employer-sponsored family health plans as unsustainable.
Enter the Band-Aid health insurance policy. These low-benefit plans, which cover preventive services but often skip coverage for surgery, X-rays and hospitalization, are being pitched to companies as a way to meet the letter of the law while avoiding a government fine, according to The Wall Street Journal.
Under Obamacare, companies that fail to provide insurance will pay a $2,000 penalty per employee. Some companies have said they will drop plans, figuring the penalty would be less costly than providing insurance, as MSN Money reported in April. Some businesses, such as Regal Entertainment Group (RGC), are scaling back employee hours to avoid the health coverage mandate for full-time employees.
The Band-Aid policies would mean employers would pay premiums of only $40 to $100 a month per employee, making the priciest versions only $1,200 a year per worker. That beats paying a $2,000 fine, and it may explain why some businesses are perking up at the idea.
"For certain organizations, it may be an ideal solution to minimize the cost of opting out," David Ellis, the chief executive of LifeStream Complete Senior Living, told the Journal. His company, which employs 350 workers, was recently pitched such a bare-bones plan and is considering the idea. 
Administration officials told the Journal they're surprised that some employers are mulling such plans. "Our expectation was that employers would offer high-quality insurance," Robert Kocher, a former White House health adviser who worked on the legislation, told the publication. 
That may strike some people as evidence that the administration is out of touch with corporate realities. After all, anyone who's run a business knows keeping costs down is always top of mind. 
"What our goal was all along was to make (offering coverage) financially palatable for the company as a whole, so we didn't do damage and have to let people go or slow down our growth," Brian Livingston, the chief financial officer of Firebird Restaurant Group, the owner of El Fenix, told the Journal. 
His chain, which employs 1,200 workers, will offer limited plans that will cover preventative care and drugs but won't pay for surgery or hospitalizations. 
Follow Aimee Picchi on Twitter at @aimeepicchi.
DATA PROVIDERS
Copyright © 2014 Microsoft. All rights reserved.
Fundamental company data and historical chart data provided by Morningstar Inc. Real-time index quotes and delayed quotes supplied by Morningstar Inc. Quotes delayed by up to 15 minutes, except where indicated otherwise. Fund summary, fund performance and dividend data provided by Morningstar Inc. Analyst recommendations provided by Zacks Investment Research. StockScouter data provided by Verus Analytics. IPO data provided by Hoover's Inc. Index membership data provided by Morningstar Inc.
MARKET UPDATE
NAME
LAST
CHANGE
% CHANGE
There's a problem getting this information right now. Please try again later.
NAME
LAST
CHANGE
% CHANGE
There's a problem getting this information right now. Please try again later.
Market index data delayed by 15 minutes
[BRIEFING.COM] The stock market finished the Tuesday session on the defensive after spending the entire day in a steady retreat. The S&P 500 (-0.6%) posted its third consecutive decline, while the small-cap Russell 2000 (-0.9%) slipped behind the broader market during afternoon action.

Equity indices were pressured from the start following some overnight developments that weighed on sentiment. The market tried to overcome the early weakness, but could not stage a sustained rebound, ... More
More Market News
Currencies
NAME
LAST
CHANGE
% CHANGE
There's a problem getting this information right now. Please try again later.