Growing business behind Boston's reverse-911 calls
The emergency notification systems used following the marathon attacks are part of a rapidly expanding industry.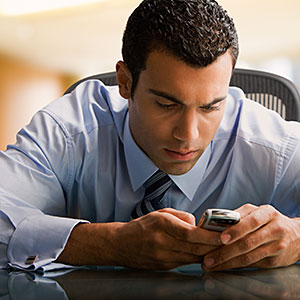 Firaz Gliel, a resident of Watertown, Mass., was asleep Friday morning when his neighborhood became the epicenter of the manhunt for one of the Boston Marathon bombing suspects.

"We were woken up at 3 a.m. by a reverse 911 call," Gliel told RT.com. "The police told all the residents to stay put and not leave the house."
Three hours later, Ellie Garvey, a first-grade teacher living several miles away in suburban Boston, was heading out to work when her phone rang. It was a recorded message from her school, saying that, "due to the volatile situation in tracking down the suspects from Monday's attack," there would be no classes.
While Garvey was shocked by the call, she's very used to the school's emergency notification system. "We get them for snow days, mostly," she told MSN Money, "anytime that they have to tell us all something. It's called an 'alert now' message."
These automated calls, known by a variety of names, have been used by American cities, businesses and schools for decades. And the industry behind these emergency mass notification systems continues to grow, using a flexible and adaptive combination of technologies to keep customers informed.
On Monday, when bombs exploded at the Boston Marathon, officials used the city's Everbridge systems to call additional first responders, police and other essential personnel to the scene. According to The Boston Globe, as cell phone service in the region became jammed from the flood of concerned people trying to contact friends and family, "Everbridge's software was able to bypass overloaded cell towers by using land-based phone lines and Wi-Fi signals to send alerts to phones, email addresses, pagers, faxes, even electronic billboards or road signs."
Another industry giant, Cassidian Communications, is owned by the North American division of EADS (EADSY), a European conglomerate that owns Airbus.
Cassidian has trademarked the term "Reverse 9-1-1." According to its website, its systems are "used by hundreds of law enforcement, fire/EMS and emergency management agencies, as well as military bases and school campuses nationwide." The browser-based application uses databases and geographic information system technologies to quickly target communications within a specific area. Their system also delivers messages across a wide spectrum of media.

Start-up costs for an emergency notification system vary, and reportedly can range from tens of thousands to hundreds of thousands of dollars. Often, there are additional maintenance charges and fees.
Flynn Nogueira, Cassidian's marketing director, says a variety of factors are involved in pricing an emergency notification system -- including the population size being served and whether the system is being deployed and hosted on-site or elsewhere. And she notes there are federal grants available for some governments and organizations looking to purchase such systems.
But she warns that crisis notification technologies, while very useful, are "not a panacea."
"For this reason," she added, "Cassidian Communications always encourages people to take proactive measures to ensure their continued well-being, i.e., tuning to local TV and radio, monitoring social media sites, etc."
DATA PROVIDERS
Copyright © 2014 Microsoft. All rights reserved.
Fundamental company data and historical chart data provided by Morningstar Inc. Real-time index quotes and delayed quotes supplied by Morningstar Inc. Quotes delayed by up to 15 minutes, except where indicated otherwise. Fund summary, fund performance and dividend data provided by Morningstar Inc. Analyst recommendations provided by Zacks Investment Research. StockScouter data provided by Verus Analytics. IPO data provided by Hoover's Inc. Index membership data provided by Morningstar Inc.
MARKET UPDATE
NAME
LAST
CHANGE
% CHANGE
There's a problem getting this information right now. Please try again later.
NAME
LAST
CHANGE
% CHANGE
There's a problem getting this information right now. Please try again later.
Market index data delayed by 15 minutes
[BRIEFING.COM] The stock market began the new week on a cautious note. The S&P 500 lost 0.3%, but managed to erase more than half of its opening decline. Thanks to the rebound, the benchmark index reclaimed its 50-day moving average (1976.78) after slipping below that level in the morning.

Equities slumped at the open amid a couple global developments that dampened the overall risk appetite. Continued student protests in Hong Kong and a potential response from China weighed on the ... More
More Market News
Currencies
NAME
LAST
CHANGE
% CHANGE
There's a problem getting this information right now. Please try again later.