Labor unions see the future in white-collar workers
Rising job pressures are prompting more professionals to consider organizing, and that's not going unnoticed.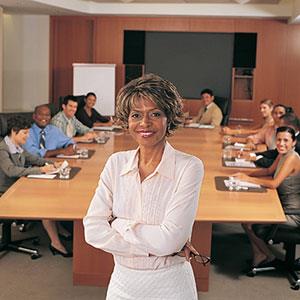 As an overall trend, union membership rates in the U.S. are declining. The Department of Labor reports just 11.3% of America's wage and salary workers were union members last year, down from 11.8% in 2011. Compare that with 1983, the first year comparable data became available: The overall U.S. union membership rate was 20.1%.
The U.S. labor movement's roots were traditionally found in manufacturing, service and public-sector jobs. But as that factory work diminishes and the economy changes, more white-collar workers are looking at organizing.
According to the Los Angeles Times, professionals now make up 62% of the U.S. workforce, up from 15% in 1977. Given the still-challenging economy and the many companies demanding more time and effort from workers to keep profits up while demand is lackluster, a lot of professionals are unhappy.
"Employers have been downsizing, asking employees to take on larger roles, making them work more hours," Nicole Korkolis, a spokeswoman for the Office and Professional Employees International Union, told the Times. "People are feeling like they need an advocate."
Gary Chaison, a professor of industrial relations at Clark University, says white-collar workers tend to see themselves as individuals who should be promoted for their accomplishments in the workplace -- and who tend to leave jobs when they don't like the situation rather than protest conditions. But that's changing.
"There is a great deal of unrest among professional workers, who don't have a history of union-joining behavior," Chaison told the newspaper. "They represent the frontiers of unionization in America."
Most big unions haven't given much thought to workplace professionals, preferring to concentrate their efforts on sectors that employ large numbers of workers, like hotels and fast-food restaurants. But some recent labor disputes are apparently drawing their attention.
Earlier this week, members of a union representing more than 200 attorneys, paralegals, secretaries and other professional voted to strike against their employer, Legal Services NYC, for the first time in nearly 20 years. That happened after the company called for cuts to health care and retirement benefits. And in California, professional health care workers at five University of California medical centers staged protests Wednesday, demanding increased staffing and higher pay.
Gordon Deane, the president of the National Organization of Legal Services Workers, tells the L.A. Times he's seeing more interest in unions among professionals who are feeling pushed around at the office.
"People are aware of how management decisions are affecting their work life," he said. "They are taking a stand and saying enough is enough."
DATA PROVIDERS
Copyright © 2014 Microsoft. All rights reserved.
Fundamental company data and historical chart data provided by Morningstar Inc. Real-time index quotes and delayed quotes supplied by Morningstar Inc. Quotes delayed by up to 15 minutes, except where indicated otherwise. Fund summary, fund performance and dividend data provided by Morningstar Inc. Analyst recommendations provided by Zacks Investment Research. StockScouter data provided by Verus Analytics. IPO data provided by Hoover's Inc. Index membership data provided by Morningstar Inc.
MARKET UPDATE
NAME
LAST
CHANGE
% CHANGE
There's a problem getting this information right now. Please try again later.
NAME
LAST
CHANGE
% CHANGE
There's a problem getting this information right now. Please try again later.
Market index data delayed by 15 minutes
[BRIEFING.COM] The major averages ended the midweek session with slim gains after showing some intraday volatility in reaction to the release of the latest policy directive from the Federal Open Market Committee. The S&P 500 added 0.1%, while the relative strength among small caps sent the Russell 2000 higher by 0.3%.

Equities spent the first half of the session near their flat lines as participants stuck to the sidelines ahead of the FOMC statement, which conveyed no changes to the ... More
More Market News
Currencies
NAME
LAST
CHANGE
% CHANGE
There's a problem getting this information right now. Please try again later.