The foreclosure crisis' other toll: Emotional stress
Uncertainty about the fate of their home translates to continuing mental anguish for many owners.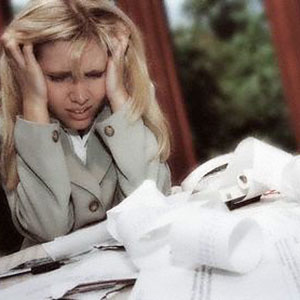 Very mixed news last week for the financially struggling American homeowner. RealtyTrac, an online marketplace for foreclosure properties and real estate data, said overall U.S. foreclosure filings dropped 1% last month compared to February, but that was down 23% from March of 2012.

According to the report, 34 states showed annual decreases in U.S. bank repossessions in March. At the same time, however, some states saw foreclosure rates swing up sharply last month, including Arkansas (up 121% annually), Maryland (up 114%), Washington (up 88%), Pennsylvania (up 41%) and Ohio (up 39%).
"Although the overall national foreclosure trend continues to head lower, late-blooming foreclosures are bolting higher in some local markets where aggressive foreclosure prevention efforts in previous years are wearing off," Daren Blomquist, vice president at RealtyTrac, said in a press statement.

Blomquist also warned that, while such efforts in many states have increased the average time needed to foreclose, those delays could also lead to another "outbreak" of foreclosures in the near future.
While analysts puzzle over whether the nation's real estate sector is on the rebound, many homeowners are still dealing with the emotional toll brought on by a foreclosure crisis. The New York Times reports that between 2007 and early 2012, about 4 million Americans were in foreclosure. And an AARP study released last year found the foreclosure rate for people over age 75 jumped eightfold between 2007 and 2011.

"It is well established that adverse economics has a profound impact on mental health," said Dr. Ken Duckworth, medical director for the National Alliance on Mental Illness (NAMI) in an email  to MSN Money. "There has been a dramatic rise in suicides in Greece during their economic  crisis, and so this not only a U.S. phenomenon of increased mental health vulnerability during economic distress."
Homeownership is a big part of the American dream, says Duckworth, and distress over foreclosure can be particularly hard-hitting for Americans, promoting what he calls "a sense of feeling trapped for some people who are underwater on their homes." He added that the "loss of one's dream home has great potential to generate shame and humiliation, which raises risks of depression, substance abuse and bad outcomes."
One such apparent "bad outcome" was last week's deadly incident in suburban Atlanta, when a man whose home was in foreclosure took several firemen hostage and demanded his utilities be turned back on. That suspect was eventually killed by police.

Which leads to another fact: While economic hard times may prompt many people to defer costly medical procedures and other services, Duckworth says the demand for mental health and substance abuse services increases during a recession. But budgets for mental health services also take a hit during financial downturns.
As a 2011 NAMI report noted: "With demand for public mental health services extremely high, especially at a time of severe economic distress, the crisis in mental health care continues. The impacts are felt throughout society as people go without the treatment they need."
Are you sure you want to delete this comment?
DATA PROVIDERS
Copyright © 2014 Microsoft. All rights reserved.
Fundamental company data and historical chart data provided by Morningstar Inc. Real-time index quotes and delayed quotes supplied by Morningstar Inc. Quotes delayed by up to 15 minutes, except where indicated otherwise. Fund summary, fund performance and dividend data provided by Morningstar Inc. Analyst recommendations provided by Zacks Investment Research. StockScouter data provided by Verus Analytics. IPO data provided by Hoover's Inc. Index membership data provided by Morningstar Inc.
MARKET UPDATE
NAME
LAST
CHANGE
% CHANGE
There's a problem getting this information right now. Please try again later.
NAME
LAST
CHANGE
% CHANGE
There's a problem getting this information right now. Please try again later.
Market index data delayed by 15 minutes
[BRIEFING.COM] The stock market ended the Wednesday session on a mixed note. The tech-heavy Nasdaq displayed relative strength, climbing 0.4%, while the S&P 500 added 0.2% with five sectors settling in the green. For its part, the Dow Jones Industrial Average (-0.2%) spent the entire session below its flat line.

Equities started the midweek affair on a rather unassuming note in the absence of market-moving news or economic releases. With those pieces missing from the equation, ... More
More Market News
Currencies
NAME
LAST
CHANGE
% CHANGE
There's a problem getting this information right now. Please try again later.