40 Sony execs take a pay cut
The troubled electronics titan's CEO and other honchos declined bonuses worth 30% to 50% of their pay as their products lose ground.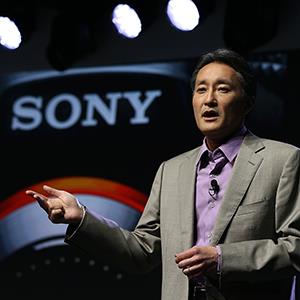 Executive pay
is still at a far loftier altitude than that of the average employee, but it might crash back down to earth if CEOs keep their recent streak of failures alive.
Sony (SNE) CEO Kazuo Hirai (pictured) and about 40 other executives at the electronics giant are taking a voluntary pay cut after a 2012 fiscal year that could be kindly described as godawful.

Bloomberg notes that all of the Sony bigwigs involved are forgoing bonuses worth 30% to 50% of their annual salaries after the company took a $115 million quarterly loss in February. The company had to sell some of its properties (including its U.S. headquarters in New York), stocks and other holdings, fire more than 10,000 workers and get some help from a weakening yen to post a $410 million gain for 2012. It had posted a $6.4 billion net loss the year before and has continued to trail behind competitors like Apple (AAPL) and Samsung.
Hirai already took at 24% pay cut last summer that reduced his earnings to $1.45 million. By comparison, Apple CEO Tim Cook's compensation package earned him $4.2 million during that same stretch.
Bloomberg reported Monday that the ratio of CEO-to-worker pay has increased 1,000% since 1950. Today's Fortune 500 CEOs make 204 times more than regular workers on average, up from 120-to-1 in 2000, 42-to-1 in 1980 and 20-to-1 in 1950. However, that pay is increasingly absorbing the hit when chief executives fail to live up to their lofty compensation.
Recently departed J.C. Penney (JCP) CEO Ron Johnson was given a package worth 1,795 times the average wages and benefits of a U.S. department store worker when he was hired in 2011. Just before he left, however, J.C. Penney hacked Johnson's pay by roughly 97% after a series of changes, layoffs and missteps left 43,000 workers jobless and cut the company's share price nearly in half.
Barclays (BCS) CEO Anthony Jenkins, meanwhile, gave up a $4.35 million bonus in February amid scandals over rate-fixing, product mis-selling and big bonuses. While Sony still hopes products like its Xperia smartphones and PlayStation 4 game console can revive its suffering electronics branch, a continued slump could prove even more costly for its underperforming executive team.

If at all possible I refuse to buy Sony products.  After loosing out in the Beta-Max vs VHS battle they purchased movie studios.  When the battle between Blu-Ray and HD-DVD came out Sony won because they wouldn't release any movies from the studio they owned in the HD-DVD format. 
They like many companies are living off a reputation they made in the past when their trintion tube technology was hard to beat in the TV and monitor field.  Now they continue to charge prices like they had the best products when they are just run of the mill.
Sony in my opinion offers great products. They have an awesome cell phone with the Sony Xperia Z and I do want one but they do not offer it in the USA yet. From what I have heard when it does finally hit the US market (late June), you will not be able to purchase it via a upgrade through your service provider. Instead they will be selling it unlocked for like $800. Who in the heck pays $800 for a cell phone? Looks like I will be getting a Samsung Galaxy S3 for $50 with my AT&T upgrade. Look at Sony's pricing on their LED TVs and PC's. Why pay $2,000 for a Sony LED when you can get the same size Samsung LED for like $1,500 or a Vizio LED for $1,250. Sony has some of the best products, they just need better marketing and to be priced competively.
Are you sure you want to delete this comment?
DATA PROVIDERS
Copyright © 2014 Microsoft. All rights reserved.
Fundamental company data and historical chart data provided by Morningstar Inc. Real-time index quotes and delayed quotes supplied by Morningstar Inc. Quotes delayed by up to 15 minutes, except where indicated otherwise. Fund summary, fund performance and dividend data provided by Morningstar Inc. Analyst recommendations provided by Zacks Investment Research. StockScouter data provided by Verus Analytics. IPO data provided by Hoover's Inc. Index membership data provided by Morningstar Inc.
MARKET UPDATE
NAME
LAST
CHANGE
% CHANGE
There's a problem getting this information right now. Please try again later.
NAME
LAST
CHANGE
% CHANGE
There's a problem getting this information right now. Please try again later.
Market index data delayed by 15 minutes
[BRIEFING.COM] Alibaba Group (BABA 90.92, +22.92) is up big. The major indices are not. In fact, the higher the opening indication for Alibaba went, it seems the more the indices faded from their opening strength.

That could be owed to Alibaba drawing buying interest away from everything else. Volume in the stock is already a stunning 202 million shares, which is giving a huge lift to NYSE totals on this quarterly expiration day for stock options, index options, ... More
More Market News
Currencies
NAME
LAST
CHANGE
% CHANGE
There's a problem getting this information right now. Please try again later.