Obamacare loophole lets states shift costs
Washington state is considering taking its part-time employees off its insurance plan and sticking Uncle Sam with the tab.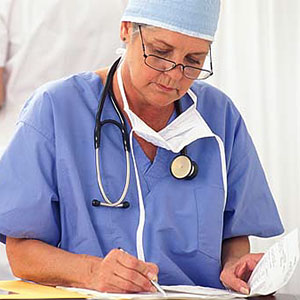 The new national health care law has always fueled debate over funding, but now it's the states that may potentially pass costs on to the federal government.
Washington state, which is coping with a $1.2 billion budget shortfall, is considering pushing some of its employees out of the state health care plan and into exchanges created by the Affordable Care Act. The book keepers in Olympia say their plan would save the state $120 million over the next two years. However, it would just dump costs onto the federal government, since some low-income, part-time state employees and education workers may qualify for federal aid.
While the health care law requires health insurance for employees working 30 hours a week or more, Washington already insures employees who work as little as 20 hours a week. Under a proposal still in the developmental stages, the state would change its policies and make deals with staffers working between 20 and 30 hours a week to pay them more, but drop their health care coverage. Those workers would then be eligible for health care through the federal plan, with minimal consequences for the state.
The tradeoff for Washington is roughly $2 an hour in raises for school cafeteria workers and teacher's aides. That's about $200 a month for workers putting in 25 hours a week, but part-timers in families with middle-class incomes or better might not qualify for federal benefits and could face thousands of dollars in new expenses.
The state's budget battles have already resulted in Washington selling off its state-run liquor stores, proposing an increasingly divisive beer tax and exploring tolls to fund a new Interstate 5 bridge into Oregon. Yet it's not the only state framing its budget issues in the context of so-called Obamacare.
Virginia, for example, is now requiring all part-time employees to work 29 hours or less weekly to avoid incurring health care costs. Florida, which is facing a potential $300 million penalty for not covering workers who put in 30 to 39 hours a week, is taking the opposite approach and trying to extend coverage to those employees.
DATA PROVIDERS
Copyright © 2014 Microsoft. All rights reserved.
Fundamental company data and historical chart data provided by Morningstar Inc. Real-time index quotes and delayed quotes supplied by Morningstar Inc. Quotes delayed by up to 15 minutes, except where indicated otherwise. Fund summary, fund performance and dividend data provided by Morningstar Inc. Analyst recommendations provided by Zacks Investment Research. StockScouter data provided by Verus Analytics. IPO data provided by Hoover's Inc. Index membership data provided by Morningstar Inc.
MARKET UPDATE
NAME
LAST
CHANGE
% CHANGE
There's a problem getting this information right now. Please try again later.
NAME
LAST
CHANGE
% CHANGE
There's a problem getting this information right now. Please try again later.
Market index data delayed by 15 minutes
[BRIEFING.COM] Afternoon action continues with the S&P 500 trading two points away from its session low. The benchmark index marked its lowest level of the session at 13:30 ET and spent the following the 30 minutes in a steady climb towards its flat line; however, the rally attempt was rebuffed at the 1874 level, where the index turned back towards session lows.

With stocks on the defensive, the CBOE Volatility Index (VIX 14.34, +0.14) continues showing increased demand for ... More
More Market News
Currencies
NAME
LAST
CHANGE
% CHANGE
There's a problem getting this information right now. Please try again later.