Consumers don't fear the fiscal cliff
Confidence, spending and housing prices are up, but so are savings and spirits.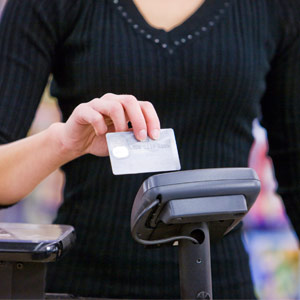 It's hard for consumers to see the the fiscal cliff when their arms are piled high with freshly bought stuff.
If Washington allows taxes to rise, spending to shrink and the fiscal cliff to occur in 2013, consumers are going to run right off that cliff Wile E. Coyote style. The Conference Board's Consumer Confidence Index rose to 73.7 in November, up from 73.1 in October and at its highest level since February 2008. Meanwhile, housing prices quoted by the S&P/Case-Shiller Index jumped 3.6% from the third quarter, the biggest such increase since an $8,000 new homebuyers tax credit sparked a similar boost in early 2010.
As elected officials suss out which taxes rise and which programs and deductions get the ax, consumers are looking on the bright side. Unemployment scooted up from 7.8% to 7.9% last month, but the economy added 175,000 jobs. One in five of the people surveyed for the Consumer Confidence Index say they believe more jobs are on the way. A full 60% of consumers said the economy will have the same number of jobs six months from now and 69.1% expect their income to stabilize during that span.
As market research group ComScore and the National Retail Federation each report increases in Thanksgiving, Black Friday and Cyber Monday spending, consumers thinking long-term are optimistic as well. Interest rates on a 30-year fixed-rate mortgage hover around 3.3%, according to Freddie Mac, while the National Association of Realtors notes that existing home sales increased 2% from September to October and 11% within the last year. Meanwhile, real estate site RealtyTrac found that foreclosure rates decreased in 62% of U.S. cities last quarter, with foreclosures in 58% of cities returning to pre-housing crisis levels.
That hasn't stopped economists and politicians from trying to put some threat-level-caliber​ fear into cliff-ignoring consumers. When the University of Michigan/Thompson Reuters consumer sentiment index numbers were released last week, they rose from 82.6 in October to 82.7 in November and reached a five-year high. Because they didn't hit the 84.5 mark economists estimated, there was suddenly talk of nervousness in the market place and a sense of impending doom surrounding the potential $600 billion in tax hikes and cutbacks.
President Barack Obama's advisers released their own report implying that tax hikes on the middle class would curb consumer spending by nearly $200 billion in 2013, hurt retail and cut jobs. That may have something to do with the administration's desire to raise taxes on the top 2% of Americans while extending the Bush tax cuts for everyone making less than $200,000 and temporarily fixing the Alternative Minimum Tax. It may also have a bit to do with the 2% payroll tax cut from 2011 going away in 2013 and everybody already losing some income right out of the gate.
As Warren Buffett suggested on Monday, though, increased taxes may not do a whole lot to affect investment. For the average middle class consumer, everyday shopping and spending is an investment. Consumers have already curbed their crazy, conspicuous spending since the housing crisis and ensuing recession. The S&P/Case-Shiller housing price index is still down 29% from its booming 2006 high. Meanwhile, consumers are saving almost double what they were in the days leading up to the economic crisis, according to the Department of Commerce.
American consumers have had a lot of reasons to be nervous within the past decade and haven't been afraid to put the wallets away when times got tough. However, employed and taxed is still a whole lot better in most formerly jobless Americans' eyes than not being employed at all. They may not spring for a lease on a luxury car or a costly vacation condo anymore, but they're certainly not letting a little thing like sorting out the national debt keep them from hitting the sales or hosting dinner in their new, reasonably priced home this holiday season.
More from Money Now

Consumer sentiment is based on what each consumer feels about his/her own situation at this time, not at what pundits or troll posters say here.  So if consumer optimism is up, it means more consumers see themselves to be in a better position now than they were before.  But the ever present doom and gloom naysayers will tell us that the consumers don't know what they are talking about, yet, the consumers are talking about themselves, and they should know more about themselves than the naysayers, who apparently love to wallow in misery.  This reminds me of the early beginnings of the women's lib movement, when their leaders told American women, you're not happy, you just don't realize it yet, but we will get you there.
Are you sure you want to delete this comment?
DATA PROVIDERS
Copyright © 2014 Microsoft. All rights reserved.
Fundamental company data and historical chart data provided by Morningstar Inc. Real-time index quotes and delayed quotes supplied by Morningstar Inc. Quotes delayed by up to 15 minutes, except where indicated otherwise. Fund summary, fund performance and dividend data provided by Morningstar Inc. Analyst recommendations provided by Zacks Investment Research. StockScouter data provided by Verus Analytics. IPO data provided by Hoover's Inc. Index membership data provided by Morningstar Inc.
MARKET UPDATE
NAME
LAST
CHANGE
% CHANGE
There's a problem getting this information right now. Please try again later.
NAME
LAST
CHANGE
% CHANGE
There's a problem getting this information right now. Please try again later.
Market index data delayed by 15 minutes
[BRIEFING.COM] The stock market began the new week on a cautious note. The S&P 500 lost 0.3%, but managed to erase more than half of its opening decline. Thanks to the rebound, the benchmark index reclaimed its 50-day moving average (1976.78) after slipping below that level in the morning.

Equities slumped at the open amid a couple global developments that dampened the overall risk appetite. Continued student protests in Hong Kong and a potential response from China weighed on the ... More
More Market News
Currencies
NAME
LAST
CHANGE
% CHANGE
There's a problem getting this information right now. Please try again later.