Why Amtrak is rolling out new locomotives
The more efficient engines are headed to the booming Northeast Corridor line, whose growing ridership is also paying for them.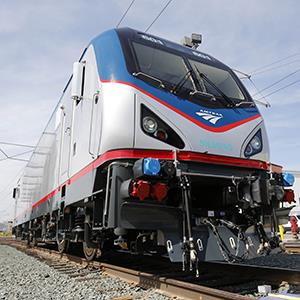 Amtrak
isn't rolling out 70 new locomotives to placate Americans who view it as a wasteful government money loser. It's wringing a little extra efficiency and cash out of regions where the rail line is not only surviving, but thriving.
More than 31 million passengers rode Amtrak in the 2012 fiscal year, generating a record $2.02 billion in ticket revenue. Amtrak says it will be able to pay back a $466 million federal loan for the locomotives over 25 years using net profits from the Northeast Corridor line, where ridership hit a record high last year for the ninth time in 10 years.
The new engines will be used on the Northeast Corridor between Washington, D.C., and Boston and on Keystone Corridor trains that run between Philadelphia and Harrisburg, Pa. Three were unveiled Monday before being sent out for testing. The first is due to go into service by this fall, and all 70 are expected to be in service by 2016.
A study by the Brookings Institution recently found Amtrak is "in the midst of a renaissance" fueled by consumer frustrations with the rising costs and hassles of both car and plane travel as well as a renewed interest in passenger train travel.
The study notes Amtrak ridership is up 55% since 1997, with the rail service now carrying an all-time high of more than 31 million passengers annually. That makes it the fastest-growing mode of transportation in the U.S. The nation's largest 100 cities, especially those in the Northeast and Far West, generate nearly 90% of Amtrak's customers.
Those ridership increases and thriving hubs are creating a whole bunch of manufacturing jobs in the U.S. as well. Amtrak's 70 locomotives are being built by Munich-based Siemens AG at its plant in Sacramento, Calif. The company makes about one of every three light rail vehicles in North America and is building light rail vehicles for Minneapolis, Houston and San Diego.
As a condition of the Department of Transportation's loan for the locomotives, the majority of the products and materials used to build the locomotives must be made in the U.S. As a result, some lighting parts are coming from Connecticut, the driver's seat from Wisconsin, insulation from Indiana, electronics from Texas and hydraulic parts from California. In all, 70 suppliers in 23 states are providing components, Siemens said.
Are you sure you want to delete this comment?
DATA PROVIDERS
Copyright © 2014 Microsoft. All rights reserved.
Fundamental company data and historical chart data provided by Morningstar Inc. Real-time index quotes and delayed quotes supplied by Morningstar Inc. Quotes delayed by up to 15 minutes, except where indicated otherwise. Fund summary, fund performance and dividend data provided by Morningstar Inc. Analyst recommendations provided by Zacks Investment Research. StockScouter data provided by Verus Analytics. IPO data provided by Hoover's Inc. Index membership data provided by Morningstar Inc.
MARKET UPDATE
NAME
LAST
CHANGE
% CHANGE
There's a problem getting this information right now. Please try again later.
NAME
LAST
CHANGE
% CHANGE
There's a problem getting this information right now. Please try again later.
Market index data delayed by 15 minutes
[BRIEFING.COM] The major averages punctuated a solid week with a subdued Friday session. The S&P 500 shed 0.2% to narrow its weekly gain to 1.7%, while the Nasdaq Composite (+0.1%) displayed relative strength. The tech-heavy index finished the week in line with the benchmark average.

Market participants went into today's session expecting to hear some new insight from Fed Chair Janet Yellen, who delivered the keynote address at this year's Jackson Hole Symposium. Unfortunately, the ... More
More Market News
Currencies
NAME
LAST
CHANGE
% CHANGE
There's a problem getting this information right now. Please try again later.