Corn shortage hurts US ethanol production
Some 10% of the country's ethanol plants have gone idle, fueling speculation about what's next for the controversial industry.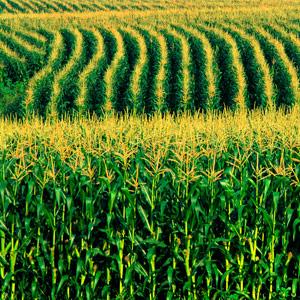 We've seen some strange weather lately. These mood swings by Mother Nature are expected to continue hurting America's all-important corn crop and, in turn, the controversial ethanol industry.

While much of the country is still contending with last year's record-breaking drought, ethanol producers are cutting back on production as the corn crop dwindles.
The industry's trade group, the Renewable Fuels Association, tells the Associated Press that 20 out of 211 U.S. ethanol plants have halted production over the past 12 months -- including five in January.
However, there are still ethanol plants in 28 states producing more than 13 billion gallons annually. That's well up from the 2.1 billion gallons the industry produced back in 2002. About 10% of all gasoline used in America contains ethanol or other biofuels.
About 40% of U.S. corn is used in ethanol production -- a statistic that has come under fire recently from analysts and experts who believe that corn could be diverted back into the food supply as the drought drags on.
For now, any cutbacks in ethanol production should have little to no immediate impact on consumers. Chris Hurt, an economist at Purdue University, tells the AP there's currently more than 20 million barrels of ethanol in stock -- and that surplus has been helped by more fuel-efficient cars and by fewer people driving as the recession continues.
But he says there needs to be a trifecta of good news -- the drought ending, a good corn crop this season and lower corn prices -- before ethanol production gets back on its feet.
"I cannot see any profitability in this industry until we get lower corn prices," Hurt added, "and it's going to take a reasonable-sized U.S. crop."
All this pressure on the ethanol industry is fueling speculation about whether some companies will survive the higher production costs.

"We've seen some people shutting down and some of our competitors making moves to consolidate," Juan Luciano, chief operating officer for agriculture giant Archer Daniels Midland (ADM), said during the company's quarterly earnings report last week.

But he believes the ethanol industry "touched bottom" in the last quarter. "The combination of lower production. . . and less imports will drive margins up," he said.
More on moneyNOW
DATA PROVIDERS
Copyright © 2013 Microsoft. All rights reserved.
Fundamental company data and historical chart data provided by Morningstar Inc. Real-time index quotes and delayed quotes supplied by Morningstar Inc. Quotes delayed by up to 15 minutes, except where indicated otherwise. Fund summary, fund performance and dividend data provided by Morningstar Inc. Analyst recommendations provided by Zacks Investment Research. StockScouter data provided by Verus Analytics. IPO data provided by Hoover's Inc. Index membership data provided by Morningstar Inc.
MARKET UPDATE
NAME
LAST
CHANGE
% CHANGE
There's a problem getting this information right now. Please try again later.
NAME
LAST
CHANGE
% CHANGE
There's a problem getting this information right now. Please try again later.
Market index data delayed by 15 minutes
[BRIEFING.COM] S&P futures vs fair value: +17.00. Nasdaq futures vs fair value: +29.80. Markets across Asia saw a mixed session as a cautious trade persisted ahead of today's U.S. nonfarm payroll report. Japan's Nikkei (+0.8%) led the region higher as a weaker yen provided support. Chinese markets were mixed as Hong Kong's Hang Seng (+0.1%) eked out a small gain and the Shanghai Composite (-0.4%) posted a modest loss. After markets close Japanese Prime Minister Shinzo Abe called for a ... More
More Market News
Currencies
NAME
LAST
CHANGE
% CHANGE
There's a problem getting this information right now. Please try again later.