When do high heels become a workplace hazard?
A footwear dispute between casino waitresses and management spotlights issues ranging from health care costs to workers' rights.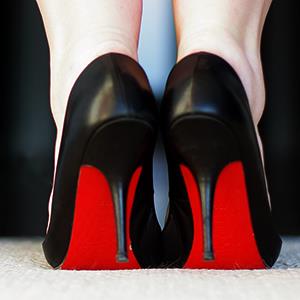 Should female workers be allowed to wear practical, comfortable shoes at work, even if that workplace is a casino?
That's the issue unionized workers at North America's largest casino, the Foxwoods Resort in Connecticut, are dealing with.
The casino recently backtracked on a requirement that cocktail waitresses there wear 2-inch heels and instead allowed those employees to wear management-approved black shoes that can be polished.
But according to The Associated Press, some of the waitresses, who have worked at the casino since it opened in the early 1990s, wonder whether the shoe requirements were a way of forcing older workers out of their positions.
"Most of us girls have been here for 20 years, 15 years, 52-year-old cocktail waitress Cheryl Hasse told AP. "This job has really done a number on our feet, and they know it."
The health hazards of fashionable footwear, especially for women, have been recognized for ages. Think of Steve Martin's classic comedic story The Cruel Shoes. For employees who spend much of their workday on their feet, proper shoes can be essential and fashionable high heels can become the enemy.
A while back, the Washington Post reported that American women rack up about $3.5 billion each year in bills for foot surgeries, which in turn causes them to lose 15 million workdays annually.
The Post also quoted the American Academy of Orthopaedic Surgeons, which said women account for about 90% of all surgeries performed for common foot ailments and that foot problems "resulting from poorly fitting shoes have reached epidemic proportions and pose a major health risk for women in America."
The dispute over high heels also brings up larger labor issues, such as workplace dress codes and at-will employment, whereby a worker can be fired at any time and for a wide variety of reasons, including an employer's disapproval of an employee's manner of dress or grooming.
AP reports that when it comes to being required to wear high heels at work, female casino workers have been challenging their employers for years.
Connecticut podiatrist Dr. Eric Levine told the wire service he often treats casino waitresses who wear heels at work and counsels them to give up the shoes for medical reasons. However, he noted, "several have told me they're not going to stop wearing them. The higher the heel, the larger the tip."
DATA PROVIDERS
Copyright © 2014 Microsoft. All rights reserved.
Fundamental company data and historical chart data provided by Morningstar Inc. Real-time index quotes and delayed quotes supplied by Morningstar Inc. Quotes delayed by up to 15 minutes, except where indicated otherwise. Fund summary, fund performance and dividend data provided by Morningstar Inc. Analyst recommendations provided by Zacks Investment Research. StockScouter data provided by Verus Analytics. IPO data provided by Hoover's Inc. Index membership data provided by Morningstar Inc.
MARKET UPDATE
NAME
LAST
CHANGE
% CHANGE
There's a problem getting this information right now. Please try again later.
NAME
LAST
CHANGE
% CHANGE
There's a problem getting this information right now. Please try again later.
Market index data delayed by 15 minutes
[BRIEFING.COM] Equity indices extended this week's losses with a broad-based retreat. The S&P 500 fell 0.6% to end the week lower by 1.1%, while the Russell 2000 (-1.1%) finished with a 0.9% decline since last Friday.

Staying true to the theme observed throughout the week, the energy sector (-1.5%) tumbled out of the gate, thus dragging the broader market down with it. Once again, dollar strength and crude oil weakness contributed to sector's underperformance, but the ... More
More Market News
Currencies
NAME
LAST
CHANGE
% CHANGE
There's a problem getting this information right now. Please try again later.