Why Costco lures shoppers -- and investors
The warehouse chain's strategy of appealing to a wide swath of customers -- and charging lucrative membership fees -- is paying off.
Costco Wholesale's (COST) hybrid approach that merges direct-to-consumer retail and bulk purchases to small businesses continues to be successful. The company's better-than-expected​ earnings report yesterday underscores that point.
Net income surged 19% in the latest quarter to $459 million, or $1.04 a share, from $386 million, or 88 cents a share, a year earlier. That beat the $1.03 per share profit analysts had expected. Revenue rose 7.9% to $24.1 billion, missing forecasts of $24.2 billion.
Investors, though, are willing to overlook this stumble because of Costco's unique business model that lures in consumers with prices for staples such as food, gasoline and generic medicines that are at or below cost. The chain makes its profits by selling memberships to its 627 stores around the world. That business continues to grow like gangbusters.
Membership revenue jumped 12% to $531 million in the most recent quarter. Even more impressive was the 19% gain in new member sign-ups, an indication of the company's successful expansion into Japan. Renewal rates are about 90% when factoring in both business and individuals, showing the chain's sustained popularity.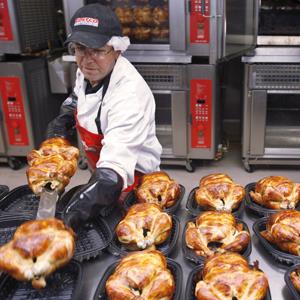 And Coscto has aggressive expansion plans. During the current fiscal year, it will add 28 new stores, up from 12 in the year-earlier period.
One of Costco's biggest advantages is that it appeals to many different types of customers. Budget-conscious shoppers and small-business owners flock there for its low prices, while those with more cash to spend can buy big-ticket items such as home electronics, furniture and, believe it or not, even caskets. While shoppers are checking out chocolate cakes that can feed a small army, they can get their car's tires changed or peruse travel deals.
Costco shares aren't cheap, trading at a price-to-earnings multiple of 25.81, which is a premium to Target (TGT) and Wal-Mart (WMT), whose valuations are both under 18.
Investors, though, will find that Costco is worth the money. Its same-store sales, excluding foreign exchange rates and fluctuations in gas prices, surged 7% in the latest quarter. That was a far better performance in this key retail metric of sales at stores open at least a year than Wal-Mart, which posted a 1.4% U.S. same-store sales loss in its most recent quarter. It also handily beat Target, which posted just a 1.6% gain.
Investors should wait for the stock to pull back some before pulling the trigger. Getting Costco shares at a better valuation should prove as good as any deal you'll find in the company's aisles.
Got any questions about this or any other "Killer Companies" episode, or suggestions for companies to cover? Drop us a line in the comments section.
Jonathan Berr owns a small stake in Costco. Follow him on Twitter @jdberr.

DATA PROVIDERS
Copyright © 2014 Microsoft. All rights reserved.
Fundamental company data and historical chart data provided by Morningstar Inc. Real-time index quotes and delayed quotes supplied by Morningstar Inc. Quotes delayed by up to 15 minutes, except where indicated otherwise. Fund summary, fund performance and dividend data provided by Morningstar Inc. Analyst recommendations provided by Zacks Investment Research. StockScouter data provided by Verus Analytics. IPO data provided by Hoover's Inc. Index membership data provided by Morningstar Inc.
ABOUT
Killer Companies is a look at companies in the headlines that are killing it and getting killed in the market today.
MARKET UPDATE
NAME
LAST
CHANGE
% CHANGE
There's a problem getting this information right now. Please try again later.
NAME
LAST
CHANGE
% CHANGE
There's a problem getting this information right now. Please try again later.
Market index data delayed by 15 minutes