Student housing thrives in spite of recession
Analysts say college living is one sector of the U.S. housing market that has thrived in spite of the economic downturn.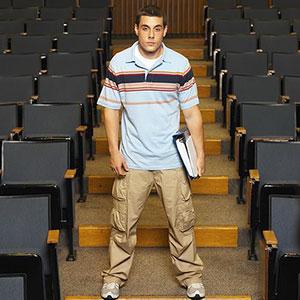 Where will your child live, and how much will it cost, once they get to college? That's a financial issue that many families, academic institutions and university towns are facing as the U.S. population grows and college expenses continue to rise.
A new report from the College Board says tuition and fees for in-state students at public four-year colleges and universities increased on average by 4.8% in the current school year from the year before. And that increase was accompanied by a 3.7% rise in room and board charges for students living on campus. At an average cost of $9,205, the report notes that "room and board charges account for more than half of the total charges for these students."
According to the latest figures from the U.S. Census Bureau, college enrollment was at an all-time high in 2008 -- with 18.6 million students enrolled, up 22% from 2000 figures. And as those numbers increase, many college and university towns are facing a dilemma regarding off-campus housing in their communities.

The issue even has political overtones. Oregon State University in Corvallis recently announced an enrollment increase -- and Corvallis residents are scheduled to vote Nov. 6 on whether to annex city land for a proposed student housing development by Landmark Properties.

Analysts say student housing is one sector of the U.S. housing market that has thrived in spite of the economic downturn. "Where you see schools that have a considerable enrollment growth, you're seeing a lot of student housing development," says James Tramuto, managing director at Jones Lang LaSalle, an international commercial real estate services firm. "In fact, student housing development has probably been the most prolific developed asset class over the last three years."
In an age of universal belt-tightening, Tramuto says many colleges and universities are diverting their finances towards academic and educational budgets first. "What we've seen is a lot of universities decide to start spending a lot of their own money on R&D facilities and classrooms and other things more mission-critical for the university rather than housing," he says.

These schools are also aware the private market is providing a level of housing for their students that can go well beyond traditional dorm living or the old-school, mom-and pop-run, off-campus apartments. Many large American universities are now ringed by private student housing developments. Some have amenities that rival resorts, including private baths, full kitchens, pools and club houses.
And according to The Wall Street Journal, public companies like American Campus Communities (ACC) and Education Realty Trust (EDR) are looking to expand beyond current off-campus developments and are vying to break into the "cottage-style" student housing market -- which offers students a more home-like experience.  And while this home-style housing costs more, occupancy rates in these newer communities are reportedly strong.
Tramuto says the dynamics of the overall housing market are still in play when it comes to off-campus student housing, and that there are some concerns about oversupply. Student housing is also management and labor intensive. "Students are high maintenance," he says. But investment and interest in student housing is not going away. "People are not going to stop sending their kids to college if times get tough," he notes. "They're still going to want what's best for their kids."

More from MSN Money
Are you sure you want to delete this comment?
DATA PROVIDERS
Copyright © 2014 Microsoft. All rights reserved.
Fundamental company data and historical chart data provided by Morningstar Inc. Real-time index quotes and delayed quotes supplied by Morningstar Inc. Quotes delayed by up to 15 minutes, except where indicated otherwise. Fund summary, fund performance and dividend data provided by Morningstar Inc. Analyst recommendations provided by Zacks Investment Research. StockScouter data provided by Verus Analytics. IPO data provided by Hoover's Inc. Index membership data provided by Morningstar Inc.
MARKET UPDATE
NAME
LAST
CHANGE
% CHANGE
There's a problem getting this information right now. Please try again later.
NAME
LAST
CHANGE
% CHANGE
There's a problem getting this information right now. Please try again later.
Market index data delayed by 15 minutes
[BRIEFING.COM] The commodity complex was pressured by global macroeconomic concerns, while the Dollar Index was able to erase its overnight loss.

Dec gold spent the bulk of the overnight session in the red, but jumped from lows to highs in the $1220.00/ozt area after the release of today's disappointing Existing Home Sales report. The yellow metal then retreated from its high, ending with a slim gain of 0.1% at $1218.20/ozt.

Dec silver started with a sharp overnight loss that ... More
More Market News
Currencies
NAME
LAST
CHANGE
% CHANGE
There's a problem getting this information right now. Please try again later.