4 awkward credit card moments
Having your card declined isn't the only thing that will make you wish you could just pay cash. In some situations, plastic is considerably less than fantastic.
This post comes from Christine DiGangi at partner site Credit.com.



Credit cards offer dozens of ways to make life easier: online shopping, rewards programs, automatic payments, financing large purchases and monetary security, to name a few.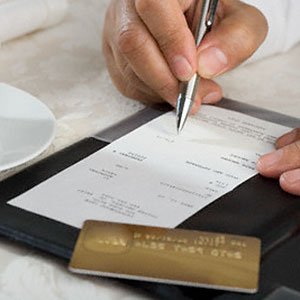 But using a credit card can cause some problems. There's no shortage of consumers who have fallen into a cycle of debt after making minimum payments on credit card bills and accruing loads of interest charges; such behavior can lead to poor credit health and low credit scores.
And for all their conveniences, credit cards can create some confusing, sometimes embarrassing, situations.
Am I supposed to tip?
Everyone approaches tipping differently, and using a credit card can complicate the matter. If you prepay for something on a credit card, is the tip factored in, or should you have cash for after you have used the service? For instance, I used the car service Uber for a ride to the airport, and I hadn't used the company before. As I was en route, I thought, "This driver is really great -- am I supposed to tip him?" It turns out the gratuity is included, which is a good thing, considering I had no cash on hand.
Many credit card receipts present the option for adding a tip in a situation you normally wouldn't. I always find myself wondering: "Am I supposed to leave a tip when buying this mug from a coffee shop? Do people normally tip the cashier who rings up take-out orders?"
Using plastic when coins would do
Buying a bottle of water or candy bar can be really cheap, but people carry cash less often, so small purchases may have to go on a credit card. In many cases, there's nothing wrong with charging such a small amount, but I always feel dumb when a cashier rings my coffee up for $1 and I have nothing but a credit card. I mean, really? I don't have four quarters? It feels sad, for some reason.
Then there are times when merchants require customers to spend a minimum amount in order to use a credit card -- a portion of Dodd-Frank legislation made that legal, up to $10 -- which can make it awkward when you want to buy a $3 drink and have no cash. Yes, this has happened to me, and I find myself including a friend or two in a round of beer, when I really only wanted one. But what am I supposed to do? It's either add to the bill, ask someone for cash or walk away.
Rejection
Credit card rejection comes in several forms, each with different levels of embarrassment.
I've run into this with one of my credit cards that I prefer to use because I earn rewards from it, but some merchants won't accept cards from that issuer. It can be a bummer to have someone tell you, "I'm sorry, we don't accept that."
Then there's having your card declined. Whether it's an error or the purchase exceeds your limit, it's embarrassing to receive that news in front of a group. Perhaps another form of payment will bail you out, but if not, you face the awkwardness of walking away empty-handed.
Applying for a store credit card can be a gamble, too. In high school, I worked as a sales associate for a clothing store, and I had to constantly pitch our store card to shoppers. "It only takes a minute," I'd say. "You get 15% off," I told them. It really takes several minutes, during which the customer holds up the line while answering questions and filling out a form. That can be annoying even if you get approved, and I always felt terrible telling a customer he or she was denied. As an associate, I was told to encourage customers to apply even if they didn't think they would get approved, because they would still get the discount.
I felt bad about it then, and I feel worse about it now; people should not apply for credit they don't need -- or qualify for. Adding unnecessary inquiries to your credit report will hurt your credit score, which in turn makes it more difficult to get other lines of credit.
To avoid an embarrassing situation like getting denied credit in front of a group of people, it's best to know where you stand with credit. This is especially important during the holidays, when stores really push their cards and the discounts are especially attractive.
Splitting the bill
Depending on where you dine, the server may or may not be willing to supply the table with separate checks. Splitting dinner costs isn't tricky when you have cash, but when everyone pulls out a credit card (or everyone but one person has cash), it can be awkward.
My friends and I have gotten into the habit of handing in several credit cards and writing the split out on the receipt -- "Christine: $20, Molly: $22, Melissa: $18." It usually goes over well with the server, but who knows what they really think.
Of course, most of these problems could be solved by carrying cash and knowing your credit scores. So if you're looking to avoid credit card awkwardness, it's pretty simple: Be prepared.
More from Credit.com:

There's nothing to be embarrassed about.  If they won't take your credit card, take your business to someone that will.  It's posted on the door of the establishment which cards they take.  It's the law.  This is not rocket science folks!  You don't have to borrow money on your credit card to use it.  Charge only what you would use cash to buy.  Then pay the bill off at the end of the month with the cash that you didn't spend on the thing(s) that you bought.  I mean, like how hard is that?  If you have run up a bill on your credit card that you can't pay off at the end of the month, you must be some kind of moron and my advise would be not to own a credit card in your case.  Only fools put things on a credit card that they can't afford.  And the credit card companies are looking for fools like you.   Use your card, but be smarter than them. 





Ran into a problem a few years back when we built a house out-of-state and would drive back-and-forth ever couple of weeks to check on things and do some work.  The first trip, we were on our way back home and stopped for gas.  The credit card we were using for the trip was denied, although there was plenty of credit available.  Turns out that the card company had a policy that if the card was used in a manner that made it appear someone was using it too fraudulently, they would freeze the card account.  That time was a little embarrassing because it was the last gas fill of the trip back home and we were also tapped for cash by then.  We were scrounging around in the car for change to come up with enough to pay the bill.  Luckily we did, but the experience taught us to always carry a roll of extra cash just in case it ever happened again - which it did.  By the way, for those of you who are thinking, why didn't we just use cash in the first place?  We liked using the card because if we forgot to take a receipt when we bought somthing, we would have a printed statement of what was spent during that trip.  At the time it happened we were irate.  But, when we knew why the card company did it, we were thankful they had such a policy to protect our interests.  Go figure that a card company would do that!!!

Are you sure you want to delete this comment?
DATA PROVIDERS
Copyright © 2014 Microsoft. All rights reserved.
Fundamental company data and historical chart data provided by Morningstar Inc. Real-time index quotes and delayed quotes supplied by Morningstar Inc. Quotes delayed by up to 15 minutes, except where indicated otherwise. Fund summary, fund performance and dividend data provided by Morningstar Inc. Analyst recommendations provided by Zacks Investment Research. StockScouter data provided by Verus Analytics. IPO data provided by Hoover's Inc. Index membership data provided by Morningstar Inc.
MARKET UPDATE
NAME
LAST
CHANGE
% CHANGE
There's a problem getting this information right now. Please try again later.
NAME
LAST
CHANGE
% CHANGE
There's a problem getting this information right now. Please try again later.
Market index data delayed by 15 minutes
[BRIEFING.COM] The stock market finished an upbeat week on a mixed note. The S&P 500 shed less than a point, ending the week higher by 1.3%, while the Dow Jones Industrial Average (+0.1%) cemented a 1.7% advance for the week. High-beta names underperformed, which weighed on the Nasdaq Composite (-0.3%) and the Russell 2000 (-1.3%).

Equity indices displayed strength in the early going with the S&P 500 tagging the 2,019 level during the opening 30 minutes of the action. However, ... More
More Market News
Currencies
NAME
LAST
CHANGE
% CHANGE
There's a problem getting this information right now. Please try again later.