Bah, humbug! New Christmas tree tax proposed
The farm bill includes a 15-cent levy on the sale of fresh-cut trees. A similar measure was killed in 2011.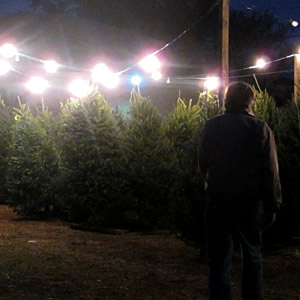 By
Kelly Phillips Erb, Forbes Contributor
Like many families, we spent the last few days decorating for the holidays -- and that included putting up our Christmas tree. Our tree was one of nearly 45 million Christmas trees purchased this year: about 30 million of those will be real.
That's a lot of green. And I'm not just talking about needles: the sale of trees generates quite a bit of revenue for retailers, growers and marketers.
It may cost even more if Congress gets its way: the farm bill -- which the House and Senate have yet to hash out -- once again includes a Grinch-y tax on Christmas trees. The tax, a 15-cent assessment/tax on the sale of fresh-cut Christmas trees, first reared its ugly head in 2010. The measure was considered in 2011 but was so wildly unpopular that it was killed by the Obama administration. So, logically, Congress is trying it again.
The tax is meant to raise money. But what it's raising money for is baffling: a new federal program to improve the image and marketing of Christmas trees. It seems that Christmas trees are suffering from bad PR. And for that, we apparently need (and I'm not making this up) a Christmas Tree Promotion Board.
Real trees tell a positive story about local farms, environmental stewardship and cultural tradition. And they need the fair and sustainable structure such an order provides to compete against factory built, outsourced, plastic trees, which are dramatically increasing in market share and landfills.
You got that, right? Artificial trees are killing America. Or something like that. At least according to the National Christmas Tree Association.
Which brings us to the plan: Charge more for Christmas trees in order to try and sell more Christmas trees. And in true D.C. fashion, there's a lots and lots of red ribbon, er, tape to go along with it.
When the proposal first made news in 2011, I was a little horrified by the notion of a special Christmas tree promotion footed by taxpayers. So I popped on over to the federal regulations to see what else our government is in the business of promoting these days. We also have marketing programs on the books for cotton, mangoes, potatoes, "processed" raspberries, mushrooms, watermelons, honey, popcorn, peanuts , soft-wood lumber, blueberries, hass avocadoes, soybeans, sorghum, pork, eggs, beef, wool & mohair and lamb. We love our regulations, huh? And promotion. And marketing.
Stuck in the middle of that laundry list of promotion regulations is 7 CFR 1214: the
Christmas Tree Promotion, Research, and Information Order
(downloads as a pdf). The order spells out the process for collecting the tax, including the exemptions process and forms. It also attempts to make clear that the 15-cent assessment "is not a tax nor does it yield revenue for the Federal government" since "these producer and importers funds raised by producers and importers are for the benefit of producers and importers."
For the record, an assessment is "an amount assessed, as for taxation." The folks at the Agricultural Marketing Services of the USDA can call it what they want: It's a tax. And while the tax assessment is not being charged directly to taxpayers, sellers are free to pass it along to consumers -- which we, of course, know that they will. That's how retail works. Industry doesn't eat extra costs, they chew them up and spit them out to consumers.
That said, at the end of the day, we're only talking about 15 cents (the order does allow for an increase of up to 20 cents). Those numbers are not going to make or break Christmas tree buyers. And that's what government is counting on: It's easy to nickel and dime consumers (in this case, remarkably so since the tax assessment is exactly a nickel and a dime). However, as Daren Bakst, an analyst with the Heritage Foundation, said:
A 15-cent tax may not seem like much. However, taxes are a death by a thousand cuts. One of those cuts shouldn't come from the Christmas tree.
And it's not much. The concerning issue, however, isn't so much the tax assessment as the policy. Should it be the job of government to promote one industry over the other? One holiday over another? One product over another? I get that we do it already for beef and for dairy and for a bunch of other products. . . but does that make it right?
More on Forbes
DATA PROVIDERS
Copyright © 2014 Microsoft. All rights reserved.
Fundamental company data and historical chart data provided by Morningstar Inc. Real-time index quotes and delayed quotes supplied by Morningstar Inc. Quotes delayed by up to 15 minutes, except where indicated otherwise. Fund summary, fund performance and dividend data provided by Morningstar Inc. Analyst recommendations provided by Zacks Investment Research. StockScouter data provided by Verus Analytics. IPO data provided by Hoover's Inc. Index membership data provided by Morningstar Inc.
MARKET UPDATE
NAME
LAST
CHANGE
% CHANGE
There's a problem getting this information right now. Please try again later.
NAME
LAST
CHANGE
% CHANGE
There's a problem getting this information right now. Please try again later.
Market index data delayed by 15 minutes
[BRIEFING.COM] The Dow (+0.5%), Nasdaq (+0.4%), and S&P 500 (+0.6%) have extended to new highs, while the Russell 2000 (-0.1%) has yet to climb out of the red. The recent push took place after Jon Hilsenrath of the Wall Street Journal indicated the Federal Open Market Committee will keep the "considerable period" language in tomorrow's policy directive. This comes after speculation during recent weeks suggested the Fed will drop that part from its forward guidance, thus implying a swifter ... More
More Market News
Currencies
NAME
LAST
CHANGE
% CHANGE
There's a problem getting this information right now. Please try again later.