Bubbles and leverage cause crises: Alan Greenspan
Greenspan reflected on the 2008 financial crisis and the questions it raised about the economic models used to predict risk.
By Matthew J. Belvedere
Asset bubbles alone don't cause financial crises like the one in 2008, former Federal Reserve Chairman Alan Greenspan told CNBC on Wednesday. Instead, the combination of bubbles and leverage is the problem, he said.
"We missed the timing badly on September the 15th, 2008 [the day Lehman Brothers filed for bankruptcy]. All of us knew there was a bubble. But a bubble in and of itself doesn't give you a crisis," he said in a "Squawk Box" interview. "It's turning out to be bubbles with leverage."
Take the explosion of the dotcom bubble in the 1990s and even the stock market crash of 1987, he continued, they barely showed up in longer-term economic growth figures.
In his new book, "The Map and the Territory," the 87-year-old Greenspan reflected on the 2008 financial crisis and the questions it raised about the economic models used to predict risk. He looked at the shortcomings of current forecasting tools and how they can be updated to take better account of human nature.
"If you're looking at the distribution of outcomes, fear is hugely more important than euphoria or greed," Greenspan told CNBC. "Bubbles go up very slowing and then they go bang."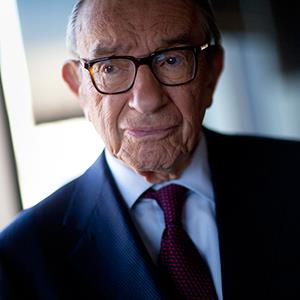 After the 2008 crisis, Greenspan said, he came to realize there was "something fundamentally wrong" with the way he and many colleagues were looking at the economy. "I was shocked, surprised, and since delighted at how many of the aspects of fear, euphoria and time preference ... [were] systematic," not random.
Greenspan's tenure as Fed chairman spanned four presidents and nearly 19 years—starting with his appointment in 1987 by Ronald Reagan and ending with his retirement in 2006, after George W. Bush tapped Ben Bernanke to lead the central bank.
Bernanke will step down at the end of his second four-year term in January.
President Barack Obama has picked current Fed Vice Chair Janet Yellen for the top job. Her nomination needs to be confirmed by the Senate.
Yellen is a "very bright lady," Greenspan said. She will surprise everybody in a good way should she become Fed chair, he added.
Greenspan also warned about the significant decline in net savings in the last year, and the drop in the household savings rate as well.
More from CNBC

HOW ABOUT OUR POLITICIANS MSN???!!!

If nothing else has pissed you off about this administration this might get to you. The US

has entered into a contract with a real estate firm to sell 56 buildings that currently

house U.S. Post Offices. The government has decided it no longer needs these buildings, most

of which are located on prime land in towns and cities across the country. The sale of these

properties will fetch about $19 billion. A regular real estate commission will be paid to

the company that was given the exclusive listing for handling the sales. That company is CRI

and it belongs to a man named Richard Blum. Richard Blum is the husband of Senator Dianne

Feinstein.   Senator Feinstein and her husband stand to make a fortune (est. at between $950

million and $1.1 billion!!) from these transactions. His company is the sole govt real

estate agent on the sale. CRI will be making a minimum of 3% and as much as 6% commission on

each and every sale.

All of the properties that are being sold are all fully paid for. They were purchased with

U.S. taxpayers' dollars. The U.S.P.S. is allowed free and c lea r, tax exempt use. The only

cost to keep them open is the cost to actually keep the doors open and the heat and lights

on. The United States Postal Service doesn't even have to pay county property taxes on these

subject properties. Would you put your house in foreclosure just because you couldn't afford

to pay the electric bill? Well, the folks in Washington have given the Post Office the OK to

do it! Worse yet, most of the net proceeds of the sales will go back to the U.S.P.S, an

organization that is so poorly managed that they have lost $117 billion dollars in the past

10 years! No one in the mainstream media is even raising an eyebrow over the conflict of

interest and on the possibility of corruption on the sale of billions of dollars' worth of

public assets. How does a U.S. Senator from San Francisco manage to get away with organizing

and lobbying such a sweet deal? Has our government become so elitist that they have no fear

of oversight?


THE FACT THAT AMERICA (MAINLY THE DEMOCRATS) IS IGNORING THE IRS SCANDAL IS PROOF ENOUGH FOR ME THAT THE U.S IS BEYOND ALL HOPE!!!!
CHICAGO POLITICS HAS TAKEN OVER!!!   ELECTIONS ARE RIGGED!!!!  OUR ELECTED OFFICIALS ARE STEALING AND LYING!!!!!
THE CLINTONS FOLLOWED BY THE BODY BAGS THEY HAVE PUT TO USE WILL BE THE NEXT BUNCH OF
"TRANSFORMERS"!!!!!!​!!!!!!!!!!!!!!!!!!!!​!
Are you sure you want to delete this comment?
DATA PROVIDERS
Copyright © 2014 Microsoft. All rights reserved.
Fundamental company data and historical chart data provided by Morningstar Inc. Real-time index quotes and delayed quotes supplied by Morningstar Inc. Quotes delayed by up to 15 minutes, except where indicated otherwise. Fund summary, fund performance and dividend data provided by Morningstar Inc. Analyst recommendations provided by Zacks Investment Research. StockScouter data provided by Verus Analytics. IPO data provided by Hoover's Inc. Index membership data provided by Morningstar Inc.
MARKET UPDATE
NAME
LAST
CHANGE
% CHANGE
There's a problem getting this information right now. Please try again later.
NAME
LAST
CHANGE
% CHANGE
There's a problem getting this information right now. Please try again later.
Market index data delayed by 15 minutes
[BRIEFING.COM] The S&P 500 trades higher by 0.2% with one hour remaining in the session. Given its current standing, the benchmark index is on pace to improve its week-to-date gain to 0.7%, which would extend its year-to-date advance to 1.6%.

Following today's closing bell, participants will receive a full slate of quarterly earnings from several influential listings. Dow components Microsoft (MSFT 39.64, -0.05) and Visa (V 208.90, +0.08) are among the companies ... More
More Market News
Currencies
NAME
LAST
CHANGE
% CHANGE
There's a problem getting this information right now. Please try again later.