Businesses are finally investing again
All the pieces for a strong economic recovery are slowly coming together.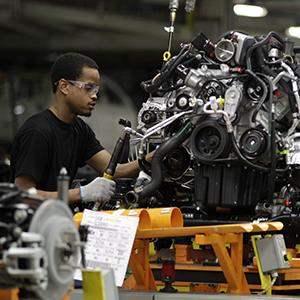 By John Aziz, The Week

There has been a slew of positive economic signs in 2014. Stocks continue to soar to record highs. Jobs are being created at the best pace since the 1990s. GDP grew last quarter at a blazing 4.2 percent pace.

Even food stamp usage has begun falling after years and years of going in the other direction. Corporate profits are at all-time highs.
But the one big piece missing from the puzzle (alongside wage growth, which is still relatively lackluster) was capital expenditure.

U.S. firms were sitting on huge piles of cash, and after 2011 they stopped investing it in the way you would expect to see during an economic recovery.
Yet at long last, as Sam Ro of Business Insider points out -- and as I predicted earlier this month -- that is changing. American firms' massive reservoir of cash is shrinking, but money is pouring into business investment.
This was inevitable, mainly because America's factories, infrastructure, and equipment are the oldest they have been since the Great Depression. Crumbling equipment and premises are bad for business. If firms want to keep up those high profit margins and remain abreast of the competition, they need to replace, repair, or upgrade obsolete and failing equipment and premises.
The really exciting thing is that this is a very good indicator of a strengthening economic recovery that includes lower unemployment and higher economic growth. Sitting on cash might give firms a security blanket to insulate themselves against future economic shocks, but it does nothing to benefit the wider economy. It is just idleness.
Investing that cash, on the other hand, encourages a beneficent spiral -- as firms invest, they put money in workers' pockets, which increases disposable income, bolsters confidence, and raises demand in the economy. Growing capital expenditure is the best evidence thus far that this is not a bubble, but a real, solid economic expansion. And long may it last.
More from TheWeek.com
DATA PROVIDERS
Copyright © 2014 Microsoft. All rights reserved.
Fundamental company data and historical chart data provided by Morningstar Inc. Real-time index quotes and delayed quotes supplied by Morningstar Inc. Quotes delayed by up to 15 minutes, except where indicated otherwise. Fund summary, fund performance and dividend data provided by Morningstar Inc. Analyst recommendations provided by Zacks Investment Research. StockScouter data provided by Verus Analytics. IPO data provided by Hoover's Inc. Index membership data provided by Morningstar Inc.
MARKET UPDATE
NAME
LAST
CHANGE
% CHANGE
There's a problem getting this information right now. Please try again later.
NAME
LAST
CHANGE
% CHANGE
There's a problem getting this information right now. Please try again later.
Market index data delayed by 15 minutes
[BRIEFING.COM] The major averages posted solid gains ahead of tomorrow's policy directive from the Federal Open Market Committee. The S&P 500 rallied 0.8%, while the Russell 2000 (+0.3%) could not keep pace with the benchmark index.

Equity indices hovered near their flat lines during the first two hours of action, but surged in reaction to reports from the Wall Street Journal concerning tomorrow's FOMC statement. Specifically, Fed watcher Jon Hilsenrath indicated that the statement ... More
More Market News
Currencies
NAME
LAST
CHANGE
% CHANGE
There's a problem getting this information right now. Please try again later.