Company uses 3-D printing to make steel handgun
The fabrication of these pieces is a revolution of sorts, and the military is probably watching closely to see what happens next.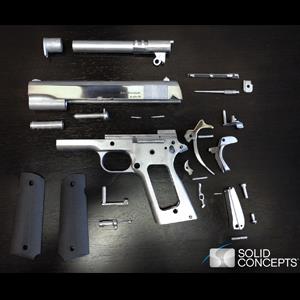 By Geoffrey Ingersoll,
Business Insider
Aside from the Duke's classic Colt six-shooter, no pistol has such a place in American history as the 1911 .45-caliber handgun.
Now the folks at Solid Concepts have successfully produced one of these handguns (pictured), all steel and all 3-D-printed.
Fabricating 3-D weapons has come a long way in a short period.
Just within the past year, a Texas company called Defense Distributed made headlines for creating 3-D-printed weapons. But it had problems producing pieces that could stand the heat and pressure.
From the Solid Concepts press release:
It is composed of 33 17-4 Stainless Steel and Inconel 625 components, and decked with a Selective Laser Sintered (SLS) carbon-fiber filled nylon hand grip. The successful production and functionality of the 1911 3D Printed metal gun proves the viability of 3D Printing for commercial applications.
Already, special operations teams out in the middle of who-knows-where have support from "expeditionary labs" that draw and print custom pieces of gear, based entirely on the military operator's specifications.

President Barack Obama has also promised $200 million for a 3-D printing initiative in the Defense Department.
Certainly, the fabrication of stainless-steel pieces is a revolution of sorts, and planners in the military are probably watching closely for what happens next.
As for .45-caliber pistols, Solid Concepts maintains that the pieces are not machined but entirely "grown" in 3-D printers.
Laser sintering is one of the most accurate manufacturing processes available, and more than accurate enough to build the 3-D Metal Printed interchangeable and interfacing parts within our 1911 series gun. The gun proves laser sintering can meet tight tolerances.
3-D Metal Printing has less porosity issues than an investment cast part and better complexities than a machined part. The barrel sees chamber pressure above 20,000 psi every time the gun is fired. 
"We're proving this is possible. The technology is at a place now where we can manufacture a gun with 3-D printing," said Kent Firestone, Solid Concepts' vice president of additive manufacturing. "As far as we know, we're the only 3-D printing service provider with a federal firearms license. Now if a qualifying customer needs a unique gun part in five days, we can deliver."
Mentioning the license is no mistake. Certainly the idea of 3-D printing of small arms has caused a bit of a stir in the weapons-control community. Cody Wilson, the owner of Defense Distributed, ran into this problem, but at the time of his troubles -- last summer and late last year -- he did not yet hold a federal firearms license.
Certainly the implications of this new technology -- both for domestic and federal use, as well as for military and humanitarian use -- are nothing short of staggering.
More from Business Insider
DATA PROVIDERS
Copyright © 2014 Microsoft. All rights reserved.
Fundamental company data and historical chart data provided by Morningstar Inc. Real-time index quotes and delayed quotes supplied by Morningstar Inc. Quotes delayed by up to 15 minutes, except where indicated otherwise. Fund summary, fund performance and dividend data provided by Morningstar Inc. Analyst recommendations provided by Zacks Investment Research. StockScouter data provided by Verus Analytics. IPO data provided by Hoover's Inc. Index membership data provided by Morningstar Inc.
MARKET UPDATE
NAME
LAST
CHANGE
% CHANGE
There's a problem getting this information right now. Please try again later.
NAME
LAST
CHANGE
% CHANGE
There's a problem getting this information right now. Please try again later.
Market index data delayed by 15 minutes
[BRIEFING.COM] The stock market finished an upbeat week on a mixed note. The S&P 500 shed less than a point, ending the week higher by 1.3%, while the Dow Jones Industrial Average (+0.1%) cemented a 1.7% advance for the week. High-beta names underperformed, which weighed on the Nasdaq Composite (-0.3%) and the Russell 2000 (-1.3%).

Equity indices displayed strength in the early going with the S&P 500 tagging the 2,019 level during the opening 30 minutes of the action. However, ... More
More Market News
Currencies
NAME
LAST
CHANGE
% CHANGE
There's a problem getting this information right now. Please try again later.