Could banks start charging to hold your money?
Normally, banks use your deposits to make more for themselves. But that could change if the Federal Reserve cuts its interest rate for overnight deposits.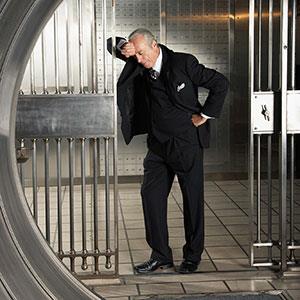 By Jim Probasco
Last week's release of the October Federal Open Market Committee Minutes included a brief but important discussion that, if acted on, could significantly change the way U.S. banks operate.
The main focus of the meeting had to do with the possibility of the Federal Reserve tapering the $85 billion a month in asset purchases it has been making.
What drew the attention of U.S. bank executives, however, was talk about reducing the interest rate the Federal Reserve pays for overnight deposits.
According to The Financial Times, representatives of two of America's top five banks said that if such a reduction were to take place, banks might actually start charging customers to hold their money.
Pointing out that interest rates for depositors are already "near zero," FT said, "Paying just to leave money in the bank would be highly unusual and unwelcome for companies and households."
Russian English-language news channel RT, noting that financial institutions keep trillions of dollars parked overnight with the Fed as a risk-free revenue generator, said large U.S. banks like Bank of America (BAC), JPMorgan Chase (JPM), and Wells Fargo (WFC) would have little incentive to hold these deposits in the first place if the Fed cuts the interest rate it pays.
Cutting interest rates on bank reserves was part of a discussion about finding ways to add stimulus should the Fed decide to taper. There had been speculation that tapering could start as early as next month.
One bank executive, in revealing that U.S. banks have to pay deposit insurance premiums on the money they park, told The Financial Times, "Right now you can at least break even from a revenue perspective." A cut in interest rates, the executive said, "would turn it into negative revenue."
The danger of negative revenue has deterred the Fed from cutting interest on bank reserves in the past. If it were to do so now, one possible solution would be to expand the new Fixed-Rate, Full-Allotment Overnight Reverse Repo Facility, FT said. This would allow banks and money market funds to accrue a small – but positive interest rate.
The net result would be that banks would have no need to charge consumers and businesses for keeping their deposits.
At the time of this writing, Jim Probasco had no position in any mentioned securities.
More from Benzinga
DATA PROVIDERS
Copyright © 2014 Microsoft. All rights reserved.
Fundamental company data and historical chart data provided by Morningstar Inc. Real-time index quotes and delayed quotes supplied by Morningstar Inc. Quotes delayed by up to 15 minutes, except where indicated otherwise. Fund summary, fund performance and dividend data provided by Morningstar Inc. Analyst recommendations provided by Zacks Investment Research. StockScouter data provided by Verus Analytics. IPO data provided by Hoover's Inc. Index membership data provided by Morningstar Inc.
MARKET UPDATE
NAME
LAST
CHANGE
% CHANGE
There's a problem getting this information right now. Please try again later.
NAME
LAST
CHANGE
% CHANGE
There's a problem getting this information right now. Please try again later.
Market index data delayed by 15 minutes
[BRIEFING.COM] The headlines generally favored Tuesday being another good day for the stock market. Instead, it was just a mixed day with modest point changes on either side of the unchanged mark for the major indices.

For the most part, the stock market was a sideshow. The main trading events were seen in the commodity and Treasury markets, both of which saw some decent-sized losses within their respective complex.

Dollar strength was at the heart of the weakness in ... More
More Market News
Currencies
NAME
LAST
CHANGE
% CHANGE
There's a problem getting this information right now. Please try again later.