Crest unveils new chocolate toothpaste
Procter & Gamble's new line has lime and vanilla flavors as well. Because, you know, we totally need more kinds of toothpaste.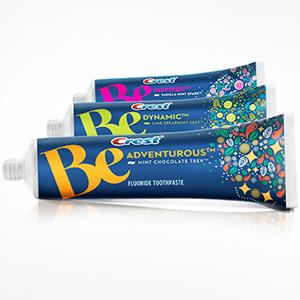 By Kyle Stock,
Bloomberg Businessweek
Procter & Gamble's (PG) R&D folks seem to have been busy working on their shark-jumping skills.
In a conference call with investors and analysts Monday morning, the consumer-goods giant touted a new line of Crest toothpaste aimed at "experiential"custom​ers (as opposed to people who brush their teeth without "experiencing" the act at all). 
The line, which P&G promises to start selling soon, comprises three flavors: "Mint Chocolate Trek," "Lime Spearmint Zest" and "Vanilla Mint Spark." Here's how the Crest marketing team describes the new paste: "It's a whole new world of deliciousness for toothbrushes everywhere."
To be sure, it's tough to be a giant consumer-goods company. Considering brand loyalty, there are arguably only three recipes for growth in the sector: geographic expansion, making better products, or luring new customers with new offerings.
Chocolate toothpaste is squarely aimed at winning new customers. Maybe it can shake up the toothpaste market the way P&G's Swiffer swept up mop sales or its Tide detergent "Pods" have been cleaning up in the laundry category. But lime and chocolate toothpaste have the flavor of desperation, a strategy stretch for a company struggling to increase sales and fighting criticism that it has lost its innovation mojo.
In the two full quarters since A.J. Lafley slid back into the CEO seat, P&G sales have climbed just 1.3 percent compared with the year-earlier period, while its profit has slumped 6.1 percent. 
The company's biggest releases in that time include a really tough paper towel and a deodorant intended to fight stress-related sweat. Just Monday morning, Barclays analyst Lauren Lieberman told P&G executives that their product pipeline in the last few years has relied on a "massive bundling of benefits," rather than singular innovations.
At least vanilla toothpaste is a bold proposition, though it's hard to imagine it taking over the already ridiculously protracted mouth-cleaning market. The Crest brand alone already has 51 products on seemingly endless toothpaste shelves.
But what do I know? I'm just one man who likes boring toothpaste that doesn't try to taste like ice cream. If Internet DIY recipes are any measure, there are at least a few people out there who want to brush their teeth with chocolate.
More from Businessweek
DATA PROVIDERS
Copyright © 2014 Microsoft. All rights reserved.
Fundamental company data and historical chart data provided by Morningstar Inc. Real-time index quotes and delayed quotes supplied by Morningstar Inc. Quotes delayed by up to 15 minutes, except where indicated otherwise. Fund summary, fund performance and dividend data provided by Morningstar Inc. Analyst recommendations provided by Zacks Investment Research. StockScouter data provided by Verus Analytics. IPO data provided by Hoover's Inc. Index membership data provided by Morningstar Inc.
MARKET UPDATE
NAME
LAST
CHANGE
% CHANGE
There's a problem getting this information right now. Please try again later.
NAME
LAST
CHANGE
% CHANGE
There's a problem getting this information right now. Please try again later.
Market index data delayed by 15 minutes
[BRIEFING.COM] The stock market finished the Tuesday session on the defensive after spending the entire day in a steady retreat. The S&P 500 (-0.6%) posted its third consecutive decline, while the small-cap Russell 2000 (-0.9%) slipped behind the broader market during afternoon action.

Equity indices were pressured from the start following some overnight developments that weighed on sentiment. The market tried to overcome the early weakness, but could not stage a sustained rebound, ... More
More Market News
Currencies
NAME
LAST
CHANGE
% CHANGE
There's a problem getting this information right now. Please try again later.