Don't mourn the loss of bereavement fares
The discount airlines offered family members was pathetic. You can already find better last-minute deals online.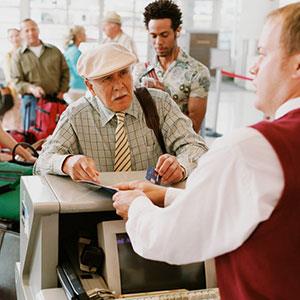 By Justin Bachman,
Businessweek
American Airlines (AAL) has ended its bereavement fares, the discount offered to people who needed to fly immediately because of a loved one's death. 
That cold, callous, corporate decision -- which now aligns American's policy with that of its heartless merger partner, US Airways -- has unleashed the predictable gnashing of social media teeth.
But it's not worth shedding a single tear for bereavement fares. Anyone shopping carefully -- a group that might not include mourners -- already knows that the "break" airlines offered the bereaved have been, at best, pathetic.
A bereavement fare is typically just a small discount off the cost of a last-minute purchase, which are nearly always exorbitant. United (UAL) offers a 5 percent discount off a walk-up fare and wants to see a death certificate to ensure you're not lying. Delta's (DAL) price break varies -- which likely means it's influenced by seat inventory -- and applies only for immediate family members. (Delta, too, wants to verify the death.)
Such paltry discounts mean little, especially when you're not debating whether to make the trip and just need a ticket procured quickly. "Five percent off a $900 fare isn't going to make that big of a difference to someone in an emotionally chaotic state," Rick Seaney, chief executive of FareCompare.com, told The Los Angeles Times. Exactly.
I have a better idea: Go to the Internet. Many sites specialize in last-minute travel deals or fare bidding, such as Priceline (PCLN). If that's too much work at a fraught time, a travel agent can quickly handle the same chore. And one-way flights may make more sense, offering additional flexibility with an expensive purchase.
A bereavement discount is, as much as anything, a meaningless marketing gesture that does little to help distraught travelers. To truly help those who just lost a loved one and are facing an enormous airfare, let's lobby for flat funeral pricing of, say, $200 to $700, depending on distance. Maybe the discounts could be subsidized by all those $200 ticket-change fees? That would be far more comforting -- for every air traveler.
More from Businessweek

My dad died in March 2006.  The bereavement fare offered cost between $1,500-$2,000 to fly from the West Coast to the East Coast for United, Northwest, Delta, and American.  Really sucked!  Finally, a friend offered me 50,000 Delta sky miles plus $50.  That was the cheapest way so that I could attend my dad's funeral.  Airlines don't make it easy for people who are emotionally distraught.

Are you sure you want to delete this comment?
DATA PROVIDERS
Copyright © 2014 Microsoft. All rights reserved.
Fundamental company data and historical chart data provided by Morningstar Inc. Real-time index quotes and delayed quotes supplied by Morningstar Inc. Quotes delayed by up to 15 minutes, except where indicated otherwise. Fund summary, fund performance and dividend data provided by Morningstar Inc. Analyst recommendations provided by Zacks Investment Research. StockScouter data provided by Verus Analytics. IPO data provided by Hoover's Inc. Index membership data provided by Morningstar Inc.
MARKET UPDATE
NAME
LAST
CHANGE
% CHANGE
There's a problem getting this information right now. Please try again later.
NAME
LAST
CHANGE
% CHANGE
There's a problem getting this information right now. Please try again later.
Market index data delayed by 15 minutes
[BRIEFING.COM] As expected, the major averages began the day on the defensive. The S&P 500 trades lower by 0.2%, while the Nasdaq Composite (-0.3%) underperforms amid relative weakness in its top component.

Shares of Apple (AAPL 100.11, -1.52) have surrendered 1.5% in the early going, which has translated into relative weakness for the technology sector (-0.3%). Similar to technology, other cyclical groups like consumer discretionary (-0.4%), industrials (-0.3%) also trail ... More
More Market News
Currencies
NAME
LAST
CHANGE
% CHANGE
There's a problem getting this information right now. Please try again later.