Even Wall Street worries about your paycheck
Slow wage growth is hurting consumer spending, which in turn curtails profits and economic progress, analysts say.
By E.S. Browning,
The Wall Street Journal
Investors aren't heartless, but they usually don't mind when workers' pay doesn't rise quickly.
That is because slow wage increases, while painful on an individual level, usually keep corporate profits high and inflation low, creating better opportunities for shareholders.
And yet, as if anyone needed further proof that we live in exceptional times, Wall Street is now starting to complain that wages are too low.
"Without a real acceleration in wages it is hard to get a meaningful pickup in consumer spending," explained Michelle Meyer, senior U.S. economist at Bank of America Merrill Lynch.
Weak consumer spending holds back profits and economic growth, one reason stock gains this year have been soft. Both the Dow Jones Industrial Average ($INDU) and the Standard & Poor's 500 Index ($INX) closed at records on Friday, but the Dow is up only 2.1 percent for 2014, and the S&P is up just 5.5 percent.
The problem is that new jobs often pay less than the ones destroyed in the recession, said Jack Ablin, chief investment officer at BMO Private Bank, which manages $66 billion in Chicago.
"New jobs are coming through at lower wages. Collectively, people have fewer dollars in their wallets even though they have jobs again," he said.
That helps explain why consumer spending fell in April for the first time in a year, according to a May 30 Commerce Department report.
Weak wage gains also are making it hard for the housing market to return to normal, Mr. Ablin said.
He calculates that new single-family home construction is running at less than 500,000 a month. Demographics say it should be twice that, he said.
"People are waiting longer to get married and they are having fewer kids," Mr. Ablin said. That is making them delay home purchases. "It is certainly making us a little more cautious on the economy."
One result: He has cut way back on his holdings of smaller stocks, which are especially dependent on economic growth and whose prices had soared on hopes for the economy. He is moving more of his investment money to Europe, where stocks look less expensive than in the U.S.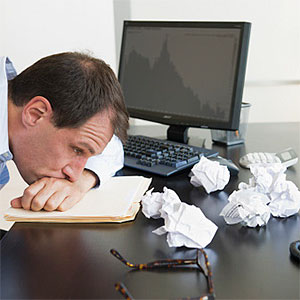 "If the economy were stronger, I wouldn't be as worried" about high U.S. stock prices, he said, and he would be moving less money out of small stocks and into Europe.
Merrill Lynch is forecasting that economic growth will rise to a 3.4 percent annual rate in the second half of this year, after shrinking at a 1 percent  rate in the first quarter. But if wages don't pick up, Merrill will have to revise that forecast down, Ms. Meyer said.
Hourly wages rose 2.1 percent  in May from a year earlier, according to Friday's employment report. That was in line with the recent trend, which is well below prerecession rates.
This angst helps explain one of the year's big conundrums: the behavior of U.S. government bonds. The benchmark 10-year Treasury bond started the year yielding 3.0 percent , well up from the 1.67 percent it yielded in late April 2013.
The rising yields reflected expectations of higher economic growth. In a strong economy, demand for money pushes up interest rates, including bond yields. Investors were widely forecasting a rise in yields to 3.5 percent or more this year, especially with the Federal Reserve gradually eliminating a bond-buying program that held down interest rates.
Instead, the economy turned soft, partly because of terrible winter weather and partly because of more basic problems such as weak wage growth. The 10-year Treasury yield slumped to 2.44 percent late in May. On Friday, it was just below 2.6 percent, up from its lows but still far from where most people expected it to be.
The soft economy has forced many economists to reduce their yield forecasts.
Paul Dales, senior U.S. economist at Capital Economics, a research firm, says wage gains will pick up this year and bond yields will move higher.
But even he has cut his forecast for the 10-year yield to 3 percent at year end, from the 3.25 percent he forecast earlier. If he is right, that would leave the yield unchanged for the full year. Next year, he thinks the 10-year yield will edge up to just 3.5 percent, and he considers himself above the consensus.
Economists were pleased that the economy created 217,000 jobs in May. That sent U.S. payrolls to a record high. It was the first time since the late-1990s boom that the economy created more than 200,000 jobs a month for four consecutive months.
Nice as that was, job gains didn't keep up with population growth. The economy would need to create 7 million more jobs to account for the increase in working-age people since 2008, according to the Economic Policy Institute, a Washington think tank supported by labor unions.
Ms. Meyer of Merrill says wage gains should pick up now that the harsh winter is past, which is one reason she isn't reducing her growth forecast yet. But she is getting nervous.
"Right now the economy doesn't seem to be supporting" the forecast, she said. "If we had seen 250,000 or more jobs created in May we would be convinced that the economy is picking up in speed. But we didn't see that."
More from The Wall Street Journal
DATA PROVIDERS
Copyright © 2014 Microsoft. All rights reserved.
Fundamental company data and historical chart data provided by Morningstar Inc. Real-time index quotes and delayed quotes supplied by Morningstar Inc. Quotes delayed by up to 15 minutes, except where indicated otherwise. Fund summary, fund performance and dividend data provided by Morningstar Inc. Analyst recommendations provided by Zacks Investment Research. StockScouter data provided by Verus Analytics. IPO data provided by Hoover's Inc. Index membership data provided by Morningstar Inc.
MARKET UPDATE
NAME
LAST
CHANGE
% CHANGE
There's a problem getting this information right now. Please try again later.
NAME
LAST
CHANGE
% CHANGE
There's a problem getting this information right now. Please try again later.
Market index data delayed by 15 minutes
[BRIEFING.COM] The stock market finished an upbeat week on a mixed note. The S&P 500 shed less than a point, ending the week higher by 1.3%, while the Dow Jones Industrial Average (+0.1%) cemented a 1.7% advance for the week. High-beta names underperformed, which weighed on the Nasdaq Composite (-0.3%) and the Russell 2000 (-1.3%).

Equity indices displayed strength in the early going with the S&P 500 tagging the 2,019 level during the opening 30 minutes of the action. However, ... More
More Market News
Currencies
NAME
LAST
CHANGE
% CHANGE
There's a problem getting this information right now. Please try again later.