Gold resets after last year's rout
The precious metal is up 11% this year, but it has a long way to go to recover from the slide of 2013.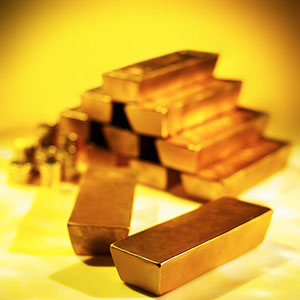 By Tatyana Shumsky and Ira Iosebashvili,
The Wall Street Journal
Investors are buying gold again.
Gold is up 11 percent this year, and wagers on rising prices are at a four-month high in the futures market. This month, investors were net buyers of SPDR Gold Shares, the biggest exchange-traded fund that buys gold, for the first time since December 2012.

Gold has a long way to go to recover from last year's rout, the metal's worst annual performance in more than three decades. Gold futures ended Thursday at $1,331.60 a troy ounce on the Comex division of the New York Mercantile Exchange, up slightly for the day but down 16 percent from a year ago.
Some money managers are betting that the market hit bottom at the end of 2013. Risky assets that drew cash away from gold last year, including emerging-market stocks and bonds, are looking less appealing. Gold also is regaining its role as a hedge against inflation as some investors question the Federal Reserve's commitment to ending its economic stimulus.
"A reset needed to happen in gold," said Michael Tiedemann, who manages $8.5 billion at Tiedemann Wealth Management in New York.
Like many investors, Tiedemann sold gold in December to lock in losses for tax purposes. However, he started buying SPDR Gold Shares to restore those positions in January and is recommending that new clients hold gold. He said he sees gold as a store of value should the Fed's stimulus policies trigger higher inflation or a weaker dollar.
SPDR Gold Shares, known by its ticker symbol GLD, has added 10.54 metric tons to its gold holdings this month through Wednesday, boosting its total to 803.7 tons. Net inflows for the year total $255 million. Still, February's rise is dwarfed by last year's decline of 552.6 tons.
Investors have had plenty of reason to buy gold in the past few months. Doubts about the financial stability of Turkey and Argentina, and fears of a default by Ukraine more recently, prompted some investors to seek safety in gold alongside the dollar and U.S. Treasury bonds.
Meanwhile, the U.S. economy is underperforming, with indicators for employment, consumer confidence and manufacturing coming in below expectations in recent weeks.
"Gold has been playing its role as a great diversifier," said Axel Merk, head of Merk Investments LLC in Palo Alto, Calif., which has $400 million under management. "U.S. data has raised some doubts about the economy's performance, and people are choosing to buy gold as a hedge. This rally is for real."
Mr. Merk currently has 15.7 percent of his fund's assets in gold, up from 8.4 percent this time last year.
Gold rose Thursday after Federal Reserve Chairwoman Janet Yellen said the central bank might consider a pause in its reduction of bond buying if weakness in the economy persists.
As the Fed shrinks the amount of money it pumps into the economy every month, interest rates are expected to rise, making the dollar more attractive and reducing the allure of alternatives such as gold. Much of gold's fall in 2013 came after the Fed began signaling early in the year it was considering an end to bond purchases.
To be sure, most investors believe the Fed would need to see several more months of weak data to slow the cuts to its asset-purchase program. If the Fed stays on course, bond yields are likely to rise, putting downward pressure on gold, which yields nothing, said Mary Ann Bartels, chief investment officer for portfolio strategies at Merrill Lynch Wealth Management, which has $1.9 trillion in assets under management.
"If you're expecting gold to earn a return, we're asking clients to reconsider owning it," she said. Ms. Bartels expects gold prices to end the year at $1,100 an ounce, a level unseen since April 2010.
Still, there are plenty of investors looking for safe places to park their cash, and gold is one of the cheapest forms of protection, says William Larkin, portfolio manager with Cabot Wealth Management Inc., in Salem, Mass., with $550 million under management.
"Gold had a miserable 2013 -- this thing has been taken out to the woodshed, so I see some value here," Larkin said. He has been buying shares of SPDR Gold Shares over the past two months.
More from The Wall Street Journal

Gold in the Eyes of the Fed:                              1 year before the "QE3" program began
Professor Ben Bernanke, "Then Fed Chairman Bernanke" told congress
                                 "GOLD ISN'T MONEY"
This statement was made in the chambers of the congress on July 13th 2011,
In response Utah has declared gold and silver to be legal tender - with the value of the coin
determined by the weight of precious metal it contains.. This States Law is the first of its kind.. 

Are you sure you want to delete this comment?
DATA PROVIDERS
Copyright © 2014 Microsoft. All rights reserved.
Fundamental company data and historical chart data provided by Morningstar Inc. Real-time index quotes and delayed quotes supplied by Morningstar Inc. Quotes delayed by up to 15 minutes, except where indicated otherwise. Fund summary, fund performance and dividend data provided by Morningstar Inc. Analyst recommendations provided by Zacks Investment Research. StockScouter data provided by Verus Analytics. IPO data provided by Hoover's Inc. Index membership data provided by Morningstar Inc.
MARKET UPDATE
NAME
LAST
CHANGE
% CHANGE
There's a problem getting this information right now. Please try again later.
NAME
LAST
CHANGE
% CHANGE
There's a problem getting this information right now. Please try again later.
Market index data delayed by 15 minutes
[BRIEFING.COM] S&P futures vs fair value: -1.50. Nasdaq futures vs fair value: -1.50. Nasdaq at... NYSE Adv/Dec 0/0... Nasdaq Adv/Dec 0/0.
More Market News
Currencies
NAME
LAST
CHANGE
% CHANGE
There's a problem getting this information right now. Please try again later.